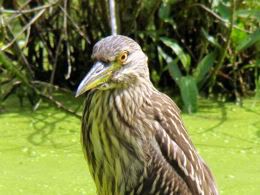 The weather last Sunday was the same as the rest of the week: bright, sunny, hot and extremely humid. I was happy that there was no rain in the forecast, but concerned about getting out early before the terrible heat of mid-day. My travels took me to Mud Lake, where I was hoping to find some warblers and migrants and of course, more butterflies and dragonflies.
Instead of parking on Cassels Street, I parked at the small entrance on Britannia Road about halfway along the street. My plan was to enter through the meadow and walk through it up to Cassels Street and the Ridge. Right inside the conservation area I saw a few dragonflies patrolling and identified them as darners: one was a Common Green Darner and the other was an unknown mosaic darner. I also saw a couple of Cabbage White butterflies and heard the calls of American Goldfinches flying overhead. Further along the trail, I saw a Northern Flicker in a dead tree.
The meadow was blooming with spiky blue
Veronica
flowers, and these appeared to be insect magnets. I saw more than one white butterfly feeding on them, and was startled to see a hummingbird zip by and feed briefly on the nectar of this flower!
Cabbage White on Veronica sp.
A single yellow sulphur butterfly and a Common Ringlet were the only other butterflies that I found here.
Common Ringlet
I followed the trail to the woods, then left the woods at the Cassels Street entrance and began walking down the road toward the filtration plant. Along the way I stopped to scan the water for ducks and herons, and noticed a small butterfly fluttering along the weeds at my feet. When it landed I was taken with the blue and orange pattern, and knew it was a copper but not which one. This was actually the first one that I saw (the one in my previous entry was seen later in the week) and I was pleased to get a couple of good photos and to identify it as a Bronze Copper.
Bronze Copper
When it opened its wings I was able to see why these butterflies are called "coppers".
Bronze Copper (male)
After the butterfly flew away I went up to the Ridge. Though there were a few warblers around, I didn't see anything extraordinary, so I went down to the river below. There I found a family of mallards; it was great to see some young mallards again. Soon this year's young will look just like the adult females.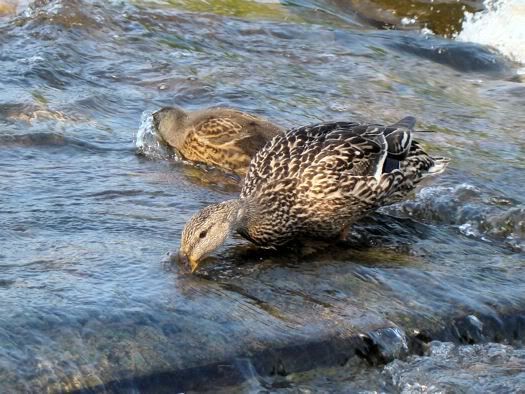 Mallards (mother in front, duckling in back)
I checked the lawn next as it is a great place to find large dragonflies patrolling. It didn't take long before I found one flying about a foot above the grass, and when it landed in the weedy fenced-in area I tracked it down and photographed it. It was one of the mosaic darners, a Lance-tipped Darner. I thought that the blue and brown colours of the dragonfly made for a nice picture against the reddish plant it was hanging from (darners characteristically perch by hanging vertically from twigs and plants; they never perch horizontally as the meadowhawks do).
Lance-tipped Darner
I didn't go very far and soon decided to go home to escape the heat. Back in the meadow close to where I had parked my car I saw a few more darners and some pretty black and yellow beetles. These were the same ones I had seen at Marlborough Forest.
Pennsylvania Leatherwing
After a few mid-week adventures described in my previous blog entry, I returned to Mud Lake today, and had a much more interesting outing. I made sure to leave early, and even though it was foggy when I left at 7:00 am, the conservation area was free from fog but cloudy. I parked along Britannia Road again and entered via the meadow. Right away I saw a rabbit on the path.
Eastern Cottontail
I didn't linger in the meadow or the woods but proceeded directly to the Ridge. There were a lot of Cedar Waxwings in the trees there, and at first it was difficult to find any other species. Then I saw a couple of Black-and-white Warblers walking along the limb of a tree just like a pair of nuthatches...I think these were the most common warbler of the day, for I saw several more on the Ridge later. Other birds of interest included a Least Flycatcher, a Great Black-backed Gull on the rocks in the middle of the Ottawa River, and a Rose-breasted Grosbeak.
A group led by the OFNC was also present, and we compared notes. They told me they had seen several species already, including a Tennessee Warbler; I told them I had Cedar Waxwings "coming out of my ears!" While we were talking a few more warblers appeared, including two more Black-and-Whites, a raggedy-looking Nashville, and a Black-throated Green.
Then I ran into some more people I knew, including one woman I had met from this year's Falcon Watch, and Chris and Bob! We walked around together for a bit, and then while we were on Cassels Street we spotted some interesting species: a Cape May Warbler (only the second one I had ever seen, and my first in two years!) and a very yellow Philadelphia Vireo. I wasn't able to photograph either of these birds then, but when we went up to the Ridge later to look for a Canada Warbler (which we didn't see there) the Vireo showed up again.
Philadelphia Vireo
We also saw some Baltimore Orioles (one of which was singing), and an Eastern Wood-pewee.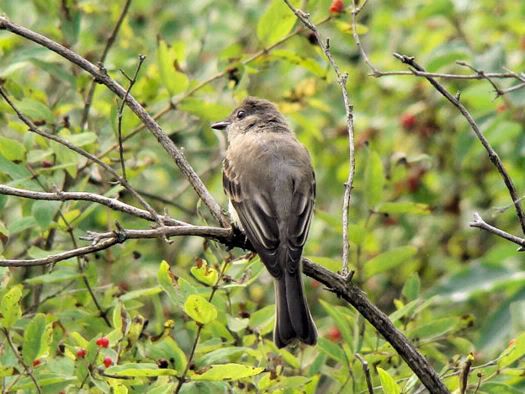 Eastern Wood-pewee
Then we got the news that a Blue-gray Gnatcatcher had just been seen on a trail on the east side of the lake. This was a rare bird for Ottawa, so we hurried over (getting distracted by a few large mosaic darners flying low over the grass which Chris wasn't able to catch and one Canada Darner that she was) and found out that we had just missed the gnatcatcher. There were several warblers in the area, however, among them a couple of Canada Warblers - a species I had seen for the first time in Point Pelee last year but had not seen in Ottawa yet - and a Chestnut-sided Warbler.
After our failed attempt to find the Blue-gray Gnatcatcher we went our separate ways. As I hadn't parked on Cassels Street, I had to make my way through the conservation area to the side entrance. Just as I entered the woods I noticed a juvenile Black-crowned Night-heron in the inlet by the road.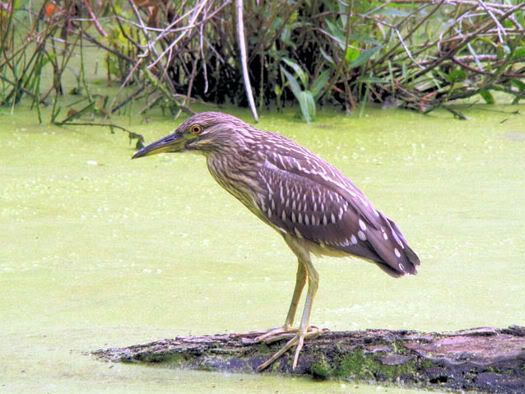 Black-crowned Night-heron
These herons seem to be more visible and more numerous toward the end of the summer, and it was fantastic to see this one so close after watching the ones at the Eagleson stormwater ponds from a distance last week.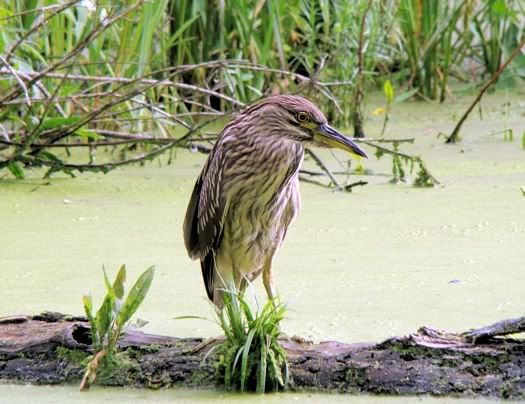 Black-crowned Night-heron
I was further distracted in the meadow area by the sight of a few large darners circling the area and spent some time tracking them down when they decided to perch in the vegetation. I saw a Common Green Darner land on a sumac tree and had to walk through the grass and the wildflowers in order to approach it. Of course as soon as I left the path, I scared up about three other darners which I couldn't see in the high vegetation!
Common Green Darner
I was also lucky to see where a mosaic darner "went to ground". Although I was hoping for a Canada or a Shadow Darner it was another Lance-tipped.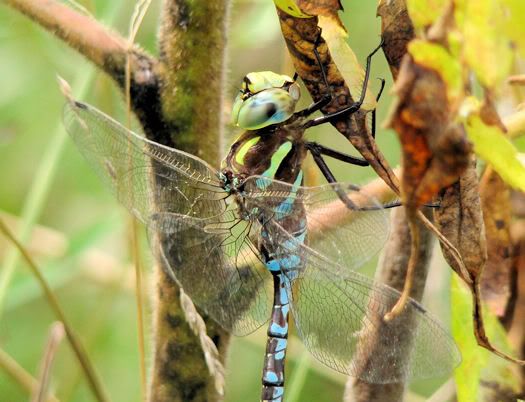 Lance-tipped Darner
I thought that the blue and green markings of this dragonfly looked striking with the pink clover flowers in the background.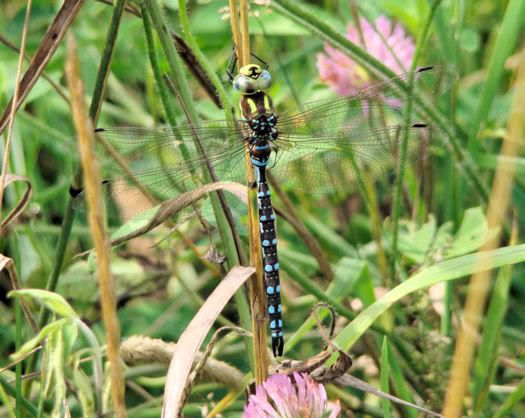 Lance-tipped Darner
There were several Pennsylvania Leatherwings on the Veronica here again, and so I had to take a few pictures of them before I left.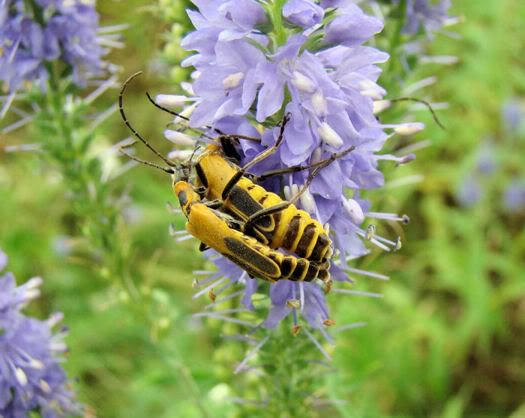 Pennsylvania Leatherwings
Although Mud Lake can be wonderful any time of year, this is one of my favourite times to visit the conservation area. Not only does the number of bird species that can be found here increase with the onset of migration, but dragonflies and butterflies are still flying, insects are still plentiful, and there are still lots of Garter Snakes and rabbits and turtles around as well. Late August truly is the best time to enjoy the wonders of Mud Lake, and if I didn't have to work I would be here every day just to see what had shown up!