| | | | |
| --- | --- | --- | --- |
| | The weather has improved during the past two weeks and so I have been able to get out during the week again. When I go out at lunch, most of my outings are spent at Hurdman; however, I also spent one lunch hour at the Kitchissippi Beach along the Ottawa River. There are a lot of grassy plants along the shore just west of the beach and I thought I might find some interesting odonates here. A few trips to the storm water managements ponds along Eagleson were also a must; shorebirds are moving through now, and this is one of the easiest places to see them when the water level of the Ottawa River is too high to provide any shorebird habitat as is currently the case. | | Porcupine |
I did find a few interesting odonates at Kitchissippi Beach. While small bluets were common, I was intrigued by the number of Band-winged Meadowhawks that I found. This is not a common species in Ottawa, and yet I am finding them in several different places (including one in the tree in my front yard!) and in good numbers. Jack Pine Trail and the Cedar Grove trail in Marlborough Forest had several, and there were about two dozen at Kitchissippi, including several mating pairs.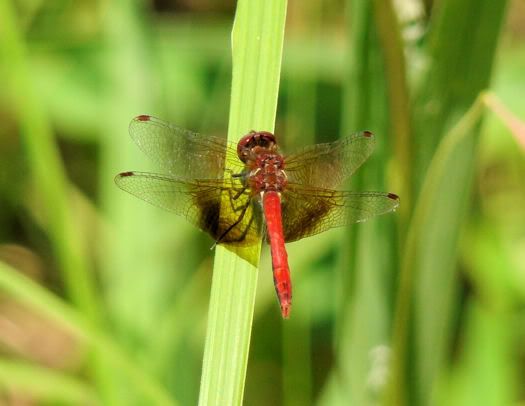 Band-winged Meadowhawk
My trips to Hurdman proved poor for seeing butterflies but great for finding other insects. Hoverflies were quite conspicuous among the flowers, and I spent some time trying to photograph them. They are quite colourful; even their tiny wings seem to shimmer with iridescent colours.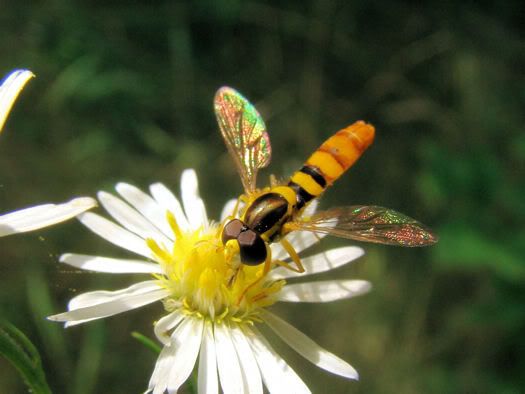 Hoverfly
While photographing the hoverflies, I noticed another interesting insect perched on the tip of a leaf close by. I took some photos of it, certain only that it was one of the true flies based on the single pair of wings. A friend later identified it as a Tachinid Fly, but wasn't able to identify the exact species.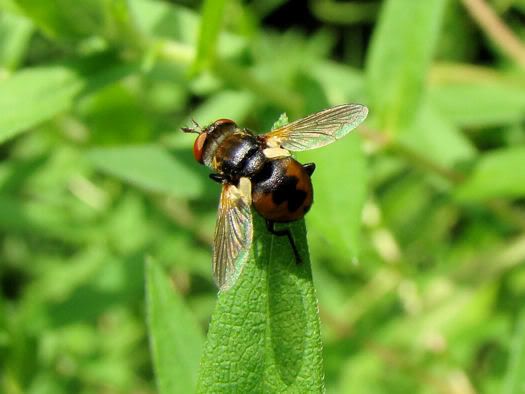 Tachinid Fly
Although I saw a few Cabbage Whites and Common Ringlets, butterflies were few and far between. I was happily surprised when I startled this small moth out of the grass beside the bike path, pleased to have finally found something different! Although it's not a butterfly, I thought that that this moth was just as pretty:
Orange Mint Moth
I am seeing different birds now, and this week I had two good yard birds. My fiancé and I went for a bike ride one evening, and I was surprised to see a few swallows hawking for insects high above the street. With them were about half a dozen Common Nighthawks....not only is this a year bird for me, it is a new yard bird as well (I count any birds that can be seen from my yard). We also saw several Black-crowned Night-herons, two Kingfishers, and a Spotted Sandpiper at the storm water management ponds.
Then, the next morning, I was in my driveway putting my things in the car and preparing to leave for work when a Merlin unexpectedly flew out of the tree in my front yard and landed on the roof of my neighbour's house! Fortunately I had my camera in my bag and was able to take a few photos. It appears to have a small feather caught in my beak, and I wondered if it was dining on something in the tree.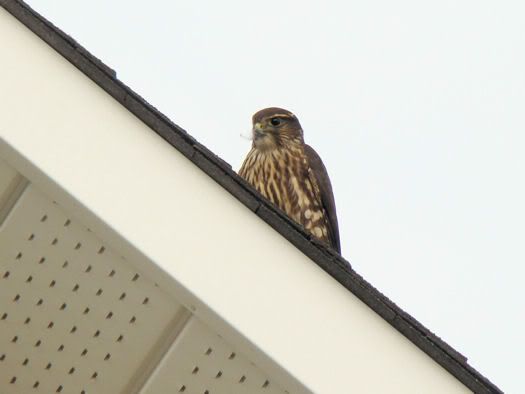 Merlin
The storm water ponds near my house proved so productive that I had to stop there again after work one evening. I visited the pond off of Fernbank first, where I saw some yellowlegs and not much else...the water level is very low and the sandy pond is filling in with weeds. Then I saw a butterfly land on some clover close by and had to take some pictures when I realized that it was a Bronze Copper!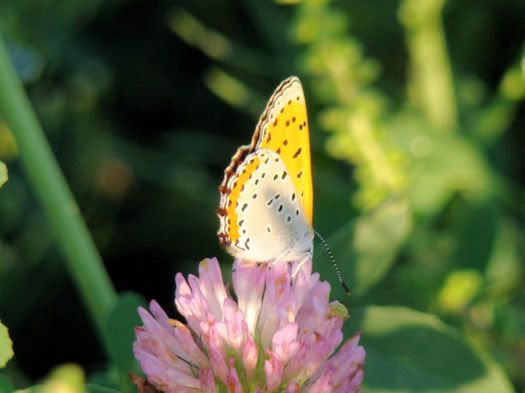 Bronze Copper
It flew away and although I tried to track it, I lost it against the bright setting sun. I searched the wildflowers growing next to the road for any other interesting insects, and started noticing these large orb-weaver spiders in webs next to the path (in fact, I think I almost walked into about three of them). Although I don't really like spiders I thought the black and yellow colouring was pretty and brought myself to take a few macro photos of it.
Argiope sp.
After leaving the Fernbank pond I went over to the bike path next to the ponds on the Emerald Meadows side. I saw the usual rabbits which are out this time of day, and this large mammal which turned out to be a porcupine! He was walking along the lawn toward the path, crossed the path and then climbed a tree.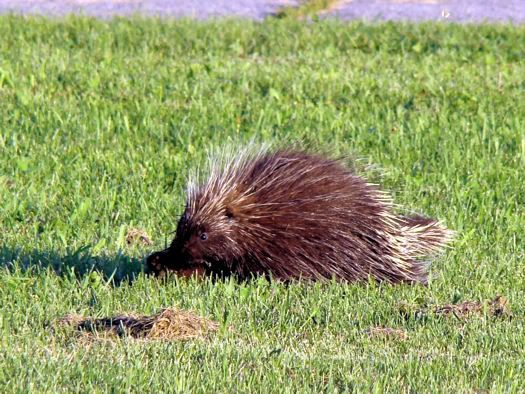 Porcupine
I was able to walk almost right up to him - he didn't pay much attention to me at all.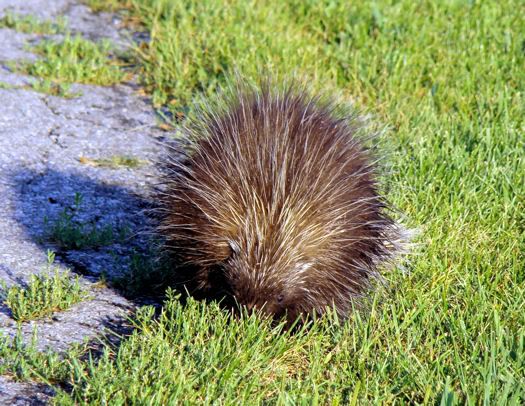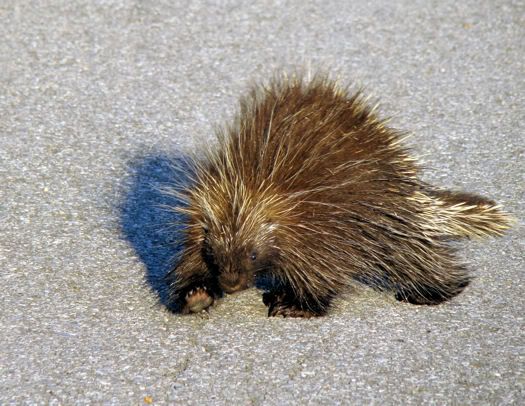 Porcupine
Also of note were a couple of Black-crowned Night-herons, a single Great Blue Heron, a kingfisher, and several Common Green Darners zipping over the area. I was hoping to see the nighthawks again but had no such luck. I can't complain, however, for finding the porcupine was just as interesting. In fact, it's been a great week for finding interesting things!