| | | | |
| --- | --- | --- | --- |
| | On Saturday Chris Lewis and I headed over to Petrie Island. This is the only known spot in the 50 km circle where the uncommon Hackberry Emperor butterfly can be found, and after seeing a report that it had been found there recently Chris asked if I wanted to go with her to look for it. Always up for an adventure at Petrie Island (and still hoping to see the Black Terns there) I was happy to accompany her. Petrie Island is also a wonderful place to find interesting dragonflies and damselflies that are not commonly seen elsewhere in the Ottawa area (see my previous entry from early July) and I was hoping to find a few interesting odonates to photograph as well. | | Widow Skimmer |
We arrived at Petrie Island at 11:30 in the morning and parked at the public gravel parking lot. As soon as I got out of the car I immediately spotted a small butterfly flying along just above the gravel road. It seemed brownish-orange, and at first I thought it might be a crescent. I pointed it out to Chris, and when it landed and started opening and closing its wings I told her, "I know I haven't seen this butterfly before". I prepared to take a photo, but then it closed its wings and refused to open them. Chris brought her net down upon the butterfly and placed it into a viewing bottle...and sure enough, it was a Hackberry Emperor!
Hackberry Emperor
So a full sixty seconds into our search we had already found our target species. He was a lovely butterfly, coloured in shades of brown and amber and gold, and I hoped to get a photo of it when Chris released it. However, affronted by its treatment it flew quickly away from us and up toward a tree for safety.
The Hackberry Emperor that had been reported had been seen on the Bill Holland trail, and so we followed the trail along the long bay on the protected side of the island next. We heard an Eastern Wood-pewee and an Eastern Kingbird, and saw a Great-crested Flycatcher. Warbling Vireos were also singing, as was a House Wren further along the trail, and to our delight a huge Great Blue Heron flew low over the water fairly close by.
We didn't see many butterflies along the trail. However, the day was growing hot, already in the high twenties, and we saw lots of odonate activity. Common Pondhawks were numerous.
Common Pondhawk (male)
Also common along the shore on the sheltered side of the trail were little spreadwings. Although Christine saw one pair of Elegant Spreadwings, the rest were all Swamp Spreadwings. These look quite identical to the Elegant Spreadwings, but the male claspers have a different shape and are much thinner.
Swanmp Spreadwing
I was also happy to find some more adult Widow Skimmers. Several were flying over the water and a few were perching on the vegetation growing close to the water's edge. I have found the adult males to be difficult to approach, and was happy to get some photos of them perching above the water.
Widow Skimmer
Slaty Skimmers were also abundant. The rich blue colour of this dragonfly makes it one of my favourites....I had to stop myself from photographing every one that landed even somewhat close to me!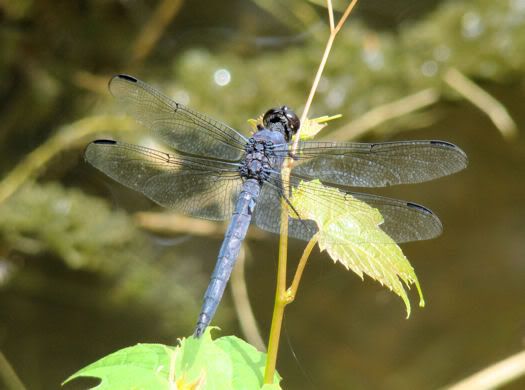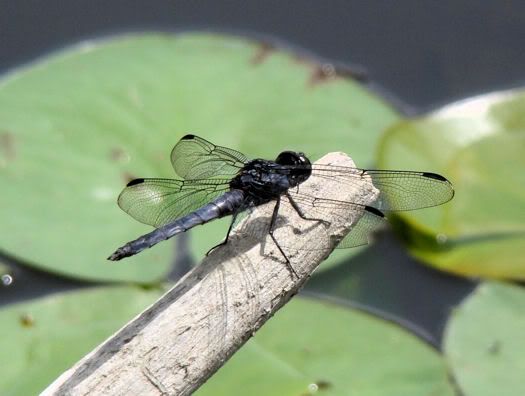 Slaty Skimmer
Here is a picture of the marshy pond on the north side of the Bill Holland Trail. As the water is calmer on this side of the peninsula than the open south side on the Ottawa River, we saw most of our odonates here. There are usually ducks around, but we didn't see even a single Wood Duck.
Dragonfly Habitat
Pickerelweed was in bloom; this beautiful purple aquatic plant is native to Ontario and eastern Canada.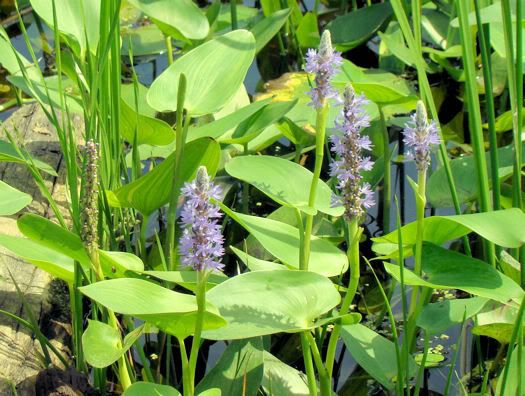 Pickerelweed
Chris pointed out some bluets sitting on the lily pads and confirmed them as Skimming Bluets. These black-type bluets are easy to identify although they do bear a close resemblance to the Stream Bluet, a species I am familiar with from my lunchtime jaunts to Hurdman Park. The mostly black abdomen and the all-blue segments near the tip help to distinguish this species.
Skimming Bluet
Along the trail we encountered a friend of Chris's, Bill Bower, who was putting out banana bait on top of logs at various points along the trails. Overripe fruit, such as bananas, strawberries, peaches, nectarines, orange slices or left-over melon rinds attract butterflies, especially many species that don't visit flowers. We were lucky to come across one of Bill's baits where an Eastern Comma was feeding.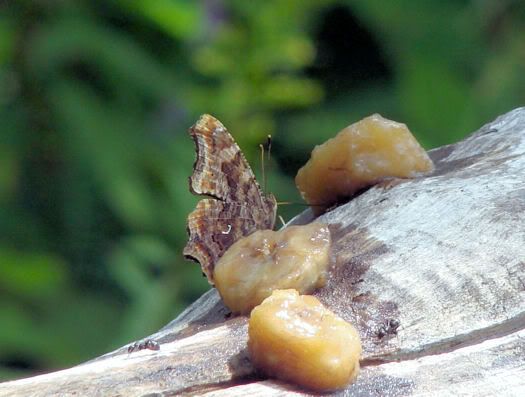 Eastern Comma
After watching the butterfly for a while, Chris and I proceeded to the end of the trail. The water here had risen above the path, making it impossible to proceed. There was a lot of odonate activity here, however, including many skimmers, damselflies and one unknown emerald which refused to land so that we could get a good look at it.
Slaty Skimmer
We decided to retreat, as it was getting quite hot and the water looked invitingly refreshing despite the city's warning that the recent rain had caused more sewage to spill into the river. When we reached Bill's log with the banana bait he informed us that a Hackberry Emperor had stopped by briefly. This was a disappointment, especially as I still wanted to photograph one in the wild. Still, we were pleased with our early success, and wrapped up our outing with a quick trip to the Giroux quarry ponds. We saw a few yellow sulphurs and at least one Black Swallowtail fluttering over the fields, and a Common Loon was still swimming in the southern pond with a Double-crested Cormorant keeping it company. One the north side we saw several Killdeers, a few unidentified yellowlegs (they were too far away to discern which species) and one Green-winged Teal.
It was another wonderful outing and definitely one of the easiest lifers I have ever pursued! I suppose I really ought to compile my butterfly life list now...!