On Sunday Chris Lewis and I went dragon-hunting again, this time at the Bruce Pit in the west end. Although I've been birding there before (in the dog-free area around the pit) I had never realized that it was such a great place for odonates. However, the list of species that she and Bob had seen there the previous week made me envious. A lot of the odonate species found at the Bruce Pit are uncommon and difficult to find in the Ottawa area, and would thus be new for me. I was looking forward to searching for these damsels and dragons around the water at the bottom of the pit.

The weather didn't look promising when I got up. We planned to meet at 11:00, to allow the day to become warmer and (hopefully) brighter. The sky was thick with scattered clouds, and a lot of them appeared disturbingly dark. Still, I got up early to do some birding before I met Chris at the Bruce Pit. I drove out to the airport first, then took a quick walk around Jack Pine Trail before finally driving over to meet Chris for our dragon-hunting excursion.




Saffron-winged Meadowhawk
The airport was quite productive. I saw two Northern Harriers flying about in a field north of Tom Roberts Avenue and, after they left, watched as a sparrow flew in to land on the gravel path just beyond the fence. It had distinctive white outer tail-feathers, confirming its identity as a Vesper Sparrow. On the trail off Bowesville Road I saw a Clay-coloured Sparrow, a Grasshopper Sparrow and a couple of House Wrens. As it was too cloudy for any butterflies or dragonflies, I then drove down Earl Armstrong Road to look for swallows and shorebirds. There were no shorebirds at the small pond near the S-shaped curve, but a couple dozen swallows landed on the gravel road in front of me. A car scared them into flight before I could get my scope out to see if there were any swallows other than Tree Swallows in the flock.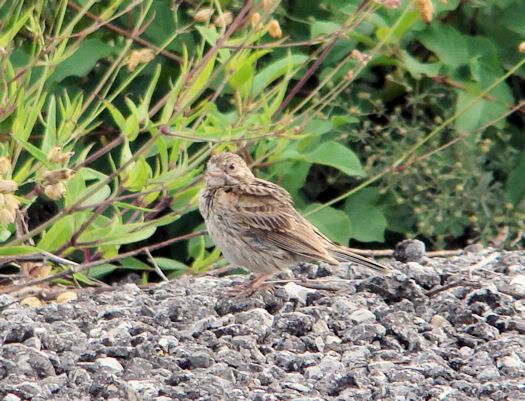 Vesper Sparrow
At Jack Pine I saw a Solitary Sandpiper - my first of the year - and an adult Virginia Rail running across the path at the back of the trail. The sun was beginning to emerge from the clouds by then, and, hoping that this boded well for our dragonfly hunt, I left Jack Pine Trail. Chris and I met in the parking lot, where we donned our rubber boots and hiked down to the bottom of the pit. She had warned me that it would be wet, and I had great fun slogging around the water and searching the vegetation for perching damselflies. We saw a few of the common odonates, such as Eastern Forktail, Dot-tailed Whiteface, and Twelve-spotted Skimmer, before Chris spotted an interesting bluet and swept it up in her net. This was my first new species of the day, the Northern Bluet which looks remarkably similar to other blue-type bluets. It can only be distinguished by the shape of its claspers which are not visible in this photo.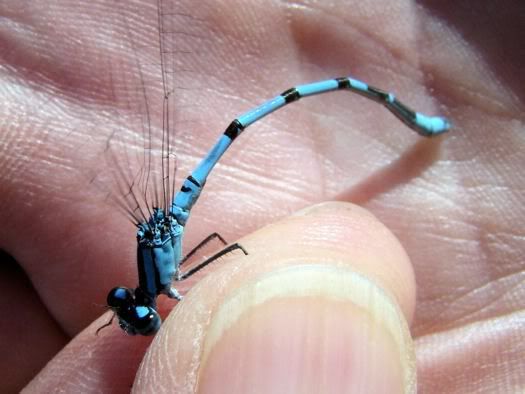 Northern Bluet
We began seeing a few spreadwing damselflies in the low grass, including Northern and Lyre-tipped Spreadwings, and this one which Chris caught next. This damselfly has beautiful amber-tinted wings, and it is these that give it its common name. It also has distinctively shaped claspers which differentiate it from other spreadwings when the colour of its wings is difficult to see.
Amber-winged Spreadwing
After examining it in the hand I began to look for a few in the grass to photograph. I noticed later when looking at my photos that the amber of its wings shows up better in the hand than against the darker green of the vegetation. However, the distinctive claspers are visible even in this photo, enabling identification.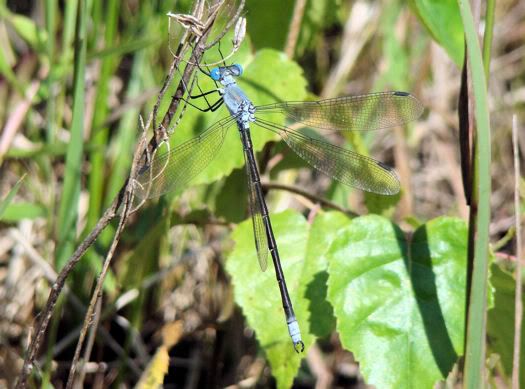 Amber-winged Spreadwing
We came across a few meadowhawks in the grass, too. Adult males are bright red; immatures and females may range from yellowish-green to orange. Meadowhawks are one of the more difficult groups of dragonflies to identify to the species level, unless they have unique characteristics such as the yellow legs of the Autumn (formerly Yellow-legged) Meadowhawk or tints of colour on their wings (such as the Band-winged Meadowhawk). However, Chris helped me with the White-faced Meadowhawk; males have a nice white face and red abdomen with a series of black triangles along the edge. Females have a yellowish-ivory coloured face and are thus more difficult to identify. She caught one in the net and was able to identify it by examining the appendages.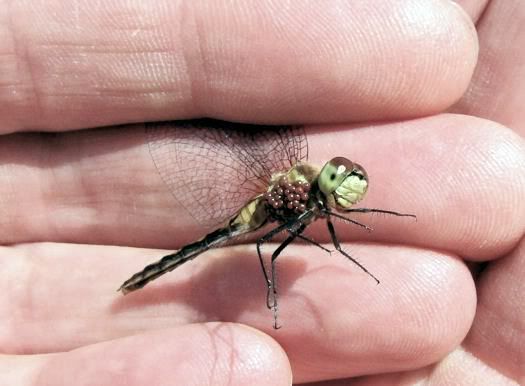 White-faced Meadowhawk (female)
This dragonfly, unfortunately, was covered in red water mites. These small insects attach themselves to the dragonfly's legs or thorax and then feed off of their host's body fluids. This relationship is entirely parasitic; very young nymphs (i.e. dragonflies in their larval stage) and unhatched eggs may actually be killed by these water mites, whereas adult dragonflies may be able to survive a large infestation of thems.
Chris let the meadowhawk go, and we turned our attention to the smaller damselflies at the edge of the water. We found several species of bluets, including Marsh and Hagen's, and another new one for me, the Boreal Bluet. These three species and the Northern Bluet all look extremely alike, and when I got home I later found that neither Chris nor I could identify all the individuals in my photos! This is either a Northern or a Boreal Bluet.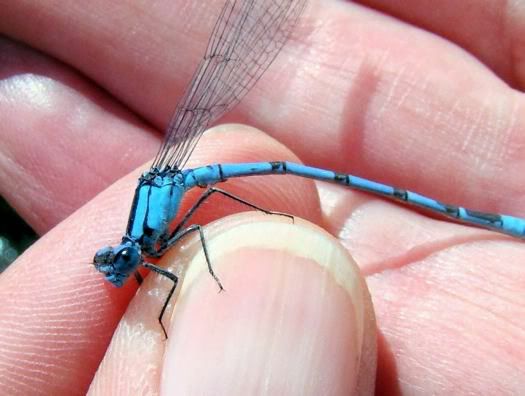 Unknown Bluet
This one is a Northern Bluet, and Chris and I were both struck by the interesting pattern of black marks on its abdomen.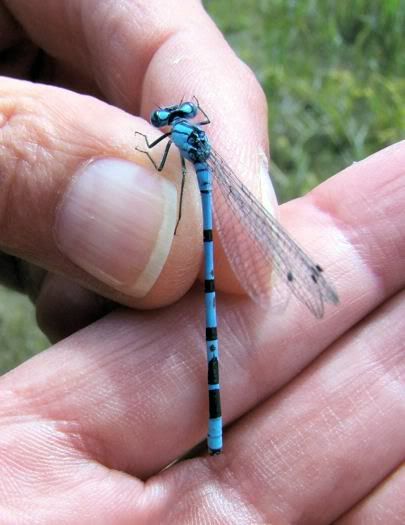 Northern Bluet
Then Chris pointed out one of the species she had been specifically looking for, the Eastern Red Damsel! This is a rare species in Ottawa and is restricted to specific locations such as shallow, spring-fed areas and seepage areas with an underground water source. The Bruce Pit is one of the easiest places to find this cute little damselfly.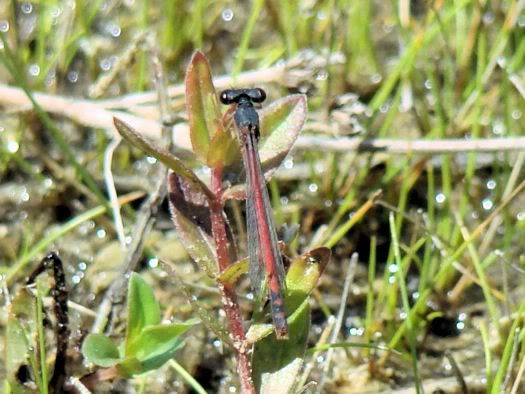 Eastern Red Damsel
I took a few photos of it in the grass before Chris caught it in the net for a closer look. They are superficially similar to the immature red form Eastern Forktails, although the Eastern Red Damsels have much less black on the abdomen and lack eyespots.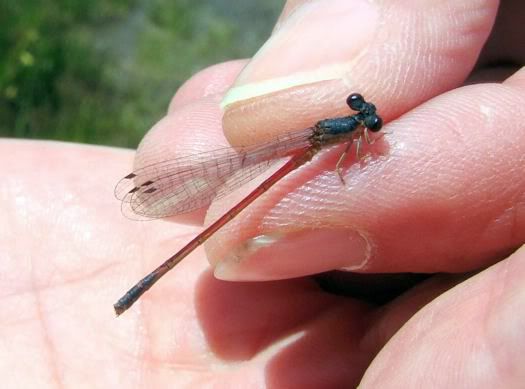 Eastern Red Damsel
We let the damselfly go, then continued our way around the pond. Further on, we found some more meadowhawks, and one in particular captured Chris's attention. She caught it, and identified my first Saffron-winged Meadowhawk! This is one of the easier meadowhawks to identify with its wary behaviour, chocolate-coloured face, lack of black triangular marks along its abdomen, and an amber tint on the leading edges of its wings.
Saffron-winged Meadowhawk
On our way around the pond to the other side, we came across another meadowhawk with amber-coloured wings, the Band-winged Meadowhawk. It is less common than the Saffron-winged Meadowhawk, but not as restricted to specific locations, which is probably why I have seen more of these meadowhawks around Stony Swamp and none of the Saffron-winged.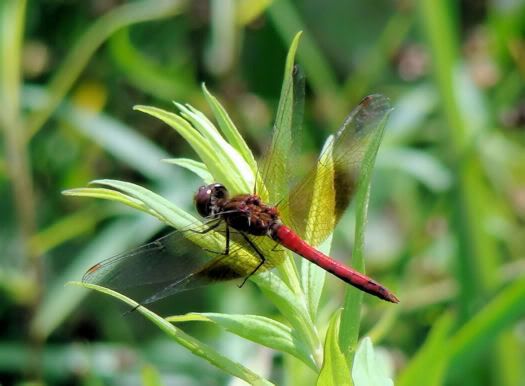 Band-winged Meadowhawk
A teneral Autumn Meadowhawk was our fourth meadowhawk species of the day, easily identified by its yellow legs.
Another creature with yellow legs that we saw this shorebird, the Lesser Yellowlegs. There were at least half a dozen Greater and Lesser Yellowlegs, two Killdeers, and two Spotted Sandpipers (including one juvenile) foraging at the water's edge the whole time we were there. Other birds of interest included three Turkey Vultures gliding high overhead, and a very shrill Virginia Rail which we found among the cattails on the north side of the pond. Evidently she thought we were too close to her young (which we did not see) for she kept calling loudly and attempted to lead us away, marching through the cattails until she ran out of vegetation and had to fly across an open area to reach some dense cover.
Lesser Yellowlegs
Sedge Sprites were everywhere, and every time Chris swung her net to scoop up a dragonfly, she would almost always catch some small sprites in her net. On one occasion she also scooped up this stink bug, one of the
Pentatomid
species.
Pentatomid (Stink Bug)
Not long after our walk around the pond we decided to call it a day, for it was getting late in the afternoon, I required food if I were to take another step, and dark clouds were moving in again. However, once I reached my car and began taking off my muddy boots I saw an Eastern Kingbird flycatching from the fence just beyond my car and couldn't resist photographing him.
Eastern Kingbird
It was a fun and fabulous outing, and I saw many new species. Altogether we tallied the following species, 21 in total:



Ebony Jewelwing (1)

Northern Spreadwing

Amber-winged Spreadwing

Lyre-tipped Spreadwing

Eastern Red Damsel

Northern Bluet

Boreal Bluet

Marsh Bluet

Hagen's Bluet

Eastern Forktail (1 female)

Sedge Sprite (abundant)




. . . . . . .



Common Green Darner

Dot-tailed Whiteface

Widow Skimmer (1)

Twelve-spotted Skimmer

Four-spotted Skimmer

Common Whitetail

Saffron-winged Meadowhawk

White-faced Meadowhawk

Band-winged Meadwohawk

Autumn Meadowhawk
Chris has documented a total of 45 species at the Bruce Pit, and on Sunday she was able to add
#46
, a beautiful dark Ebony Jewelwing which flew past us and disappeared in the trees at the edge of the pit. As these damselflies prefer shallow, shaded rivers, it was an odd place to find one but a good record nevertheless.
A total of 46 species is very good for such a relatively small area, considering that the Ottawa region boasts 121 species total in the 50 km circle! I was happy to add a number of these species to my own odonate life list, and hope to spend some more time at the Bruce Pit in the near future!