| | | | |
| --- | --- | --- | --- |
| | It's been a gray, rainy week and before that it was just gray. We haven't had two clear, sunny days in a row for a while now, which makes it hard to go looking for dragonflies and butterflies. Still, I managed to get out a few times last week as well as on Monday. Although there was significant cloud cover most of the time, at least the sun came out during my excursions. I stopped by Hurdman twice, and saw the usual Chimney Swifts, Eastern Kingbirds, Gray Catbirds, Song Sparrows, Yellow Warblers, and Wood Ducks; and last week I took a bus along the transitway and got off at Bayview (the O-Train stop) to explore the area between the bus stop and the river. This area is quite grassy, with clumps of swamp milkweed, Canada thistle, common bugloss, and other common weeds. I thought that all of the flowering weeds, particularly the milkweeds, would be attractive to butterflies. | | Wood Duck |
At Bayview, on one the sunniest days in recent memory, I saw several Barn Swallows swooping over the field as soon as I got off the bus. Cedar Waxwings also flew by in a flock and landed in a tree closer to the parkway. Once I walked down to the field I saw several butterflies, mostly Cabbage Whites, as well as European Skippers and a single Sulphur. This European Skipper is nectaring on a Canada thistle.
European Skipper on thistle
I also began noticing a few long red beetles on the swamp milkweed plants. Simply called Red Milkweed Beetles, these are long-horned beetles which are known for their long antennae, or "horns". This species is a herbivore and is generally host-specific to milkweed plants (genus Asclepias).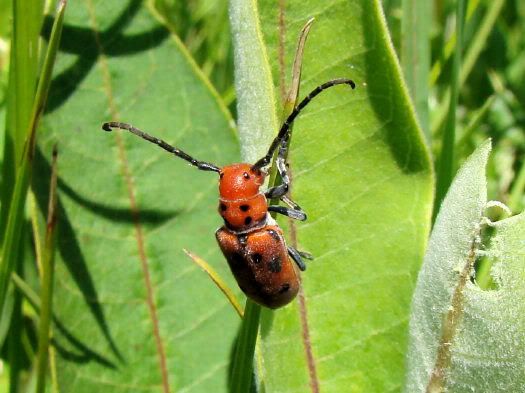 Red Milkweed Beetle
A blue butterfly fluttering by caught my attention, and I followed it until it landed. I was happy to find my first Eastern Tailed Blue of the year, a species that has been hard to find until now. These butterflies have gorgeous blue uppersides, short "tails" (although the tails on this individual appear damaged), and a small orange patch on the underside of the hindwing. I also saw a few more at Hurdman on my other outings.
Eastern Tailed Blue
The other interesting creature that I saw at Bayview was a toad, of all things! He hopped out of my way and attempted to disappear into a thick clump of stems. He was the largest toad that I've seen in Ottawa, too!
Things were different at Hurdman. I saw a few sulphurs, two or three Eastern Tailed Blues, a single fritillary, and lots of Cabbage Whites. Then one day while I was standing near the river I saw this beautiful butterfly with bright red patches fly by. When it landed it gently opened and closed its wings, so I was only able to photograph the underside of its wings. Still, the pattern was enough for me to identify my first Red Admiral (and a wonderfully fresh one, too!) of the year.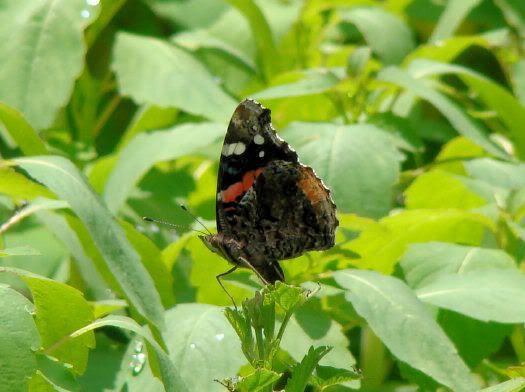 Red Admiral
I didn't see any Rainbow Bluets, but Eastern Forktails were still common in the tall grasses by the water. Several Common Green Darners were still patrolling the vegetation near the shore, and in the meadow I saw an unknown darner and this meadowhawk. Meadowhawks are a difficult group to identify, especially as some of the species will hybridize with others. I sent this photo to Chris Lewis and she said that this is most likely a very brightly-coloured male Cherry-faced Meadowhawk...or one of those difficult hybrids. The "red-faced" ones in the Ottawa area are most likely Cherry-faced Meadowhawks, although the redness of the face can vary greatly between individuals.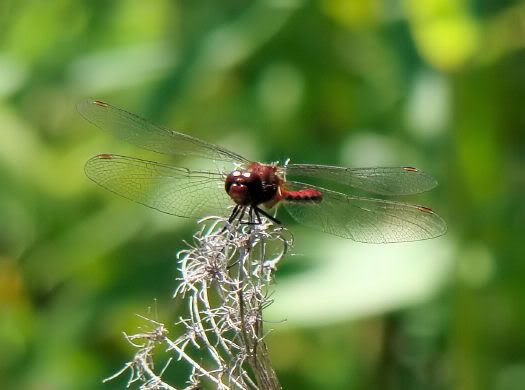 Meadowhawk sp.
Finally, I was happy to see the Wood Ducks on both excursions to Hurdman. I saw this female close to the shore, and when I took another path to the water I saw that she had several tiny ducklings close to the bank. On Monday I saw another female and assumed it was the same one, but she was sitting on a rock with a single juvenile Wood Duck that was quite a bit larger than the little ones I saw last week. It would appear that there are two different families on that same section of the river.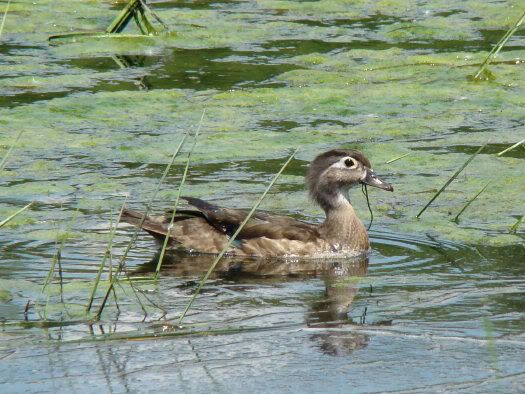 Wood Duck
After Monday I wasn't able to get out at all, for the weather worsened. The sun disappeared, the clouds settled in, and every day it rained at some point.
This weather is supposed to continue for several days, so it doesn't look like I'll be able to get out for a while. Not only is the weekend looking wet, curtailing my outdoor adventures, but all the rain may begin to have a negative effect on butterfly populations. Shorebird migration, too, may be affected if the water levels of the river no longer continue to decrease (thus revealing the mudflats that are so appealing to these birds) but start to increase instead. We had a relatively wet summer last year, and despite the promising beginning this season, it looks like July will finish off with quite a bit of rain this year.
Hopefully the sun will come out again soon!