After leaving Shirley's Bay on Canada Day I stopped at Sarsaparilla Trail, the smallest of the four Stony Swamp trails and one of my favourites. Although much smaller than the Beaver Trail or Jack Pine Trail, I've found a number of good birds here over the past few years including Scarlet Tanager, Black-and-white Warbler, Pine Grosbeak, White-winged Crossbill, Winter Wren, Virginia Rail, Ovenbird, Hermit Thrush, Ruffed Grouse, and Cooper's Hawk. Thinking back to all of the species that I've seen at Sarsaparilla, I start to wonder whether it would be worth the effort to start keeping a list of all the species seen on each individual trail!

On Canada Day, however, the birds were fairly quiet; I didn't see much in the woods or out on the pond. The best sighting, however, was a female or a juvenile Rose-breasted Grosbeak. I also heard the kingbirds calling from the swamp and startled what was likely a Ruffed Grouse on a side trail....I never saw it, but heard the sound of a large bird flying away in a sudden panic.




Summer Azure
It was dragonflies and butterflies that I was looking for, however, and with the sudden dark clouds rolling in I didn't know if I would find very many. The field near the outhouse was full of skippers, though I didn't spend a lot of time studying them. I walked into the woods and over to the boardwalk, encountering three different chipmunks along the way eating seeds left on the path by the previous trail-goers. By the time I got to the boardwalk, however, a light misty rain had started to fall. I stayed long enough to ascertain there were no herons, grebes, geese or ducks in view, and then left. A single Dot-tailed Whiteface and a female skimmer sat on the boardwalk despite the rain, and that was it for odonates at the swamp.
By the time I entered the woods again, however, the sun was peeking out of the clouds and the rain began to taper off. I found a large sunny clearing with a few dragonflies on patrol; when one of them landed I was able to identify it as a Racket-tailed Emerald.
Racket-tailed Emerald
I saw another dragonfly flying through the woods and followed it to a stone beside the path where it landed in a patch of sunlight. It was either a Frosted or a Belted Whiteface, and I was surprised to see it here since I had never noticed any of these dragonflies at Stony Swamp before. (Then again, I wasn't really looking!)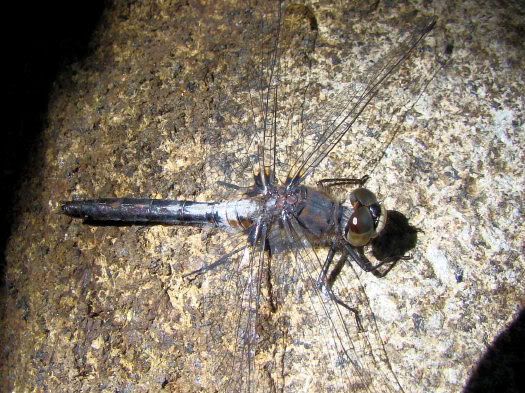 Whiteface sp.
I didn't see much else of interest as I left Sarsaparilla. The sun was shining again, and I thought it was worth stopping in at the Rideau Trail for a brief look. I heard Common Yellowthroats singing near the trail entrance, Veeries singing deeper in the woods, and saw a few butterflies bouncing above the vegetation beside the path. Another Northern Pearly-eye landed right next to the path so I decided to take its picture.
Northern Pearly-eye
I went to the large open alvar area and saw a few more Sedge Sprites and an Emerald Spreadwing in the grass. I also saw another unidentified whiteface with a large white patch on its abdomen; it flew away before I could focus my camera on it. A few large dragonflies were zigzagging high above the ground, likely skimmers and darners, but I wasn't able to identify any of them. This was another time that Chris's net would have come in handy!
I walked past the alvar and went into the woods on the other side. It's not often that I follow the trail this far, and I didn't see anything new. However, I did hear the song of a Black-throated Green Warbler. I thought about walking further to see if there was any water along the trail, but decided I ought to turn around and head home.
While walking along the trail near where I had found all the skippers in the Balsam Ragweed a few weeks ago, I noticed a large dragonfly zipping around above the clearing. It landed vertically on a tree trunk for a few seconds before flying off, and during that brief time I was able to identify it as a mosaic darner. I left the path to enter another clearing, and unexpectedly found either it or another darner "dangling" from a tree branch.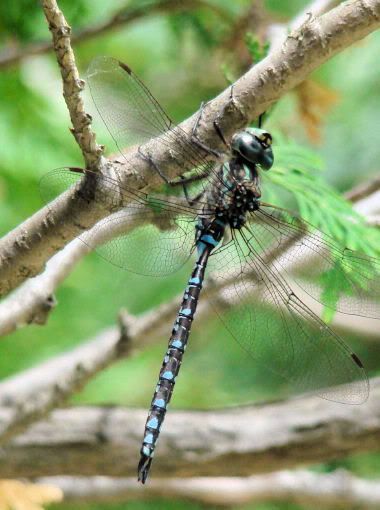 Canada Darner
This time I was able to photograph it, and I spotted the field mark I was hoping for: a deeply indented blue stripe on the side of its thorax! This trait distinguishes the Canada Darner from other similar-looking mosaic darners, and this was the first time I had been able to see it and thus confidently identify this common darner in the field. How appropriate that I identified my first Canada Darner on Canada Day!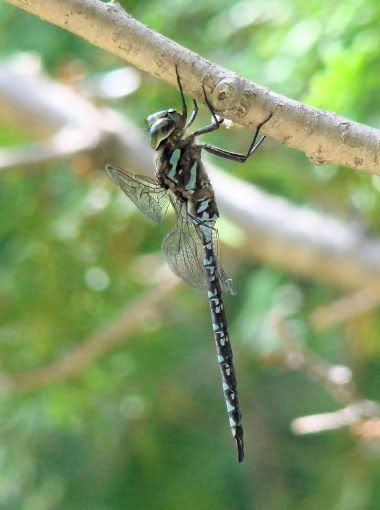 Canada Darner
Feeling pleased to have successfully photographed my second new species of the day I decided to leave the trail, but encountered one more insect of interest along the way. A small blue butterfly was flitting above a wet area on the dirt trail, and I waited to see if it landed; butterflies often use such wet areas to draw nutrients from the soil. Sure enough it did land, but it didn't stay long. I thought perhaps it might be an Eastern-tailed Blue, a species that has been largely absent so far this season; I haven't identified any yet this year and hope to spend some time searching the Hurdman area for them later on in the week. A glance through the binoculars proved otherwise; it was a Summer Azure.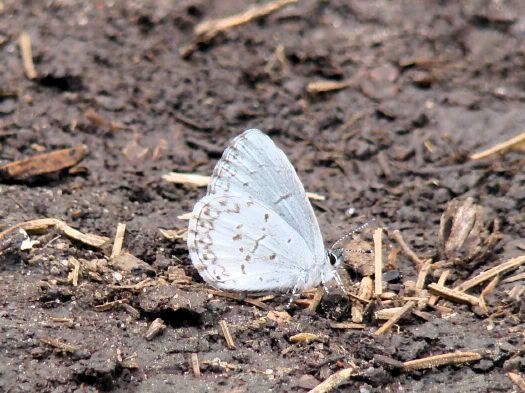 Summer Azure
The azures form a complex of very similar, closely related species that have only recently been separated into several individual species. The Summer Azure, flying from late June until early September, was formerly thought to be a second-brood form of the Spring Azure, which has a flight season from mid-April to mid-June. The flight seasons of these two species generally do not overlap. I have based my identification of this species based solely on the date it was seen.
A bike came along and the azure flew off, and I likewise left the area. An Ovenbird was calling loudly just inside the woods as I left the Rideau Trail, and it serenaded me all the way to my car. It had been another beautiful, successful summer's day, and I was quite content to have spent Canada's birthday observing and appreciating the wonderful creatures of our home and native land.