I spent five hours birding today in various places. It was definitely worth it, because at the Beaver Trail a Pileated Woodpecker flew right in front of me and landed on the tree next to me! He couldn't have been more than six feet from me. That was the first great experience of the day.

The second was seeing an adult Black-crowned Night Heron in a tree at Britannia. This was a life bird for me, and I got some great photos of him, too.

In the warbler department I was able to add Palm Warbler to my life list, and had a wonderful moment when a small bedraggled warbler (I suspect it's a Nashville) flew in and perched on a small shrub in front of me. He spent a few minutes looking for insects while I took his photograph.




Cooper's Hawk
Black-crowned Night-heron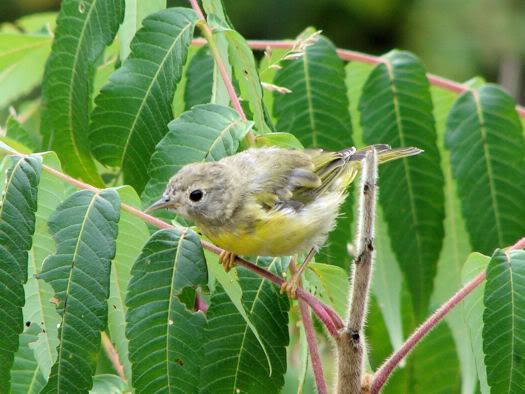 Nashville Warbler?
Also at Britannia, I was surprised to see a juvenile Great Blue Heron up close and personal in the swamp right beside the road. He was fishing so intently he did not notice or care that I was snapping photos of him. I think the photos I took are among the best I've ever taken of this species!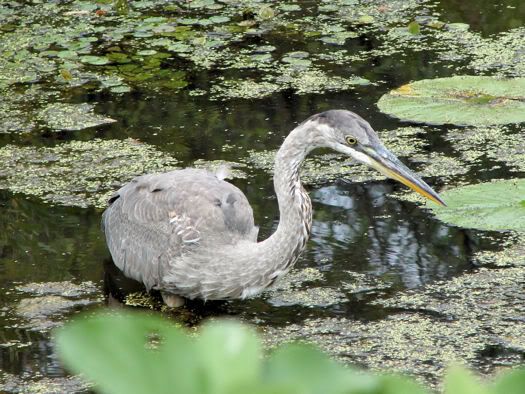 Juvenile Great Blue Heron
Finally, I went to Sarsaparilla Trail around 3:30 to look for my red-breasted nuthatches. By then the day had turned cloudy and overcast, and the woods were pretty dark. As I was walking along, I turned my head to the left and saw a large bird of prey sitting on a tree stump quite low to the ground. I have to admit, it gave me a bit of a start seeing him there, especially since he was quite close to me - perhaps about 20 feet away!
I thought it might be the juvenile sharp-shinned hawk I saw last time, but this bird was quite big - definitely bigger than jay-sized - so now I'm wondering if it was a juvenile Cooper's hawk. He was silent the whole time I was watching him, and after he flew off the first time he let me approach quite close with my camera and take a few photos. We watched each other for a while before I reluctantly left, and the whole time I was filled with this incredible awe and respect. This was the most amazing experience of my day!
Lifer #68 Palm Warbler

Lifer #69 Cooper's Hawk