| | | | |
| --- | --- | --- | --- |
| | After the holidays ended I was eager to visit Hurdman Park and add a few more birds to my year list. January 5th turned out to be a cold, sunny day, and I realized then how little sun we've seen in the past month. Normally November is the cloudiest month of the year here in Ottawa, but we saw a surprising amount of sun last November. It appears now that December (and perhaps January) will receive that dubious honour this winter, for I can't recall two days in row with pure sunshine. | | Common Redpoll |
When I arrived at Hurdman, I noticed that the first feeder was quiet, with only a few chickadees in the area. I soon discovered that the feeder was completely empty, so I added a little of my peanut and sunflower seed mixture to the tray. A Mourning Dove picking at the seeds on the ground didn't like the intrusion; he flew onto a fallen branch and waited for me to leave. Thinking that he looked quite pretty sitting in the sunlight, I took a few photos.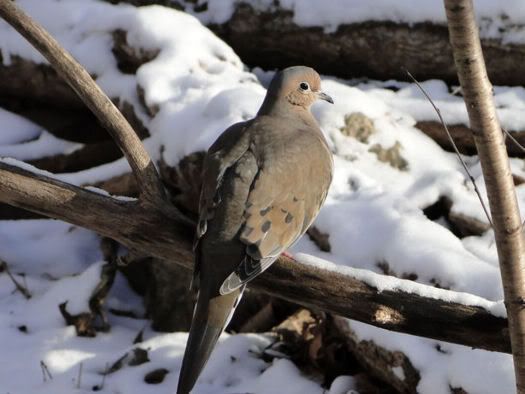 Mourning Dove
Although Mourning Doves are very common in cities and open areas, most people don't often take the time to appreciate their soft, gentle beauty. Upon closer inspection they have delicate blue and pink hues and scalloped white outer tail feathers visible only in flight.
Mourning Dove portrait
There was more activity at the second set of feeders, with many chickadees and American Goldfinches taking advantage of the free food. Further along the trail, in the tangles near a fallen tree I found my first Northern Cardinal and White-throated Sparrow of the year. From there I went up to the river, where I added Common Merganser, Common Goldeneye and Barrow's Goldeneye to my year list.
A gull standing at the edge of the ice caught my attention. It has been a while since I've seen any gulls along this section of the river, and this one was huge. It was a juvenile, but even so the large black bill, white head, and crisp checkerboard pattern of its wings marked it as a Great Black-Backed Gull.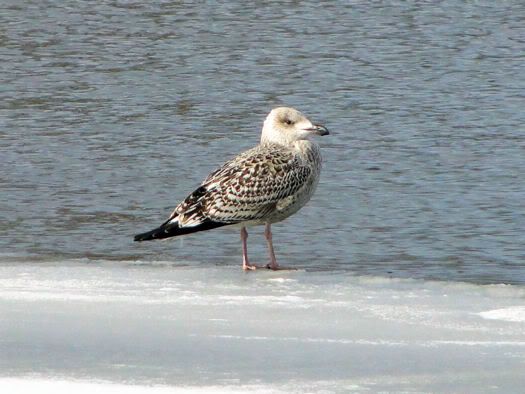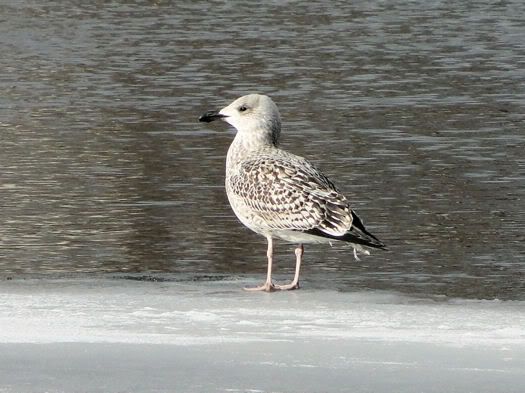 Juvenile Great Black-backed Gull
The sun disappeared the following day. The gray clouds moved in again, and spit snow for most of the day on Friday. Although it seems we've had a lot of snowy days lately, it hasn't accumulated enough for me to take my snowshoes out yet. I hadn't been planning on returning to Hurdman that week, but when an acquaintance told me that the long-awaited Common Redpolls had finally appeared at the finch feeder, I just had to go out anyway despite the light snowfall.
The feeders were much busier on Friday, probably because of the weather. The usual goldfinches and chickadees were present, and a male Downy Woodpecker was pecking away at the suet feeder.
Downy Woodpecker (male)
I checked the finch feeder and saw only goldfinches at first. More finches were waiting among the tree branches to take their turn, so I began scanning the area for the redpolls. At first I saw only goldfinches and a couple of House Finches. Then, when I brought my attention back to the feeder I realized one had flown in without me seeing him!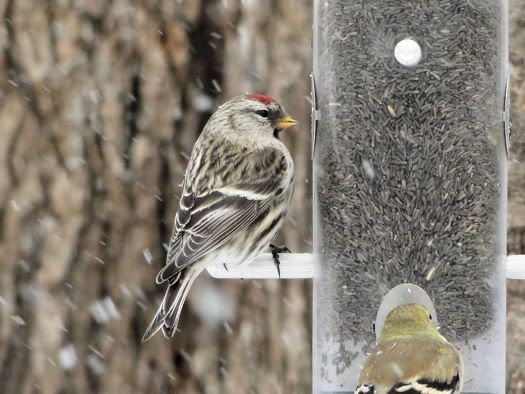 Common Redpoll
I watched him feed for a while, delighted to finally have a close encounter with one of these pretty boreal birds. Although I kept checking the area, this redpoll appeared to be the only present.
Common Redpoll
Because of the weather I didn't stay for long. As I was leaving, I noticed that a female Hairy Woodpecker had taken over the suet feeder. The size difference between the Downy and Hairy Woodpeckers is noticeable when you compare them in the two photos.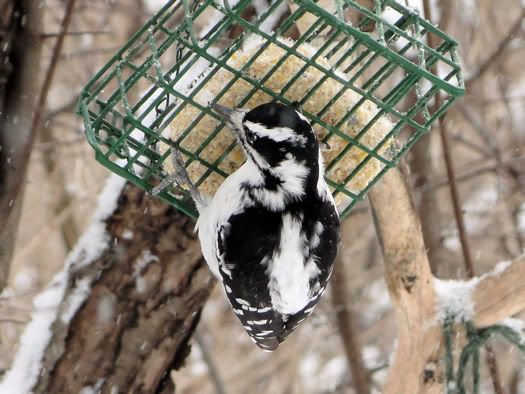 Hairy Woodpecker (female)
I also saw the Hermit Thrush on my way out, an unexpected surprise for my 2011 year list. This bird is very shy, however, and seems to disappear whenever I spot him. He flew toward the feeders and disappeared in the tangles; I have yet to see him feeding on any fallen seeds or suet crumbs.
My first week back to work was a good one indeed. It was great seeing such a variety of birds at Hurdman; the Great Black-backed Gull and Hermit Thrush were both wonderful finds, and I am happy that the redpoll invasion has finally reached this special park!