I couldn't let New Year's Day pass without going out and attempting to find some birds for my brand new year list. My plan was to head south along Eagleson and Moodie to look for hawks and gulls and Snow Buntings, but as the day was incredibly foggy I had to give up the idea of birding in any open areas. Instead, I stopped in at the Eagleson Ponds, where I found a couple of House Finches, about ten mallards, and one Canada Goose...an excellent start to the year.
Next I went to the Jack Pine Trail, figuring the fog wouldn't be as bad in the woods. There I found a couple of Blue Jays feeding on some peanuts near the parking lot and a single Mourning Dove by the large OFNC feeder. I was very surprised not to see or hear a single chickadee or nuthatch along the way, and as I continued down the trail I soon discovered why. While walking toward the back of the trail a large, grayish hawk flew up off the ground almost right in front of me, landing on a fallen tree not too far away. Fortunately he was quite visible from where I stood on the trail, allowing me good look at his long tail, the dark cap on his head and bright white supercilium. There was no doubt in my mind that it was an adult Northern Goshawk. Not only was the goshawk only the eighth bird on my year list, it was my first life bird of the year!
He sat with its back to me for about three or four minutes, frequently checking over his shoulder to see what I was doing. Eventually he flew away, clutching a dead bird in its talons. There were too many branches between me and the goshawk to even consider taking any pictures, but I was still elated with great views he gave, as goshawks are notoriously difficult to find given their habitat preference. I was fortunate, too, that it was an adult, otherwise I might not have been able to distinguish him from the similar juvenile Cooper's Hawk!
Only a few small patches of open water remained in the marshes, which meant no ducks; however I soon found my first chickadees, Red- and White-breasted Nuthatches, Hairy and Pileated Woodpeckers of the year. I saw a couple of juncos and heard a couple of tree sparrows at the end of the marsh boardwalk next to Moodie Drive.
It was here that I came across an interesting sight: a tree stump decorated with small puffballs. This rotting stump has become a mini-ecosystem, supporting a number of fungus, plant and moss species.
Puffball Fungus on Stump
Further along the trail I came across something else that caught my interest, a pile of feathers in the middle of the trail. This was a much sadder find than the rotting stump, for it appeared that some poor bird - perhaps a Mourning Dove, based on the size and colour of the feathers - had met its demise here.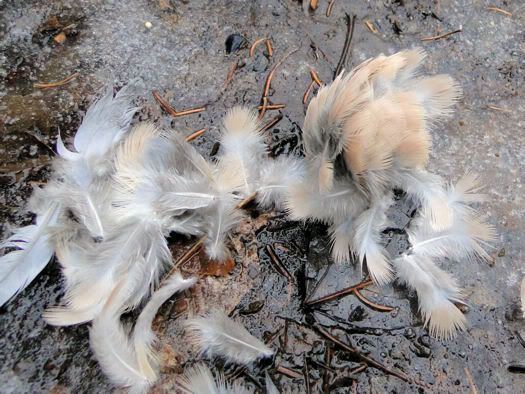 Did the goshawk catch it? Or was there another predator present in these woods? Barred Owls, Sharp-shinned hawks, Cooper Hawks and Northern Shrikes have all been known to hunt in this area, and just because I haven't seen any of these species in a long time doesn't mean they aren't around.
The feathers of at least two different species seemed to be present; this one looks more like a Blue Jay's feather to me. Interestingly, a Blue Jay's feathers are not truly blue, since no blue pigment exists in birds. Instead, the vivid blue colour results from refraction of light through the microscopic structure of the feather. If the feather is crushed, the blue colour disappears.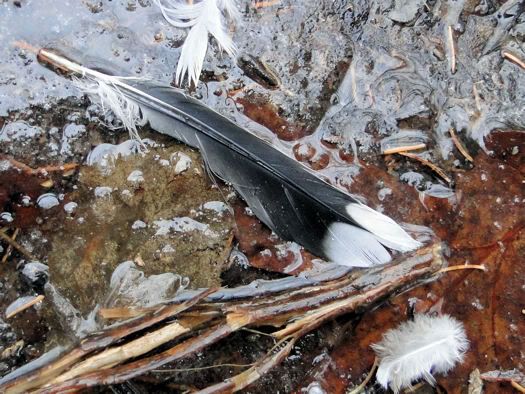 The fog had lifted by the time I was finished walking the trail, so I decided to check the landfill and the fields between Eagleson and Moodie after all. I came across a total of six Red-tailed Hawks, two each on Barnsdale, Trail Road, and Moodie Drive, which is the most I've seen in this area in a long time. I checked the gulls at the large quarry pond but, due to the distance, was only able to make out the conspicuous Great Black-backed Gulls. While watching the gulls, a large flock of Snow Buntings flew over the road and headed toward the dump....I estimated at least 500 individuals in the flock, for it took a long time for them all to fly over the road! A single American Robin was also present in the area, perching at the top of a tree on the other side of the road.
I tallied 22 species altogether on the first day of 2011; without question, the Northern Goshawk was definitely the best!
Lifer #265 Northern Goshawk