I went to Hurdman at lunch yesterday to see if any redpolls or Bohemian Waxwings have made their way to the park yet. Both have spent the winter here in the past, as there are lots of buckthorn berries present to attract the waxwings and lots of open, weedy areas to attract the redpolls. Redpolls come to the feeders, too, especially those offering niger seed.

To my disappointment, I didn't see either species. I did run into Suzanne, aka soul_diaspora, on her way to the feeders - she's taken it upon herself to keep the feeders filled, an admiral commitment in my eyes. Although I always bring a baggie full of seeds for the birds, I usually visit only once a week and my small contribution isn't nearly enough to keep the gluttonous squirrels and chickadees from starving. Fortunately, there are other kind people out there who maintain these feeders, though I've never met anyone else filling them during my weekly visits.




American Goldfinch
Suzanne and I exchanged a few words at the feeder, and then - as I only have a short lunch break - I left to check my regular route. I was happy to see a Dark-eyed Junco still around, as well as four cardinals, three males and one female. A White-breasted Nuthatch and a Downy Woodpecker were also industriously scrutinizing the tree trunks for food. I was surprised, however, by the large number of House Finches and American Goldfinches I found along the trail...the woods seemed almost overrun with these colourful songbirds! These year-round residents are not considered to be "winter finches", as neither species lives and breeds strictly in the boreal forest, nor do they only show up in the southern part of the province when food supplies in the boreal forest decline, as the redpolls, Pine Grosbeaks and Pine Siskins do.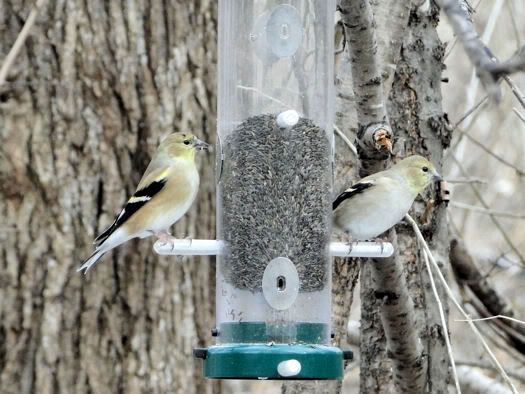 American Goldfinches
Unlike the goldfinches, the House Finches didn't come to the feeders, although I saw them eating seeds left on the ground along the trail. I wasn't able to get any photos of them at all.
The goldfinches at the niger feeder were much more cooperative. At this time of year they appear drab, with only a faint golden hue.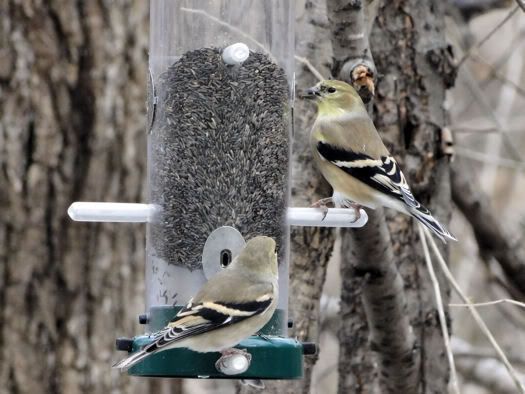 On the river I saw three male Common Mergansers and five Common Goldeneyes. These diving ducks will become more reliable in this area once the Rideau River begins to freeze. This section usually remains open from the footbridge to Strathcona Park.
It was a good outing, although it was my last of the fall. The winter birding season begins on Wednesday, December 1st. In another way the finches I saw at Hurdman weren't "winter" finches, since I can't count them for my Winter List just yet!