Late on Saturday it started raining. The temperature dropped overnight, and when I woke up Sunday morning (the last day of October - Halloween) the world was covered in a blanket of snow. Deb and I had plans to go birding since it has been a while since we've been out together, and, despite the snow, we intended to make a full day of it.

Although the sky was gray and cloudy, the temperature was hovering around 1°C when we left. The sun was supposed to come out, so we drove off to the east end to look for geese, Sandhill Cranes and other species of open fields.




Pileated Woodpecker
Our first stop was Milton Road where we saw not only thousands of Canada Geese, but several small birds flying over a field parallel to the car. Deb pulled over, and we got out to check them out. The majority were American Pipits; their calls are distinctive, as are the white outer tail feathers visible in flight. We figured there must have been over 100 of them altogether.
From Milton Road we turned onto Smith Road, where several Sandhill Cranes have spent the last couple of weeks grazing in a corn field. We found the cranes easily, and stopped to take some pictures. Before taking a closer look at the cranes, I stopped to take this landscape image:
Halloween Snow
Most of the cranes were quite far back from the road so I set up my scope and started counting them. Estimates of the flock range from 80-100 individuals, and I was up to 77 when Deb told me there were more in the next field. Those ones appeared to be slightly closer, so we drove up to take some pictures.
Sandhill Cranes
With a worldwide population of over 500,000 birds, the Sandhill Crane is the most abundant and most common of all the world's cranes. There are six recognized subspecies of Sandhill Cranes, half of which are migratory. These subspecies breed in the Northern U.S., Canada and Alaska. During the summer, Sandhill Cranes live in freshwater wetlands, wet meadows and grasslands. They are omnivores and feed on plants, grains, tubers, berries, seeds, mice, insects, worms, small reptiles and amphibians, and even nestling birds. The average life span of the Sandhill Crane in the wild is about 20 years.
In the fall, these northern populations undertake long journeys to their traditional wintering grounds in Florida, Texas, Utah, Mexico, and California. More than three-quarters of the population use migratory staging areas in a single 75-mile (120-kilometer) stretch along Nebraska's Platte River. Here in Ottawa, the most famous migratory staging area is the group of corn fields along Smith and Milton Roads, which have hosted large congregations of these birds for several years. In 2009 over 100 individuals were counted for the first time, and a similar number seems to be present this year.
Sandhill Cranes
After watching the cranes, Deb and I headed further east to the agricultural land near Frank Kenny Road. We found two Northern Harriers along Wall Road, a number of American Tree Sparrows perching in the uncut corn along O'Toole, and several Horned Larks along Regimbald and Giroux Roads. We also encountered another Northern Harrier along Giroux Road, this one sitting on the ground.
Northern Harrier
We continued driving toward the quarry ponds, and found two Rough-legged Hawks in a tree right above the road. Both flew off as soon as we approached. At the quarries, we saw three Brant (my first of the year) in the southern pond and three Gadwall and several Green-winged Teal in the north pond. The shorebirds Deb had seen on Wednesday were gone, and there were only a few Canada Geese in both ponds.
After that we drove back to the west end. Deb wanted to see the American Coots so we stopped at Andrew Haydon Park next. We saw four Common Mergansers and one Red-breasted Merganser out in the river and the three coots and a single Great Blue Heron in the marshy bay at the western edge of the park. This time we walked down into the marsh to try and get some photos.
American Coot (adult)
Although they swam away from us at first, the three coots eventually returned to the same area in the bay where they were feeding. They fed by diving to the bottom of the bay, grabbing a mouthful of vegetation, then bobbing back up to the surface like a cork almost immediately.
One of the coots was much lighter than the others; this was a juvenile and seemed less wary than the two adults.
American Coot (juvenile)
We ended our outing with a drive down March Valley Road, where we saw three Rough-legged Hawks hunting on the DND property, and a short walk along the Kerwin Road trail. We were hoping for some winter finches or northern woodpeckers; the trail, however, was pretty quiet. We caught a fleeting glimpse of a Ruffed Grouse, and enjoyed watching a small flock of about 20-30 Bohemian Waxwings fly by overhead. We also came across a female Pileated Woodpecker, and it was she who provided my best photo of the day.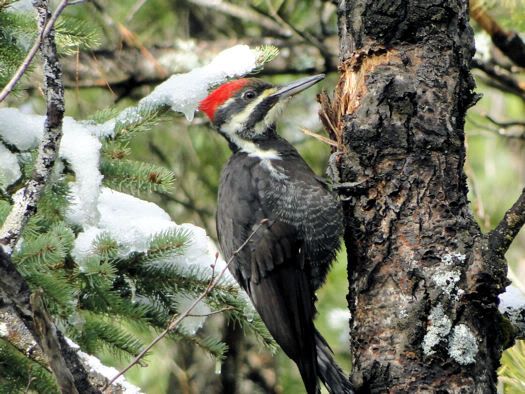 Pileated Woodpecker
The season is definitely changing, with more and more winter birds (such as the Horned Larks, Rough-legged Hawks, tree sparrows and Bohemian Waxwings) arriving on their wintering grounds and fewer fall migrants remaining. Both the Brant and the Sandhill Cranes were year birds for me; both of these will be moving further south soon. Also of note was an unexpected Barred Owl being harassed by a group of crows, and it would seem that this species is still moving through, searching for a place to spend the winter were food is abundant.
Although it sure looked like it today, I'm hoping that winter won't set in for a good month. It's my least favourite season of the year, and the one with the fewest species around. With luck, yesterday will end up being an abnormality rather than a sign of things to come!