When the weekend arrived I headed out first thing Saturday morning to look for the Cattle Egrets again. They were still gone, so I continued on my way to the Richmond Lagoons via Rushmore Road. Although the two hawks had also moved on, I encountered three Horned Larks on the road, a single American Pipit flying overhead, and a small flock of American Tree Sparrows.

At the Richmond Lagoons I saw the three female Northern Pintails again as well as a large number of Green-winged Teals. I also saw two female dabbling ducks swimming close to the shore, apparently feeding. They didn't tip up like most dabbling ducks do; rather, they swam in elegant circles with their heads half submerged. Only when one raised her head did I see the remarkably large bill of a Northern Shoveler. Movement close by caught my attention, and I thought a third shoveler was swimming next to the bank until I took a closer look and realized it was a muskrat! It's been a while since I've seen any mammals other than squirrels and chipmunks, so I was happy to see him gathering plants growing along the edge of the lagoon.




Eastern Screech Owl
My mammal sightings continued with a remarkable find at the Moodie Drive quarry pond. I noticed a rather dark animal swimming and diving at the back of the quarry amongst all the Ring-necked Ducks and Hooded Mergansers, and when it first emerged I thought it was a beaver. Then it dove beneath the water just like a merganser or diving duck, its body heaving out of the water before disappearing gracefully beneath the surface. Its movements appeared very sinuous and, when it came back up, I noticed the tail was very long and thin. That's when I suspected I was watching my very first Northern River Otter, and for a long time I watched it rather than the birds through my scope.
Next I went to Sarsaparilla Trail to look for woodland birds. Here I found a White-tailed Deer, the first one I had seen at this trail in a while. Bird sightings included a flock of a dozen robins eating berries, a couple of Golden-crowned Kinglets, only one Dark-eyed Junco, one American Tree Sparrow and two Red-winged Blackbirds in the marsh. While standing at the observation platform on the boardwalk feeding the Blue Jays and chickadees, a group of seven American Pipits flew overhead. Not long after they passed by, all the chickadees scattered and the Blue Jays disappeared into the thickets squawking their alarm calls. I looked up in time to see an accipiter glide by me and land in the trees at the end of the boardwalk. I wasn't able to get a good enough look to tell which species it was, and then when it saw me he flew off to the relief of the songbirds.
A stop at Andrew Haydon Park produced an interesting mix of waterfowl. Three Bufflehead ducks and eight Common Mergansers were swimming out near the lighthouse of Dick Bell Park. A winter-plumage loon was even further out, and to the east I counted at least 35 Common Goldeneyes - my first of the fall. An unusual sight consisted of three American Coots in the marsh where the western creek empties into the Ottawa River. While uncommon in Ottawa, they are more reliably found in the eastern sewage lagoons - such as the Alfred Lagoon - during the breeding season.
There were no unusual mammal sightings at Mud Lake, although I did see another accipiter fly across the lake. A few Hooded Mergansers, Wood Ducks and American Wigeon were still swimming on the lake, and I saw a Pileated Woodpecker in the woods near the observation platform.
I also checked the
screech owl
tree in the woods to see if the owl was there. Although I've been checking the tree on and off throughout the summer, I had only seen the owl once, in April when this bird was a lifer for me. I hadn't seen the owl since, and I figured that all the attention last spring had driven him to find another roosting place.
Eastern Screech Owl
While approaching the tree, I noticed again that the hole was empty. Still, it was a nice enough day, and I decided to walk up to the tree and reminisce about that day in April when I'd first seen him. I was watching the ground, stepping over roots and rocks and climbing over a large fallen tree, and didn't look up until I was only a few feet away from the tree. To my shock, there was the owl, looking right back at me! At first I could only stand there, frozen, while we simply stared at one another. Then I raised my camera and started taking a few photos. The day was dark, and I didn't want to use my flash, so after spending another couple of minutes taking in his minute beauty I turned around to leave.
When I looked back, I noticed that the yellow leaves in the background made a nice setting. I also noticed that the screech owl was still staring at me. I took a few more photos, then I left him in peace. Because of the increasing incidents of owl harassment in Ottawa and Amherst Island, I chose not to report this sighting.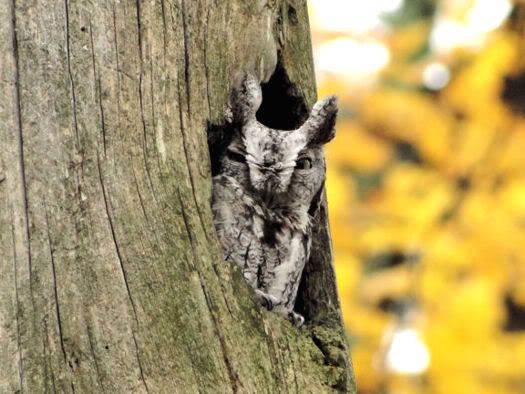 Eastern Screech Owl
While I saw many good birds during my travels on Saturday, the highlights were definitely the screech owl and the otter. Even with migration coming to an end and winter approaching, there are still many fascinating year-round residents to be seen!