| | | | |
| --- | --- | --- | --- |
| | The sun finally came out today, and the day was pleasant and mild, lifting my spirits. Yesterday, while I was at work, 14 Cattle Egrets were seen in a field just south of Fallowfield Road not five minutes from where I live. However, as my fiancé has the car during the week, and as it is dark now by the time we get home from work, I was unable to get out and see these rare birds. Only one or two are seen each year in Ottawa; such a large flock is unprecedented. As this would be a lifer for me, I decided to get up early this morning to see if I could relocate them before heading off to work. I drove south on Richmond Road, stopped at the field where they were last seen, and carefully scanned the area. As luck would have it, the Cattle Egrets were gone. I later learned that these birds are usually "one-day wonders" when they stop over in Ottawa. | | Fungus sp. |
After spending about ten minutes searching the field, I took Rushmore Road back to Eagleson. About halfway down Rushmore I noticed a large dark hawk hovering above the fields, its wings flapping madly. I slowly drove as close as I dared, then got out and set up my spotting scope. It was, as I suspected, a Rough-legged Hawk - my first one of the fall! I watched it fly to another spot above the field, hover for a while, then move further back to a third spot. This time it dropped onto the ground, and stayed there for a while, presumably having caught a small rodent.
A second raptor was flying in the field behind the one I was watching, gliding close to the ground near the fence line. This one was a Northern Harrier, distinctive with its long wings, long tail and white rump.
The most remarkable sight along Rushmore Road that morning, however, was not the two raptors but rather the large number of small birds flying over the road to the field on the other side. There must have been about 100 of them, and although they were calling I didn't recognize the calls. I believe they were probably Horned Larks, since they lacked the black and white colours of Snow Buntings and they didn't sound like Snow Buntings or pipits.
Even though I didn't see the Cattle Egrets, it was great to get out in the morning before work to see these wonderful birds. It made for a fairly relaxing morning at work, too, and when lunch time arrived I was eager to go back out and enjoy the warm, sunny day. I went to Hurdman, hoping to find a few lingering migrants or early winter arrivals. Along the way I came across these interesting mushrooms:
Fungus sp.
I met with success in my search for fall migrants; in a quiet scrubby area off the main path I came across both a Fox Sparrow and a Hermit Thrush. Both disappeared into the tangles without a backward glance. Further along I found three robins eating berries in a wooded area. As I have been seeing fewer and fewer robins lately, each one that I find is deserving of notice.
There were no winter finches or tree sparrows around yet, but on the river I was pleasantly surprised to see a female Common Merganser and a female Hooded Merganser. The Common Mergansers will spend the winter on this section of the Rideau as long as the water stays open, while the Hooded Mergansers spend their winters further south.
I was also happy to see a few Autumn Meadowhawks hunting for insects in a sunny, sheltered area near the shore. These are our latest-flying dragonflies in Ottawa and can be seen flying on calm, sunny days well into November as long as the temperature doesn't drop too suddenly or stay below zero for a prolonged period of time.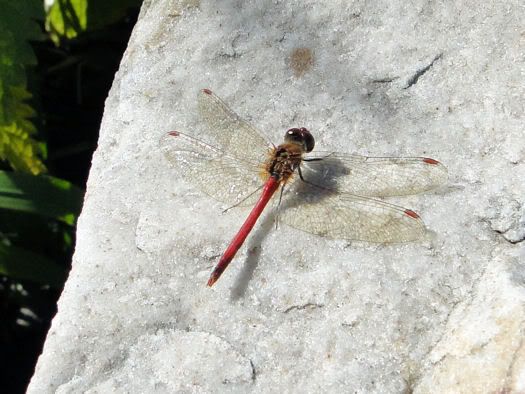 Autumn Meadowhawk
Between the Northern Harrier, Rough-legged Hawk, Hooded Merganser, Hermit Thrush and Fox Sparrow, I've never had such a good day's birding on a workday! It was almost too nice to go back to work after I finished walking the trails at Hurdman, especially since there are still many good birds around.