| | | | |
| --- | --- | --- | --- |
| | Our last stop of the day at Presqu'ile was Owen Point. This sandy spit at the southwest corner of the park juts into Lake Ontario and attracts numerous shorebirds during each migration. Forty-one species of shorebirds have been recorded at Presqu'ile, and of these about 25 are seen annually. There is a sandy beach all along the west side of the peninsula, and the southern end is specially managed for the shorebirds that congregate here. Vegetation is removed, the algae is allowed to accumulate to provide a food source (they eat invertebrates in the algae), and a birding trail with numerous lookouts has been constructed to prevent disturbance to the birds. | | Monarch |
Deb and I ate our lunch at a picnic table near the beginning of the Owen Point Trail. A couple of Gray Catbirds called from the thickets and a few unidentified
crescents
flew by, making it a pleasant experience. We saw several Fringed Gentians growing beyond the clearing, and I stopped to photograph a couple before we headed out to the tip of Owen Point.
Fringed Gentian
The trail travels through lush vegetation with only a few lookouts providing views of the beach. Most of the lookouts are near the tip, as is access to Gull Island. This island lies across a small, shallow channel and is home to thousands of birds during the breeding season. Great Blue Herons, Great Egrets, Black-crowned Night Herons, Ring-billed Gulls, Herring Gulls, Caspian Terns, Common Terns and Double-crested Cormorants all nest on Gull Island and High Bluff Island beyond it. It is estimated that during peak nesting season, approximately 250,000 birds live on these two islands! As such, access to these islands is restricted during the nesting season, although the birds can be viewed and heard from Owen Point.
Owen Point Trail Map
At the first lookout we saw a couple of Black-bellied and Semipalmated Plovers scuttling along the beach close to the fence separating the beach from the trail. There were nowhere near the numbers I had expected, but it was great to see both species quite close to the lookout. A few other Black-bellied Plovers resting near the shore were too far away to be photographed.
Black-bellied Plover
We saw a good number of butterflies along the trail on our way to the next lookout, including an unknown Polygonia, a Viceroy, several Monarchs, and a faded American Lady. Monarchs, too, fly south to Mexico for the winter, and they gather in places like Point Pelee and Presqu'ile while waiting for favourable winds to carry them across the lake. Apparently there had been a mass grounding of Monarchs a few days earlier, when some observers counted several clusters of 300-500 butterflies....estimating a total number of 10,000 individuals!
American Lady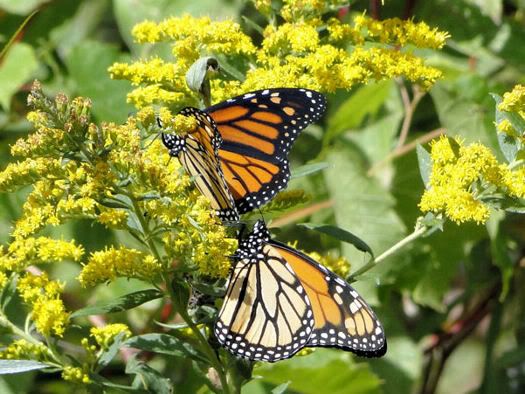 Monarchs
Near the tip I saw another Black Saddlebags dragonfly and a few gulls along the shore. Deb and I walked to the very end of the point, assessing the walk across the channel to Gull Island. It seemed shorter than the channel between Mud Lake and the island, with less of a current, so we took our shoes off and began wading across. Here is a photo I took looking north into the park from Owen Point....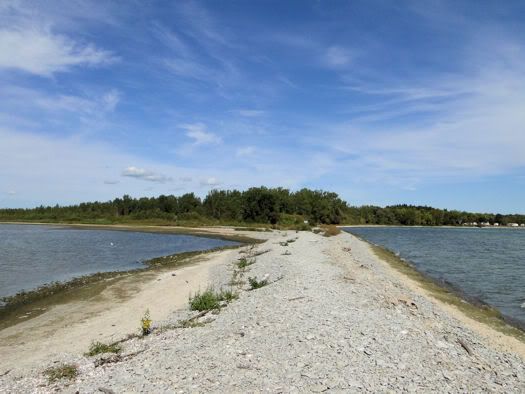 Looking back toward Presqu'ile from Owen Point
...and another one looking back after we had reached Gull Island. It was slow going, because the bottom was very stony and the rocks were painful under our bare feet, but the water was cool and refreshing.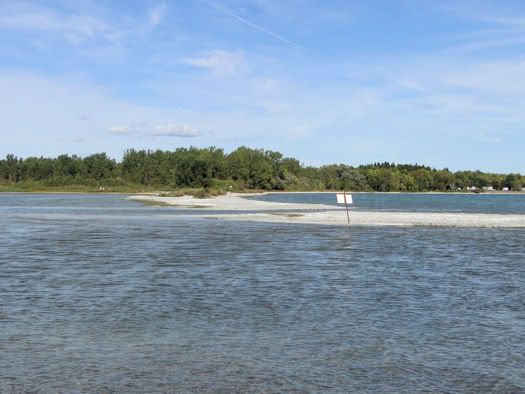 Looking north from Gull Island
Gull Island was not what I expected. It was basically a slab of rock on top of a rocky shore. The center slab was covered in short, dense vegetation while the shore, being about two feet lower, was covered in algae. Not only was it not a pretty place, there were dead fish and dead birds (a couple of gulls, a cormorant, and a loon) scattered on the shore. Almost as soon as we put our shoes back on and started walking south along the shore we came across a group of about 10 shorebirds, including Least, Semipalmated and Baird's Sandpipers. We were facing the sun, so it was hard to get a good shot of them.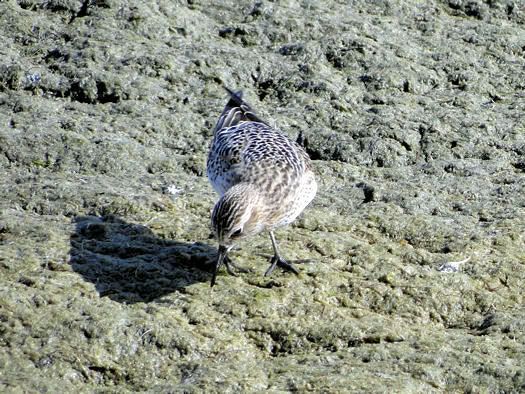 Baird's Sandpiper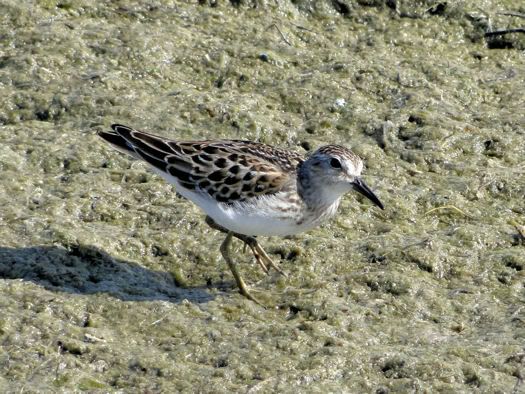 Least Sandpiper
We tried to make our way past the shorebirds without startling them, but they flushed and flew back to the mainland. The island widened, and we had a choice of taking the east shore or the west shore; we decided to take the east shore as the Whimbrel that had spent the last couple of days here had last been seen in the southeast corner. Before we got very far, an American Pipit flew out of the grass and landed in front of us.
American Pipit
We made our way around the island without seeing any birds except for a gull with an injured wing. There were a few Monarchs and a Mourning Cloak on the island as well. Finally, as we were heading north back toward the mainland along the western shore we spotted a large shorebird on the beach. I set up my scope (yes, I had crossed the channel in my bare feet with my scope over my shoulder!) and confirmed it was the bird we were looking for: the Whimbrel!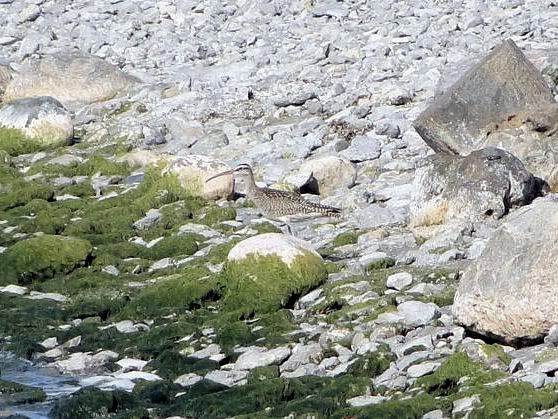 Whimbrel
This was a life bird for both me and Deb and made the whole trip worth while, sore feet and all. We tried to get closer, but it knew we were there and kept running away from us along the beach. This fellow will eventually fly south to spend the winter along the coast of Florida or South America.
On our way back to the channel we saw a Great Black-backed Gull mixed in with the Ring-billed Gulls and a raft of Green-winged Teal. After wading across the channel (another painful experience!) we saw a juvenile Herring Gull investigating a dead fish on the beach.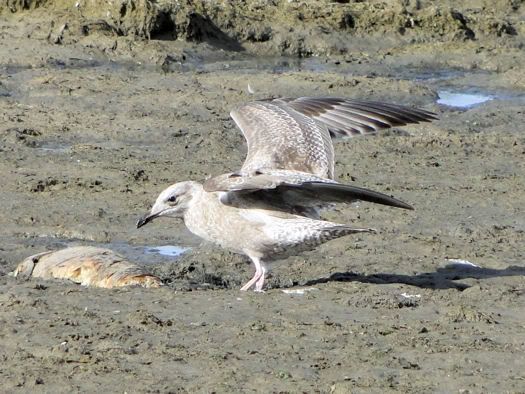 Herring Gull
By then it was after 4:00, and as we had a long, three-hour drive back to Ottawa we decided not to visit any more trails in the park. On the way back to the car we saw a few more Monarchs so I stopped to take one last photo.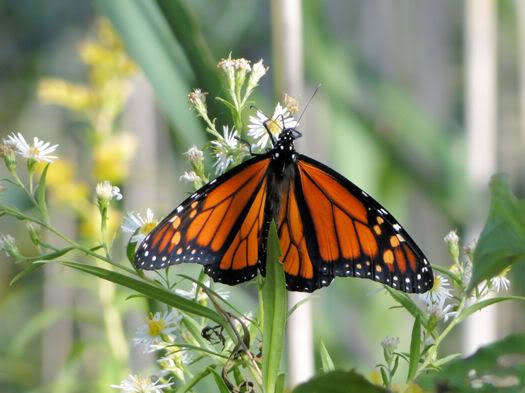 Monarch
Presqu'ile Provincial Park
was everything I had hoped it would be. Both the birds and the butterflies were spectacular, and I ended up with three different lifers: the Black Saddlebags (dragonfly), Orange Sulphur (butterfly) and Whimbrel (bird). I'd love to spend a full weekend there sometime in the summer to see the different breeding birds and dragonflies. In the meantime, I think that a September visit to this wonderful park is going to become an annual event!