| | | | |
| --- | --- | --- | --- |
| | The sun came out the following day, so I decided to start the morning off at Jack Pine Trail. There was a decent amount of activity in the woods, and I ended up seeing lots of juncos, a couple of White-throated Sparrows, a Song Sparrow, a Brown Creeper and - best of all - a pair of Winter Wrens. In the edges bordering the marsh I came across a pair of Swamp Sparrows and a single Red-winged Blackbird surveying the marsh from the top of a tall, leafless tree. There were plenty of Green-winged Teals with the usual mallards and black ducks on the main pond, and in the trees overlooking the OFNC feeder area an unseen bird was singing a beautiful song I didn't recognize. I tried to locate the singer but failed to find him. When he began to sing again he was much further away. | | Mud Lake |
I stopped by Sarsaparilla Trail next, where I found more juncos, Golden-crowned Kinglets, and a couple of Red-winged Blackbirds singing in the marsh, before proceeding to Andrew Haydon Park. The high water level meant no mudflats and no shorebirds, and the ponds contained only the usual mallards and Canada Geese. Last year we had seen an unusual number of ducks in these ponds, including three female
Northern Pintails
,
Green-winged Teals
,
Lesser Scaup
and a couple of
Long-tailed Ducks
. None of these ducks have appeared again this year, and so far only a couple of Redheads have made the park worth visiting. The river, however, is always worth checking, and a half-dozen scoters made the stop worthwhile. One was a Black Scoter, looking unusually like a Ruddy Duck with its white cheek and stubby tail pointing up; the others were either Surf or White-winged Scoters, but too far away for me to distinguish.
After that I went back to Mud Lake to see if the Barred Owl was still around. He was gone, and most of the kinglets and sparrows on the Ridge had vanished also. I did see several Ring-necked Ducks and Wood Ducks on the lake, and a couple of White-throated Sparrows, Yellow-rumped Warblers, a Brown Creeper and a Hermit Thrush on the Ridge. Several Autumn Meadowhawks and a couple of Cabbage Whites were taking advantage of the warm day, too.
Somehow I ended up taking no wildlife photos the entire morning. I didn't mind, as the other reason I returned to Mud Lake was to photograph some of the beautiful trees now at their peak fall colours. Here are a few of the images from Thanksgiving Monday:
Mud Lake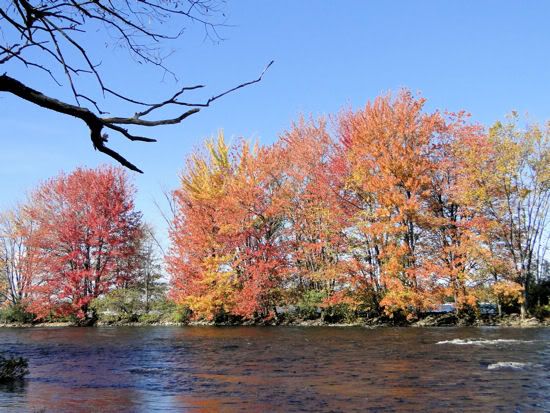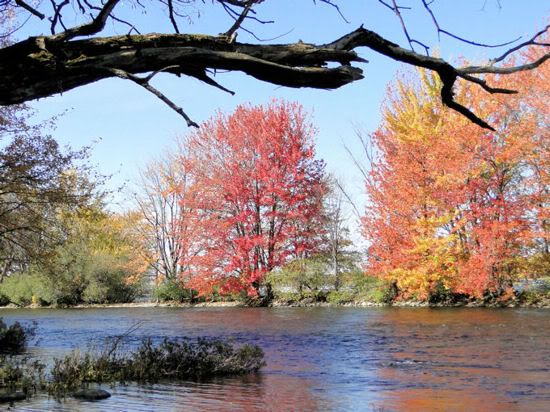 The Ottawa River behind the Ridge
It was a wonderful day outdoors; and being surrounded by nature reminded me that I have much to be thankful for.