| | | | |
| --- | --- | --- | --- |
| | It's hard to believe that it's almost the end of August. Fall migration is picking up momentum; songbirds are now beginning to move through the region in good numbers. Although it was gray and overcast, I went out to Mud Lake on Saturday morning, Ottawa's premier site for seeing migrants while they rest and forage for food. I wasn't disappointed. Hundreds of swallows were hawking for insects above the Ridge and over the river, several Chimney Swifts among them. These birds will all be gone by the beginning of September. I also saw a couple of Great Black-backed Gulls on the rapids and several phoebes in the area behind the Ridge. Other birds seen between the Ridge and the river at Mud Lake include Warbling Vireos, Yellow Warblers, American Redstarts, a Great-crested Flycatcher, Cedar Waxwings and a Downy Woodpecker. | | Chestnut-sided Warbler |
The best moment of my visit, and indeed the moment that made my outing worthwhile, was seeing a fall-plumaged Chestnut-sided Warbler in a shrub up on the Ridge. He sat still for about three minutes while I photographed him. In the fall, when they lose the bright chestnut-coloured streak that gives them their name, Chestnut-sided Warblers can be identified by their yellow cap, white eye-ring, and two bold white wingbars. This is definitely one of the best experiences that I've had with this species, as, like most warblers, they rarely sit still while foraging.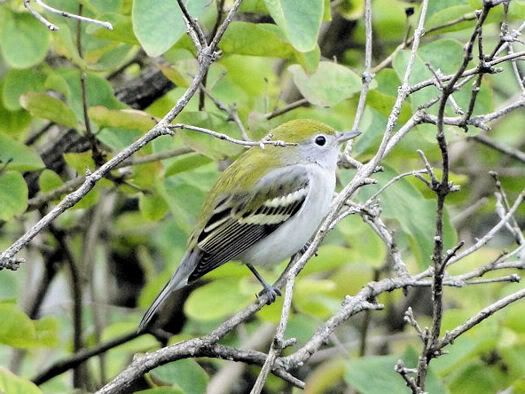 Chestnut-sided Warbler
It began to drizzle while I was there, so I packed it in and started walking back to my car. Along the way I came across this fuzzy caterpillar munching on a leaf.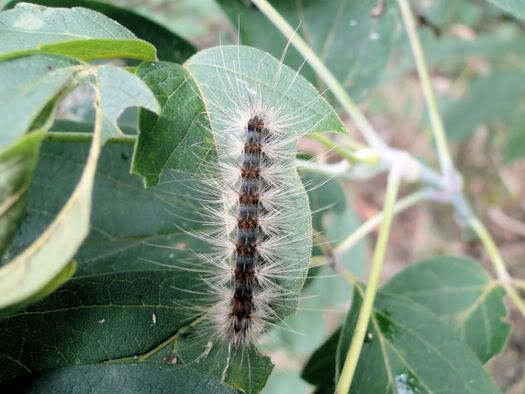 Caterpillar sp.
Sunday was also gray and overcast, and cooler than normal for this time of year - only 17°C. As it had been a while since I'd visited Stony Swamp I decided to go to Jack Pine Trail to see what was around. There were no birds at the first boardwalk. In the woods just beyond, however, a small white scrap on a leaf caught my attention. I almost ignored it at first, until I recalled that some moths resemble bird droppings to protect them from predators. When I took a closer look, I realized it was in fact a larva of some sort, and that it was fuzzy. In fact, it looked like a discarded piece of fabric from a sewing project.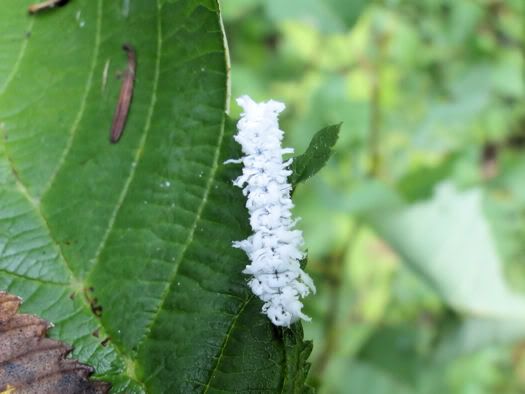 Butternut Woolyworm
I thought it was a caterpillar, but when I got home and did some google searches I learned that it was the larva of a sawfly, an insect related to the bees and wasps. It really didn't look like a living creature at all, until it began to move.
Butternut Woolyworm
A colourful insect on the same plant caught my attention, a leafhopper of brilliant pink and green. I had seen one once before, on the butterfly outing at Larose Forest, but it didn't sit still long enough for me to take a photo. This one did, possibly because of the cooler temperatures. It is likely
Graphocephala coccinea
, a leafhopper known as the Red-banded Leafhopper or (my personal favourite) the Candystriped Leafhopper.
Leafhopper (Graphocephala sp.)
When I reached the middle boardwalk I saw a Solitary Sandpiper foraging in the muck. Although the water levels were still really low, this was the only shorebird present.
Solitary Sandpiper
There were three female Green-winged Teals in one of the other ponds, and in the marsh at the back of a trail, a Common Yellowthroat started chipping at me as I passed by. Because it was such a cool, overcast day I didn't expect to see any butterflies. However, a couple of Northern Crescents were flying in the back meadow.
Northern Crescent
It started raining lightly by then, so I began heading back to the parking lot. In the woods I found a couple of Black-throated Green Warblers foraging in the conifers, and near the parking lot there was a good-sized flock of chickadees, Red- and White-breasted Nuthatches and Brown Creepers. I actually managed to get one photo of a Brown Creeper workings its way up a tree.
Brown Creeper
There was also a Hairy Woodpecker with them, and I watched the flock for a while vowing to bring some sunflower seeds for them next time.
I left Jack Pine Trail, and although it still spitting a bit, drove over the Richmond Lagoons next. I hadn't been there in a while and was curious to see what ducks might be around and whether there was any shorebird habitat. This is a good place to find different species of waterfowl during migration, and in the past I've seen Buffleheads, Northern Pintails, Northern Shovelers, both teals, Wood Ducks and Ruddy Ducks here. Today, however, there were few ducks and no shorebirds. Lots of swallows were hawking for insects above the water, and my best bird of the day was an American Bittern which I startled from the cattails when I began walking past the second pond. It was at the edge of the pond right beside the trail, but flew to the back of the ponds after it flushed. This was a year bird for me.
Although it was a gloomy, rainy weekend, it was still great to get out and spend some time in my favourite conservation areas. The birds were fantastic, and definitely made it worth going out in such miserable weather.