I'd been meaning to go back to the Old Quarry Trail this summer, so when Friday came along, hot and sunny and bright, I took the afternoon off work to spend some time exploring the trails. Once again I was hoping to see some butterflies and dragonflies, and this time the weather was conducive to finding these beautiful insects.

I walked up to the rocky, alvar-like area where I had seen the Common Wood Nymphs on my last visit. Although these lovely, dark butterflies were gone, a couple of large bluish mosaic darners flying about. I watched until one landed on the side of a tree trunk then moved in to photograph it.




Fawn
It was a Canada Darner, one of the more common mosaic darners. This photo shows the deep notch in the thoracic stripe which differentiates this species from other large darners...most of these dragonflies have to be identified by the shape and pattern of stripes on the thorax.
Canada Darner
Instead of returning to the woods, I walked to the end of the alvar area which opened up into a small meadow next to Robertson Road. I didn't intend to spend much time in the area, but when I saw a green Praying Mantis fly by I stayed to investigate.
Praying Mantis
I saw another green Praying Mantis fly by and land in a shrub where I lost it; and then an insect with pale brown wings flew up off the ground when I stepped next to it. This time I was able to see where it landed, and was surprised to see a brown Praying Mantis. I've only ever seen green ones before, so finding this fellow was a real treat....especially as I was able to view him up close by getting down on my hands and knees. He was definitely watching me back!
Praying Mantis
I walked about the meadow for a bit, then finally followed the deer path down into the woods. There were few birds around, and no butterflies, so I continued on my way to the boardwalk. Along the way, I saw a fawn in the woods a few metres back from the trail. I didn't see its mother, but doubtless she was close by.
White-tailed Fawn
I didn't stay long, but instead continued on my way to the boardwalk, where only a couple of frogs and this small Painted Turtle were in residence in the marsh.
Painted Turtle
My next stop was a large meadow near where I had seen the Ruffed Grouse last winter. A few sulphurs and crescents were flying about, visiting various flowers such as clovers, goldenrod, and Queen Anne's Lace. I walked through the meadow, looking for other insects, and came across a few interesting ones such as this Bald-faced Hornet.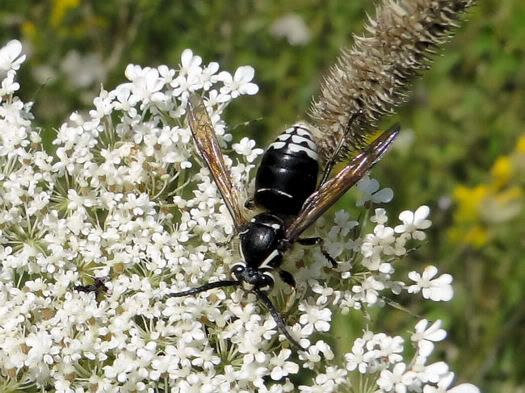 Bald-faced Hornet
I also came across a couple of Ambush Bugs in the meadow.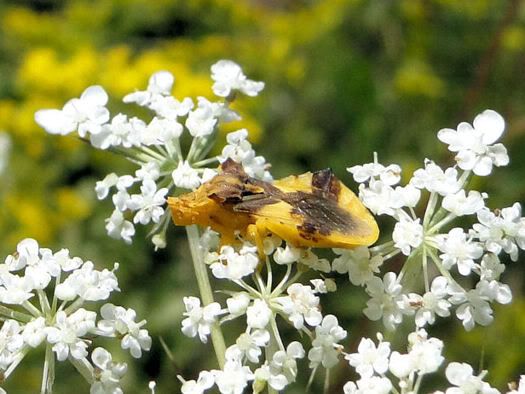 Ambush Bug
After leaving the meadow the trail took me back into the woods. I walked all the way to the pond in the woods I had discovered last winter (only discernible as a pond because there was ice beneath the layer of snow), but the bottom was now completely dry. This is probably another vernal pool which only has water in the spring, when it is filled by the melting snow.
Along the way I came across a wonderful mixed flock of warblers, including a beautiful male Black-throated Blue Warber, American Redstart, Magnolia Warbler and at least a couple of Black-throated Green and Black-and-white Warblers. They were all very high in the tree tops, so I started pishing to entice them closer. I was thrilled when a Black-throated Green Warbler came within a few feet above my head to investigate. A couple of Red-eyed Vireos and chickadees were also foraging in the same area.
I also saw a darner on patrol in a sunny, open area and several interesting types of fungi just off the trail in the woods. I am not sure what species these fungi are, but thought the yellow mushrooms quite beautiful.
One of the best moments of my outing was when this fawn stepped onto the path behind me. His mother was right behind him, and the pair crossed the trail and entered a clearing where they began browsing on the leaves of some low-growing plants.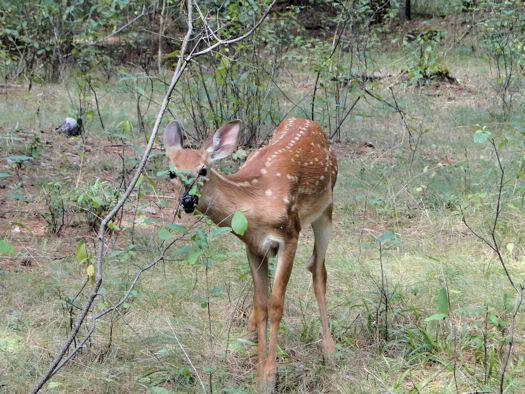 Fawn
The two deer didn't seem to be particularly afraid of me, so I took quite a few pictures before deciding to shoot some video. One reason I bought the Sony Cybershot DSC-HX1 is because it shoots High Definition video, though I haven't had a chance to try it out yet. I am pleased with the result, although you can hear the camera as I work the controls. (The sudden jiggling of the camera resulted from me trying to swat a mosquito which was biting my bare arm!)
They eventually wandered off deeper into the wood, and as it was getting late in the afternoon, I left the peace of the "deep woods" to return to the main section of the Old Quarry Trail. On the way back to the parking lot I saw two more fawns foraging together, a chipmunk, and several meadowhawks hunting for prey.
Taking the afternoon off was a good decision. I didn't see as many butterflies or dragonflies as I'd hoped, but this is likely because the season is definitely coming to a close. June and July seem to be the best months for finding a variety of species, and looking back on it now I find myself wondering where those two months went. On the other hand, the flock of migrant warblers and the four fawns more than made up for the lack of the butterflies and dragonflies; it seems that nature doesn't always give you what you want, but offers something just as beautiful instead!