The South March Highlands in Kanata is a beautiful old-growth forest which provides absolutely crucial habitat for wildlife. This area, described as a mini-Costa Rica, has one of the highest ecological values and biodiversity of any area in the City of Ottawa. These are Canadian Shield uplands, more than a billion years old, rich in wetlands and mature forest. It is only 3 km x 4 km in size, yet is home to over 675 species of life, including 19 species-at-risk.
This land was sold to developers 20 years ago and is now slated for development (aka destruction). Ottawa city council will be voting on a motion to purchase a section of this valuable land on OCTOBER 5. Please check out the
OFNC
website for more information on this urgent conservation issue. The OFNC is asking the people of Ottawa to email their city councillor to support the motion and has provided
text
for your email.
It is important that as many people as possible contact their councillors and ask them to support the motion to save some of this vital habitat.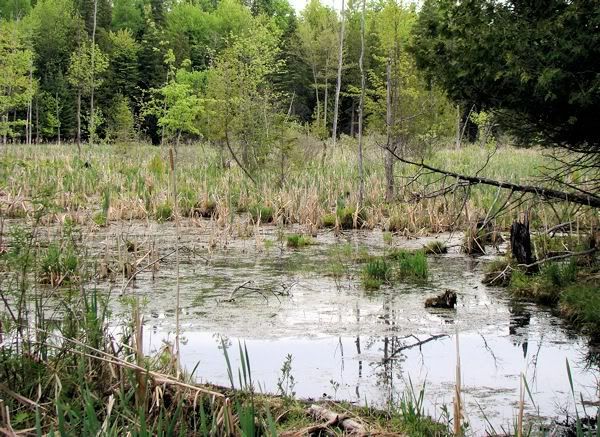 A wetland along the Marathon Trail in the South March Highlands
May 23, 2009
Two of the fabulous trails in the South March Highlands are the
Trillium Woods
and the
Marathon Trail System.
For my blog entries on the Marathon Trail System please see these entries: