On Friday we got up really early as we had a sea kayaking lesson in St. Margaret's Bay on the south shore. The drive would take us an hour, and we had to be there at 9:00 a.m. One of Doran's friends, Doug, was interested in learning to kayak, and had booked a four-hour introductory course with Sun Sea Kayak. It sounded so interesting that I decided to take the course, too. Here is the course description:

Regarded as the most sea worthy personal craft on the water, sea kayaks are easy to paddle, turn and stop. Within an hour even the most uninitiated paddler will be cruising, comfortably and confidently. This lesson is a must for adventurous sea kayakers with a zest for exploration.

This course covers: Extensive tutorial on equipment use & selection, paddling strokes, landing & launching techniques, safety, wind/water interpretation, and forward paddling do's and don'ts.

Route: In our local lagoon as well as the Indian Islands. During this course, we will take time to get comfortable in a kayak by exploring, looking for porpoises, whales, seals and other marine wildlife, and kayak to the Indian Islands, all while learning.





Great Black-backed Gull
We reached St. Margaret's Bay just barely on time. The day was lovely, although a thin mist still covered the water. We spent just over an hour learning about the equipment and kayaking techniques, as well as the proper gear for safety and comfort. Our instructor, Michel, was very knowledgeable and very enthusiastic as we completed the land portion of our lesson.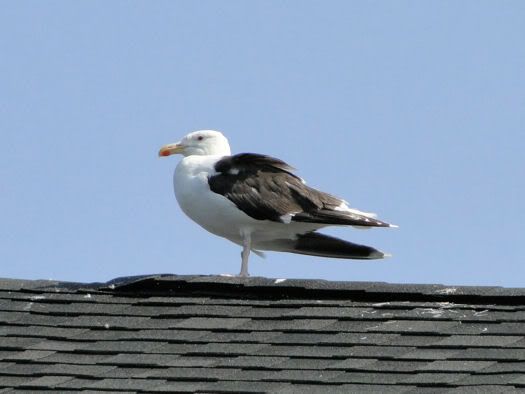 Great Black-backed Gull on top of marina
Sea Sun Kayak Tours - Shining Waters Marina (Tantallon, Nova Scotia)
The day quickly warmed up and the mist evaporated, and then it was time to put our lesson to good use. We spent some time kayaking around the lagoon first, to get used to the kayak and the paddling technique, and then out to Clam Island and back.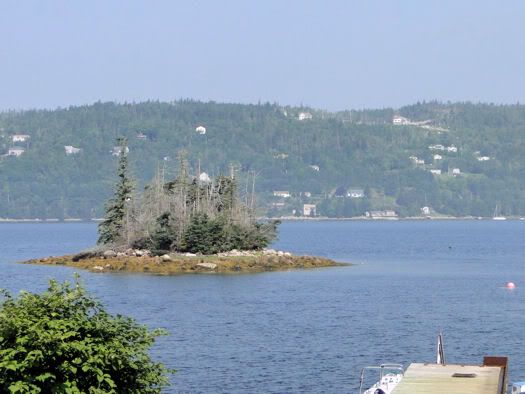 St. Margaret's Bay
The lagoon was calm and lovely, and while paddling around I could hear a White-throated Sparrow singing and saw a small group of Canada Geese grazing on someone's lawn. I spent most of the short time in the bay getting used to holding the paddle correctly and steering with the rudder.
St. Margaret's Bay
Then it was time to head out into the open water of the bay. I had difficulty in getting the hang of the stroke at first, but once I found my rhythm I was able to head out confidently. The wind created a slight chop outside the protected bay, and I found myself tiring as we approached the island. Seeing the water from the level of the kayak was a whole new experience, and I enjoyed watching the cormorants catching fish only a short distance away. I had my binoculars around my neck, but my camera was safely stowed in a dry bag so I didn't take any photos from the water.
Once we reached Clam Island we learned how to exit the kayak. My arms were trembling with the exertion and I hoped to be able to rest for a bit.
Clam Island
I started to chase after a butterfly but the lesson wasn't over yet. We headed to the south side of the island to talk about the Indian Islands further out, but even the guide was distracted by a pair of Osprey sitting in a tree.
Osprey pair
The birds of prey flew off when they saw us, and I missed my chance to get a nice, clear shot of them with the sun behind me and the light falling perfectly on the two Osprey. One of the birds flew up to the large stick nest where the sun was in an even worse position.
Osprey at Nest
We also saw a tern flying over the north side of the water, but of the porpoises, whales and seals mentioned on the website there was no sign.
Looking south
The little island looked like a great place to explore (it even had a small pond on it, perfect for damselflies!) and I was disappointed we weren't able to stay there for a bit. We turned around and headed back to the marina, and it was much easier going with the wind at my back.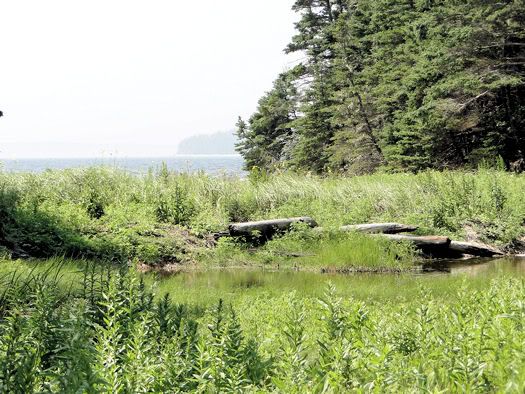 Another view of Clam Island
By then my energy was really flagging and I had a hard time keeping up. Michel gave us a few more lessons on how to turn quickly and use a power stroke, and that's when Doug capsized. Fortunately he surfaced quickly, and Michel paddled over to help him into his kayak while Doran and I locked our kayaks together. It took a while, but eventually Doug and Michel righted the kayak and helped Doug get back in. Then it was smooth sailing all the way back to the marina.
It was a terrific experience, and much less difficult than I had anticipated. Doug said the best part for him was going in the water, but I am much happier to have stayed in my own kayak - even though I came out of the experience almost as wet!