On Tuesday the clouds rolled in, bringing intermittent showers with them. I wasn't able to get out during the day, but after dinner my fiancé and I drove over to Grand Pré in the hope of catching some shorebirds before the sun went down. We saw a first-year Bald Eagle sitting in a leafless tree before we even reached Evangeline Beach; we were able to get out of the car and take some photos without spooking it. The young eagle was calling repeatedly for its parents, although only a pair of ravens perching in the same tree answered.

We had tried to time our arrival at Evangeline Beach so that we arrived just before high tide, when the shorebirds would be crowded together on the beach as they retreated from the advancing waves. I was dismayed to find that the tide was completely in, and that the thin strip of beach was crowded not with birds but with families and children instead. We left that area immediately and drove to the east side of the Grand Pré peninsula, spotting a Red-tailed Hawk perching on a utility pole and a Northern Harrier coursing over the cornfields.





White-tailed Deer
There were a couple of large flocks of shorebirds flying about on the east side of the peninsula, each flock containing a couple hundred to over a thousand birds. They were very skittish, however, and although they landed on the beach twice, both times they immediately flew off and began circling over the water. Only one bird remained on the beach, likely a Black-bellied Plover, but I didn't get any photos before he, too, flew off.
Disappointed that I wouldn't be able to relive my experience of
walking among the shorebirds as they slept
, we soon gave up and headed back to the car. I would have liked to have stayed but the birds were nervous, the black flies were beastly, and the day was darkening rapidly. My disappointment lessened when, driving back through the agricultural fields to the highway, we spotted an adult Bald Eagle perching on a telephone pole right above the road. I tried taking a few photos but the light was incredibly poor. Still, this was the closest I've ever been to an adult Bald Eagle, and the fantastic view of this majestic bird was thrilling.
The next day Doran's sister, nephew and I took a road trip to the south shore. Tracy wanted to see where they were shooting Stephen King's new television series, Haven, in Lunenburg and I wanted to see the Atlantic. We awoke to another gray, drizzly day and headed south after lunch, trusting in the weatherman's promise of clearing skies. Although the rain stopped and the sun began shining through the clouds after reaching Lunenburg County, a thick bank of fog covered the south shore. We found the area where the television show Haven was being filmed, then drove along the shore to Rose Bay, Kingsburg and Hirtles Beach. Along the way we came across four deer grazing on someone's front lawn.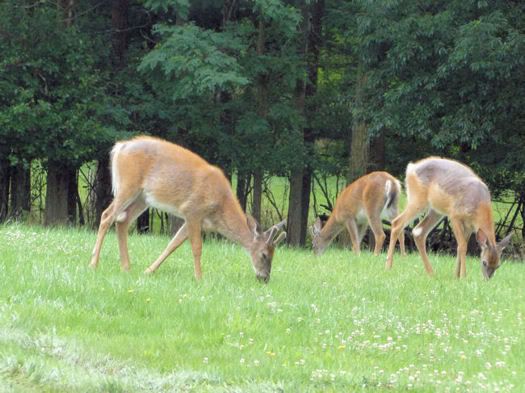 White-tailed Deer
On our way to Rose Bay we came across a very old cemetery which seemed to have sprung up in a small, out-of-the-way clearing set well back from the road.
Pioneer Cemetery
The headstones were all very old, but this one dedicated to those "for whom no head-stone exists" caught my imagination. Had these people been lost at sea...even the women? Or, given how long ago they died and the different dates of birth and death, had the graveyard in which they'd originally been buried been lost over time?
Pioneer Cemetery Monument
We looked for the beach at Kingsburg without success...all the beachfront property appeared to be privately owned. We did come across a large pond with a large number of waterfowl swimming leisurely about, so I pulled out my scope to take a look. While I wasn't surprised to see the mallards and American Black Ducks, I wasn't expecting to see the Ring-necked Ducks among them. A Common Yellowthroat chipping in the shrubs nearby was also a nice surprise.
From Kingsburg we drove over to Hirtles Beach. At last we found a place we could get out and stretch our legs. It was still quite foggy, but I was determined to make the most of my visit.
The foggy south shore
Hirtles Beach
We walked along the shore searching for sand dollars, shorebirds, and whatever else might pique our interest. Fortunately the tide was going out, though I couldn't see very far out over the ocean.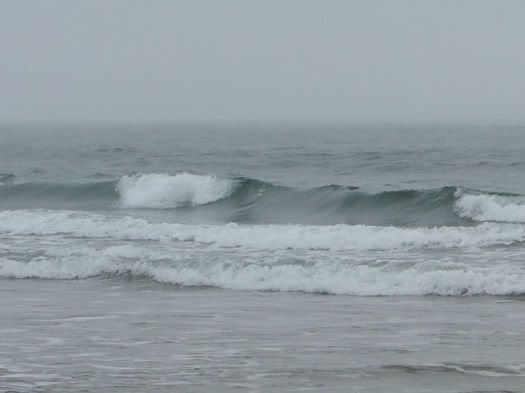 The Atlantic Ocean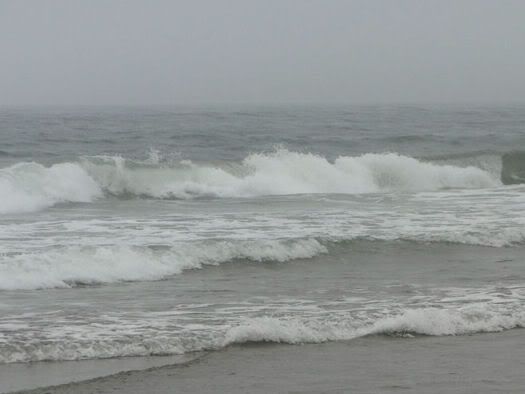 The Atlantic Ocean
A number of cormorants flew by, and twice I saw something that might have been a gannet - long white, black-tipped wings, white tail - but I never got a glimpse of its head to be sure. I also saw two small groups of about half a dozen shorebirds fly by, but they disappeared into the mist without landing. Brandon pointed out two different jellyfish washed up onto the beach.
Jellyfish
Since we left after mid-day we weren't able to stay long. However, on our way back to the parking lot I noticed a map showing a hiking trail leading to southwest to Gaff Point. Although a 6.5 km round trip, it sounded a wonderful place to explore, with terrestrial, marine and wetland ecosystems. I would definitely like to return to this interesting place sometime in the future and hike the trail....and perhaps find those gannets!