| | | | |
| --- | --- | --- | --- |
| | We woke up to another gorgeous day on Monday. It was already warm, and the sun was shining in a beautiful blue sky. In fact, it was the kind of day that just begged to have its picture taken. I took some photos of the water from the back deck, and then we left to spend some time in Greenwood visiting my fiancé's family and tracking down some of his old high school friends. | | Crab |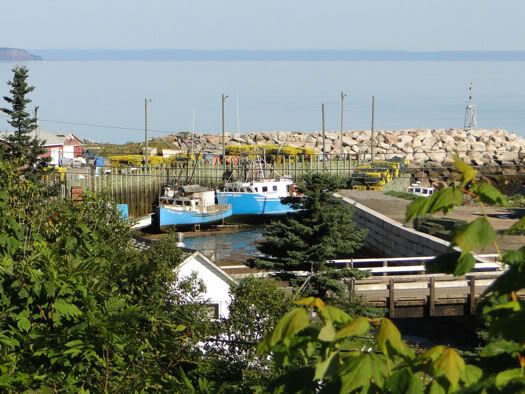 Morning View of the Harbour
In Greenwood, we visited my fiancé's mother's property outside of town briefly to pick up some items (although she doesn't live in the house any more, she still stores things there). This property lies on the edge of a bog, and has tons of wildflowers growing around the house. There were lots of insects flying around, and I saw two butterflies (an unidentified skipper and an unidentified fritillary) so I took a brief walk to see if I could find some more. I wasn't able to find any more butterflies, but there were many bees visiting the wildflowers. However, it was this large hover fly which attracted my attention. It is a wasp mimic, and depends on its resemblance to the
Bald-faced Hornet
for protection from potential predators.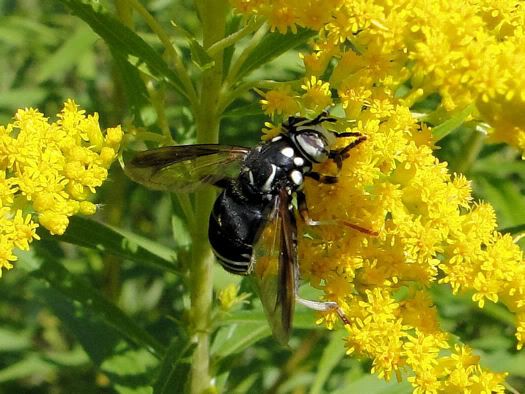 Hover Fly
We later stopped by his sister's house, and when I saw that a beautiful male hummingbird was visiting her feeder I had to get my camera out and take a few pictures.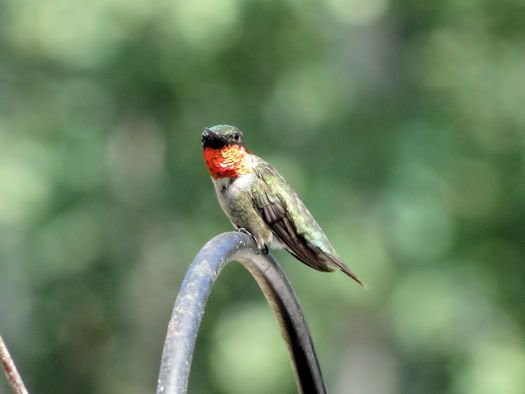 Ruby-throated Hummingbird
Ruby-throated Hummingbird
Because we had some time to kill after lunch, we drove up to Margaretsville on the coast. I really enjoyed this picturesque spot on the Fundy shore during our last vacation here, and was glad we were able to stop by again. Although I didn't see any loons this time, several Herring and Great Black-backed Gulls were loafing on the rocks and Common Eiders were swimming just offshore.
Margaretsville Lighthouse
The tide was out, and there were all kinds of neat little tidal pools left behind along the rocky shore. I was surprised to come across a live crab in one of the tidal pools; he was a beautiful pale sea-green colour, and appeared to be just hanging out. You'd never know that he was sitting in a couple of inches of water in this photo:
Crab
Doran, my fiancé, spotted another crab close by. This one had a darker shell with a white mark on the top.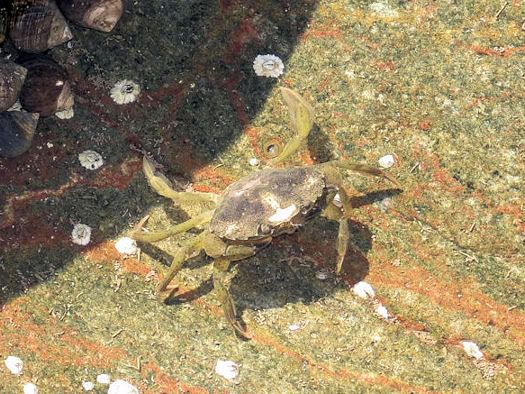 Crab #2
The crab was walking toward the safety of the shadows, no doubt to avoid being eaten by the opportunistic gulls which stalk the coast. Once he reached the edge of the pool he blended in with his surroundings so well that I wouldn't have known he was there with a casual glance. This made me wonder how many more crabs were around but hiding among the barnacles and snails. Although I have seen bits and pieces of dead crabs along the shore, this was the first time I had seen live ones, and I found them utterly fascinating.
Camouflaged Crab
I took one last photo of the lighthouse (the only one I would see this trip) and we set off to Port George next.
Margaretsville Lighthouse
A little over 10 km down the road from Margaretsville, Port George has the same rocky shore. However, seals are more common along this stretch of the coast than in Margaretsville, and I was hoping to see some on this trip. The tide was further in than it had been when we visited in 2008, so we didn't see any basking on the ledge this time. A couple were swimming further out, however, and when they came closer to shore I was able to take a few pictures.
Seal
Common Eiders were also present, and I spent some time photographing them as well.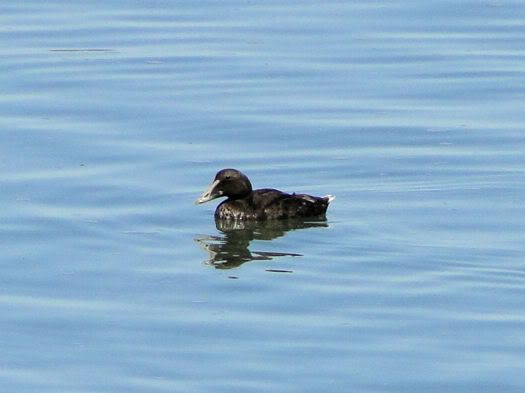 Common Eider
It was certainly a beautiful day to be outside, and I was happy to get some "nature-watching" in in between visits to friends and relatives.