The weekend arrived hot and humid, and even though Saturday morning started out mainly cloudy, it didn't take me long to break out into a sweat when I took a quick walk along the pond at Eagleson and Fernbank before heading out to run some errands.

The word "pond" does not really describe this spot any more; this summer it has become an overgrown wetland with hardly any open water save for a narrow channel in the center. However, it is nonetheless a worthwhile spot to check while on my way to and from Emerald Meadows. While there were a few birds around (a Great Blue Heron, a pair of Blue-winged Teals, and some swallows skimming the air overhead), it was the butterflies that caught my attention. Two beautiful Black Swallowtails were flitting about the vegetation at the southern end of the channel, and I followed one for as long as I could to try to obtain some photographs. I had no luck, for it flew beyond my reach before I could even focus on it, but I thought I would spend some time walking along the road to see what other butterflies might be around.




Chickweed Geomter
In addition to the swallowtails, I saw a few Clouded Sulphurs and Cabbage Whites, something that was likely a Monarch (although it could have been its lookalike, the Viceroy), a lady (likely an American Lady) and a small blue which landed with its wings open but which was too far away to determine whether it was a Summer Azure or an Eastern Tailed Blue. Not bad for such a small area!
Clouded Sulphur
I walked up to the northern end of the pond, but I was unable to go down to the water's edge because the vegetation was so thick and so dense. Here is a view of the area looking north. It's hard to believe that the rocky area at the bottom of the large culvert was once a nice large mudflat and that I saw about a dozen Semipalmated Sandpipers, a Pectoral Sandpiper, and a Baird's Sandpiper just below the little lookout there a couple of years ago!
A view of the "pond"
While walking in the grass I saw a small orange moth fly by me. When it landed, I realized it wasn't orange but rather yellow with pink markings on the wings. I also saw a second moth in the grass, and the two of them began to mate. These were
Chickweed Geometer
moths, a species I had seen once before at Hurdman. The male is on the bottom - note the wide, feathery antennae compared to the whip-like antennae of the female.
Chickweed Geometer
I began to explore the area looking to see what other insects I could find. Another moth that I found is this Yellow-collared Scape Moth which superficially resembles the
Virginia Ctenucha
but is smaller and does not have the same metallic brilliance.
Yellow-collared Scape Moth
There is a great variety of wildflowers in this small area, which is probably the main reason why so many butterflies were present. I saw Cow Vetch, Purple Loosestrife, two different species of thistle, both red and white clover, chicory, and much more.
Daisy sp.
Chicory
This bee appeared fond of the white clover.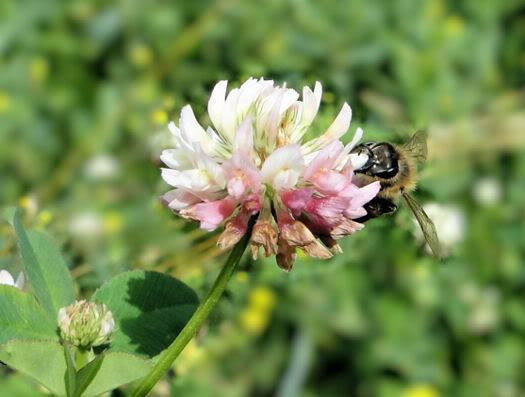 Bee on clover
While I was standing at the lookout remembering days gone by, this Song Sparrow hopped up onto the reeds in plain view and stayed there long enough for me to take a few photos. Perhaps he was pretending to be a Swamp Sparrow!
Song Sparrow
I didn't stay long, though I would have loved to look for more butterflies; duty called, so that brief stop would have to be enough for the day.