I enjoyed my outing on Saturday so much that when Chris Lewis invited me to do some birdwatching and bugwatching at Shirley's Bay, Ottawa Beach, and the Bruce Pit on Sunday I agreed to join her and the usual crew for a morning outing. We started the day at Shirley's Bay, where again the shorebirds and egrets were the stars of the outing. I heard the Wood Thrush in the woods again, and the Marsh Wrens in the bay.

Out on the dyke, the same mix of shorebirds was present (Greater and Lesser Yellowlegs, Least and Spotted Sandpipers) together with a few Semipalmated Sandpipers - which were difficult for me to distinguish at that distance - and a single Pectoral Sandpiper. The dabbling ducks were still present as well, and this time I spotted a Gadwall among them.




Amber-winged Spreadwing
The egrets were much closer to the dyke than they had been yesterday, so I decided to take a few photos. They were still quite far out, however; my dreams of getting close to these magnificent white herons would not be fulfilled that day!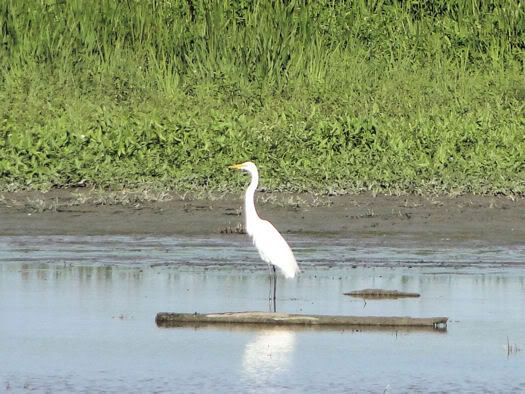 Great Egret
A pair of White-tailed Deer (a doe and her fawn) were also taking advantage of the quiet, peaceful morning and were munching on the vegetation along the point. They walked all the way to the end, until they were startled by a Wood Duck which flew up in the air quite close to them. The deer then turned around and disappeared into the thick grass.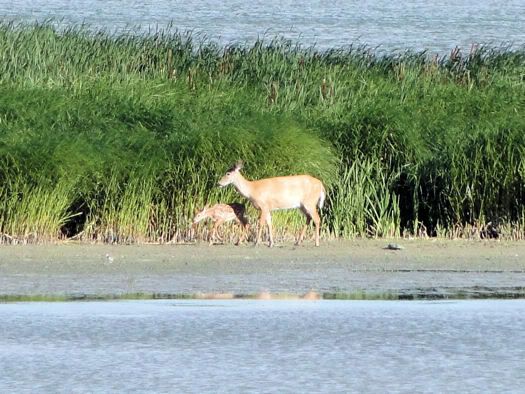 White-tailed Deer
Walking back along Shirley Boulevard, I kept checking the Queen Anne's Lace for insects. I walked by one which appeared to have a bit of pollen stuck to it, but on closer examination the "pollen" turned out to be a spider! He was sitting in typical crab-spider position, with his legs out to the side and head raised as if asking the heavens, "why me??" On closer inspection I realized there was also a caterpillar on the same flower. I wonder if the crab spider was waiting for it come closer in order to pounce, or if the spider was waiting for juicier to come along!
Goldenrod Crab Spider
We left Shirley's Bay and drove over to Ottawa Beach next. We saw only a few "peeps", including both Least and Semipalmated Sandpipers, and two Spotted Sandpipers foraging at the water's edge. Chris, Bob and I spent some time watching a couple of bright red Spot-winged Gliders zipping around the wet areas in between the bike path and the sandy spit. Although Bob and Chris tried, neither one was able to catch one with their nets. These dragons don't like to perch and instead spend much of their time on the wing.
From there we drove south to the Moodie Drive quarry ponds, where a Red-necked Grebe with at least one juvenile had been reported. If the grebe had in fact bred here, this would be the first record for the Ottawa area. Although the light was not ideal at that time of day (we were facing into the sun), we were still able to locate the adult Red-necked Grebe, and saw something that might have been a juvenile. There were lots of Pied-billed Grebes on the pond, however, and many babies, and we couldn't be sure whether the baby grebe we'd seen was in fact a Red-necked. Given that I have no experience with juvenile grebes, and given the distance and lighting, I stayed out of the debate entirely!
Our last stop of the day was the Bruce Pit. This time I brought my rubber boots and my insect net. Although the season for Eastern Red Damsels had ended, there were still plenty of different odonates around. The Saffron-winged Meadowhawk and Amber-winged Spreadwing are two common species at Bruce Pit which are not easily found elsewhere, and seeing these species again always makes the visit worthwhile.
Saffron-winged Meadowhawk
The amber wash on this damselfly's wings is quite evident in this photo:
Amber-winged Spreadwing
These spreadwings are quite large compared to the more common Northern and Slender Spreadwings. I netted one and showed it to Chris and Bob for confirmation, though there really was no need; the large size and amber-coloured wings were enough to ID the species without examining of the shape of the claspers. Few other spreadwing species were found at the Bruce Pit that day, although I did see a smaller one and failed to catch it with my net.
Amber-winged Spreadwing
As the Saffron-winged Meadowhawk is another species I don't see very often, I spent some time watching them land and trying to photograph them.
Saffron-winged Meadowhawk
Chris found an interesting damselfly, this lovely Azure Bluet. I've never seen one before; it is listed as rare for this region. It looks a lot like a Skimming or
Stream Bluet
, except it has three blue segments at the tip of its abdomen rather than two.
Azure Bluet
The clouds had thickened considerably since we left the quarry ponds on Moodie, so there were few butterflies around to add to the day's tally. We only covered about a quarter of the shoreline before heading out; it was well past lunch time and I was hungry. I did see an interesting beetle on some yarrow near the parking lot, and recognized it as a
Flower Longhorn
beetle similar to the one I'd seen in Nova Scotia two years ago.
Flower Longhorn (Typocerus sp.)
Here is a close-up of this beetle: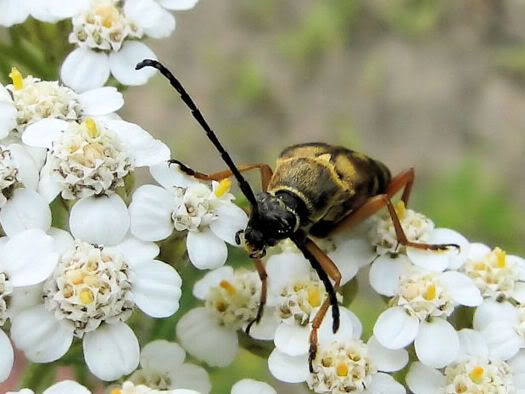 Flower Longhorn (Typocerus sp.)
I was glad to get out early in the morning when the sun was still shining; warm. sunny weather is best for searching for insects, and is better for photography. I was happy to get a photo of the Great Egret, and I think my photos of the Amber-winged Spreadwing are my best ones yet.