Great Egret sightings have been common this summer. Reported from Shirley's Bay to Deschenes Rapids along the Ottawa River, the number of egrets in the area has risen to at least five birds, though there may possibly be more. Although I have looked for them at Andrew Haydon Park a few times now, the egrets have been absent; so when Saturday dawned bright and beautiful I decided to try my luck at Shirley's Bay. First however, I wanted to return to Mud Lake to see if the beaver family was around. I was also hoping to see many of the other wonderful creatures I had found on Sunday. I wasn't expecting another Dragonhunter, but...well, you never know!

Knowing that beavers are most active around dusk and dawn, I got up earlier than usual and arrived at Mud Lake around 6:30 a.m. I found one adult swimming near the lodge; the other beavers must have been safely tucked inside.




Common Tern
As usual, there were plenty of Wood Ducks around.
Wood Duck Family
From there I walked over to the spot on the north shore of Mud Lake where I had seen the Dragonhunter, but as it was so early few dragonflies were active. A Green Heron flying over was a nice surprise.
While walking back along Cassels Street, I noticed a small mammal lying right in the middle of the road. I saw a couple of flies buzzing around it and thought maybe it was dead, which was odd because there definitely hadn't been anything in road when I passed by that spot earlier. I got close to enough to realize it was a muskrat, and not a squirrel as I had suspected. When I approached him, the poor animal started pulling himself across the road, showing me that he was still very much alive. One of his hind legs was damaged, the foot twisted around so that the bottom of the foot was facing upwards. There wasn't any blood visible, and I couldn't see any wounds which was fortunate enough in that regard.
Although I kept my distance so as not to cause the muskrat any undue alarm, I did keep pace with him until he reached the safety of the grassy area on the north side of the street. I did not want to leave him in the middle of the road where he might suffer further misfortune.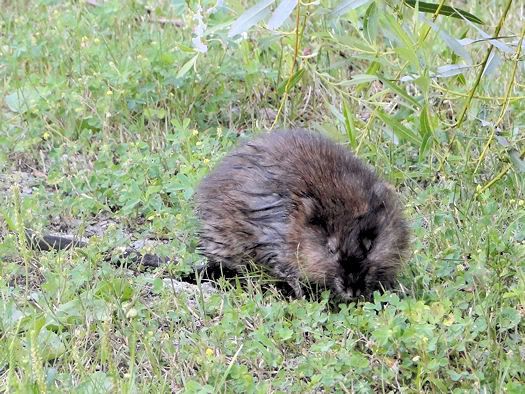 Muskrat
The muskrat began to eat the vegetation on the roadside quite gustily, so I took my time photographing him. I wondered if the injury had happened just recently - perhaps a close encounter with one of the large snapping turtles which live in the lake? Only the muskrat knew, and only time would tell if the injury would heal. He seemed more concerned about feeding now than in his injury, so I felt it was safe to leave him there enjoying his vegetarian diet.
I went up to the Ridge to look for odonates. I did see a large darner flying about which I think was a
Shadow Darner
, though it landed too high in a tree, among the shadows, to get a good enough look at it.
This little Yellow Warbler was much more obliging. I saw him through an opening framed by tree branches, and was able to photograph him without him being aware of me. He was busy preening and didn't see me as I slowly edged closer.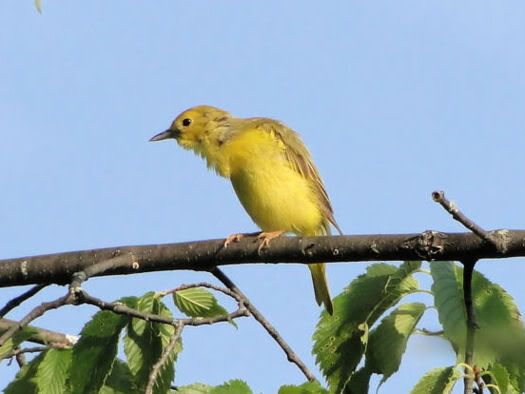 Yellow Warbler
As there didn't seem to be much around, I headed over to Ottawa Beach to see if I could find any shorebirds. I didn't see any on the beach, but when I took a walk up the banks of the creek I found a half-dozen Least Sandpipers.
Least Sandpiper
I was also looking for some of the
Wandering
and
Spot-winged
Gliders reported by Chris Lewis and Bob Bracken. These two dragonfly species are migrants to the Ottawa area and not always easy to find. They do like temporary ponds, such the ones at Ottawa Beach between the large, raised sandy spit and the bike path. This watery, mucky low-lying area has lots of short, grassy vegetation and hasn't yet dried out in the summer heat. I did see one large reddish, red-faced dragonfly zip by me which I took to be an adult Spot-winged Glider.
While exploring the beach I noticed two photographers taking pictures of a couple of terns perched on a rock in the water. They appeared to be quite close to the birds, so I decided to head over there next. Unfortunately the water wasn't low enough for me to risk walking across the creek to the Andrew Haydon side, so I went back to the car and drove over to the next parking lot.
The terns were still there when I reached the shore, and I realized one was a juvenile begging for food. Two adults kept flying by, calling and trying to entice the youngster to fly and perhaps catch its own food!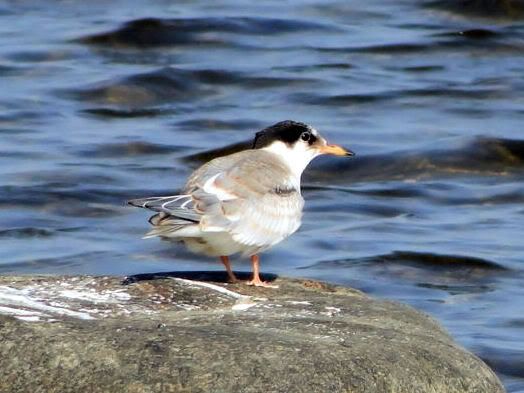 Common Tern (juvenile)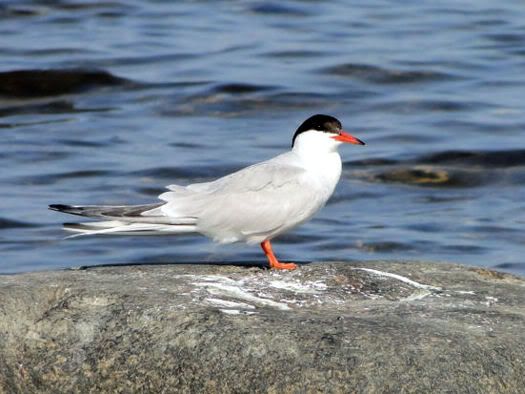 Common Tern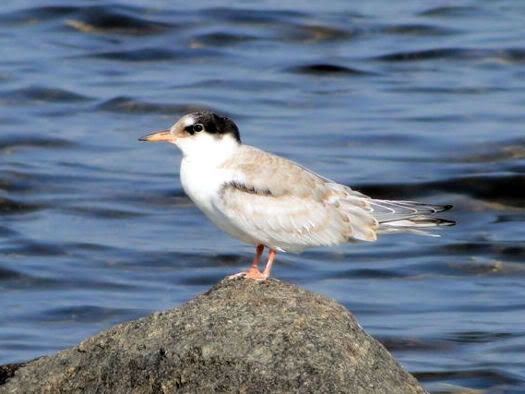 Common Tern (juvenile)
I was still eager to look for the Great Egrets at Shirley's Bay, so I took a few photos and then left, stopping to check the large pond as I went back to the car. A Great Blue Heron was fishing along the water's edge, and water lilies were in bloom just below the bridge. A couple of bullfrogs were sitting on the lily pads as well.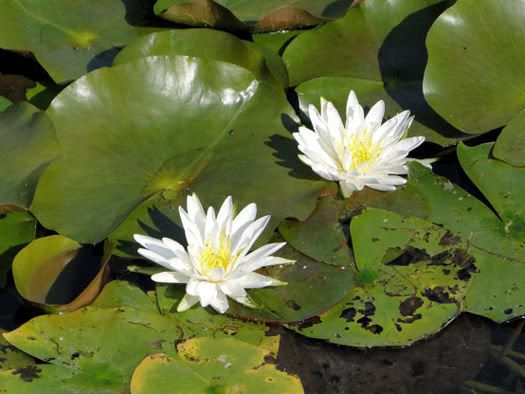 Fragrant Water Lily
Once I reached Shirley's Bay, I called Range Control and received permission to go birding on the dyke. In the woods, I saw a number of birds flying about, including a couple of Northern Flickers, two Pileated Woodpeckers, and a family of Great Crested Flycatchers. A Wood Thrush was singing somewhere close by.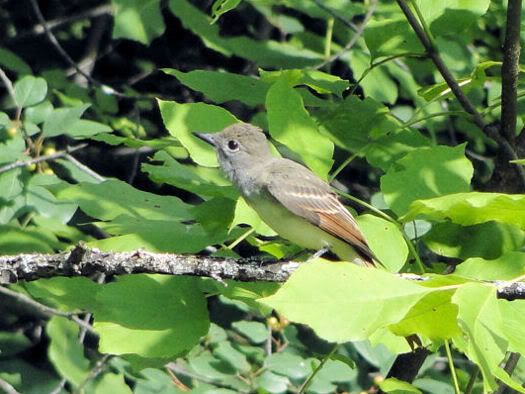 Great-crested Flycatcher
I was also fortunate enough to come across a beautiful male American Redstart foraging in the trees next to the path. I have a difficult time photographing these warblers, for they prefer foraging in the treetops and seldom sit still even when they do descend to the lower branches. Fortunately, this species breeds in Ottawa, so at least I see them all summer long rather than just during migration.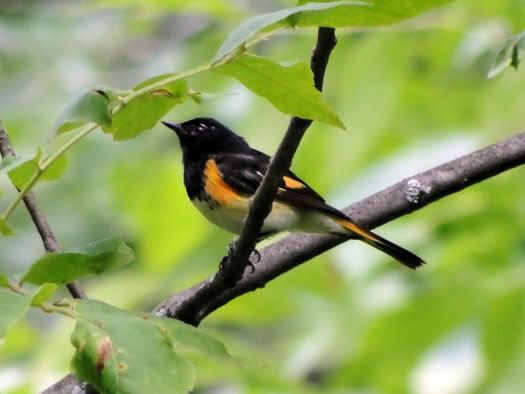 American Redstart
An American Lady was fluttering along the trail and consented to having its picture taken. I've seen several of these butterflies this year thanks to the massive influx of
Vanessa
species earlier in the spring. The genus
Vanessa
also includes the Red Admiral and Painted Lady which also visit our region often.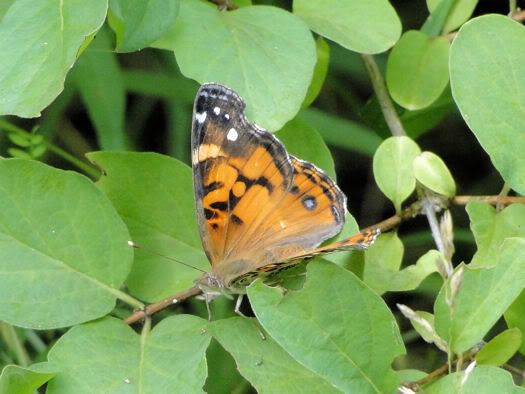 American Lady
A Leopard Frog hopped out of my way as I proceeded down the main trail toward the dyke; as this species is under-represented in my
gallery
, I decided to hunker down and take a photo. I think this frog's eyes are just gorgeous!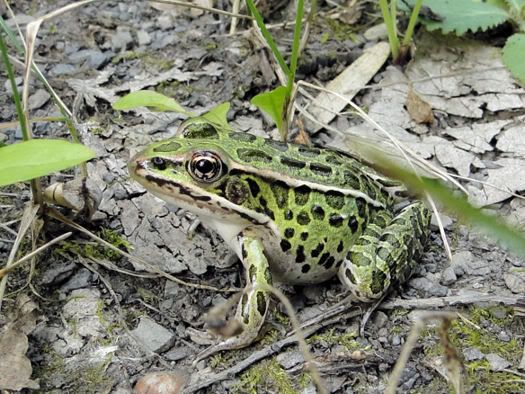 Leopard Frog
When I made it out onto the dyke, I was pleased to see quite a few shorebirds in the bay. I saw both Greater and Lesser Yellowlegs, lots of small "peeps" which seemed to be mostly Least Sandpipers, and a couple of Spotted Sandpipers. A few dabbling ducks were feeding off the end of the point, including my first Green-winged Teals of the month, and further out I saw four Great Egrets patiently stalking the shallow water for fish. I really wanted to get some photos of the egrets, but they were so far away it wasn't worth even attempting it. A couple of Great Blue Herons were much closer.
The most surprising bird of all at Shirley's Bay, to me at least, were the Marsh Wrens. Although I couldn't see them in the cattails across the bay, I could sure hear them. These birds are difficult to find close to home, and yet this was the second place I'd heard them only fifteen minutes away from my house.
A Red-tailed Hawk soaring over the dyke was the only bird of prey in the area, and by the time I left I was content with the day's finds. I decided not to walk back along the road, but instead took the shore route back to the parking lot. I was hoping to find some interesting dragons and damsels, but only a few Common Whitetails and bluets seemed to be around. I did discover this interesting caterpillar near the water: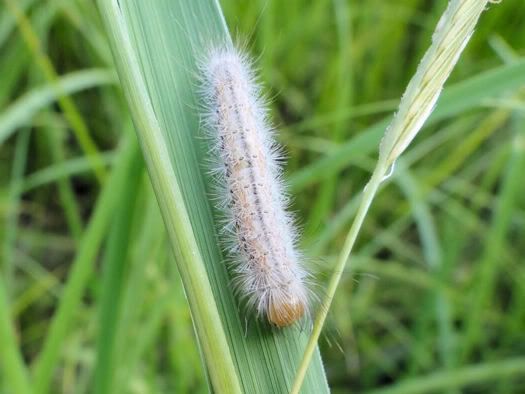 Caterpillar sp.
I had another wonderful outing, and am happy that shorebird migration is well underway; shorebirds are one of my favourite groups of birds, and it's great to see so many of them in one place. The egrets, however, were truly spectacular...this is one species I would really love to see up close. Imagine if the ones that have spent the summer here in Ottawa do set up a breeding territory in Ottawa and become a regular inhabitant of our wetlands!