| | | | |
| --- | --- | --- | --- |
| | On June 13th I led my first OFNC birdwatching outing at Jack Pine Trail. I'd been thinking about leading a birding walk for a while, ever since I realized that my identification skills have developed to the point where I can no longer call myself a beginning birder, and that I also have a pretty good ear for birdsong. I have also learned from previous club outings that I enjoy sharing my knowledge with others. So I decided it was time to give back to the club by offering to lead an outing at Jack Pine Trail. I chose this trail not only because it's one of my favourites, and has a variety of habitats to explore, but also because I know the trail very well and know what species of birds I can expect to see during the breeding season. The description I wrote up for the Trail & Landscape (the OFNC's main publication) reads as follows: | | Snapping Turtle |
The Jack Pine Trail, located in Stony Swamp, is a wonderful trail for finding breeding birds on territory. Because of its many different habitats, such as marsh, open meadows, and deciduous and coniferous woods, we can expect to find warblers, vireos, herons, flycatchers, rails and many other species. While this will be primarily a birding trip, we will also watch for other wildlife.
I met Marilyn Ward and a few other club members at the usual place at Lincoln Fields before proceeding to Jack Pine Trail. We saw our first interesting species right above the mall parking lot, a small group of Chimney Swifts chittering and gliding overhead. This was a life bird for one of the girls, and a great start to the day.
We met the other birders and my co-leader, Fenja, at the Jack Pine Trail parking lot. With a turnout of about 15 people, the group was just the right size for my outing. I spoke briefly about the different birds I thought we might see that day, based on past experience, as well as the other types of wildlife we could expect to find: dragonflies and butterflies being my primary interests, as well as mammals, amphibians, and reptiles.
Our first bird of interest was an Eastern Wood-pewee, which we actually saw rather than heard. These flycatchers live and breed in the woods, and normally sing from exposed perches high up in the trees. This one, however, was flying to and from a nest in a tree just off the trail. It sat in the nest for a couple of minutes before flying off briefly.
There were a few more birds at the middle boardwalk. Here we saw a Northern Flicker and a Baltimore Oriole fly over the marsh, heard a Rose-breasted Grosbeak singing from the woods, and had good looks at a Swamp Sparrow singing in a shrub in the marsh. While we were taking in all thise activity, we saw a couple of shorebirds fly in! The water was still really low, and there were both Killdeer and Spotted Sandpipers walking around in the mud at the back. We also saw what might have been a hummingbird zip by, but I didn't get a good enough look at it to be certain. (I am still missing this species for my year list.)
The next boardwalk had less bird activity, although we did enjoy watching a Common Yellowthroat singing out in the open and three or four White-breasted Nuthatches - most likely a family group - flying in to the trees beside the boardwalk to beg for some food. The lack of avian activity was more than made up for by the close views we had of a muskrat swimming beneath the boardwalk and a medium-sized Snapping Turtle laying eggs right beside the trail! We must have spent half an hour here as the group watched and photographed the turtle. A few even managed to see a couple of small, pale eggs falls into the hole she had dug.
Snapping Turtle
Awed by this discovery, a number of people didn't seem to want to leave. However, I was sure there were other exciting things to see, and gently urged them along. We re-entered the woods, and followed the trail to the back where a smaller feeder usually hangs on the Knoxdale sign in the winter. A quick stop at the back pond produced a Belted Kingfisher hunting from a snag standing in the water as well as several dragonflies, including Common Whitetails, Twelve-spotted Skimmers, and Dot-tailed Whitefaces. I didn't realize that Fenja and a few others hadn't followed us to the small side trail to the pond, and, realizing there wasn't much to see there anyway, led my small group back to the main path in order to catch up with her.
We continued to the back of the trail where it meets the Hunt Club trail; there is a patch of wildflowers here, and as a few butterflies (primarily European Skippers and unidentified crescents) were flying around I stopped to point them out. I also saw this tiny fly which I recognized from a lunch hour outing at
Hurdman
last year:
Tachinid sp.
There weren't many birds to see in the wet area at the back of the trail; however, I thought this Blue Flag iris looked quite beautiful growing in the marsh.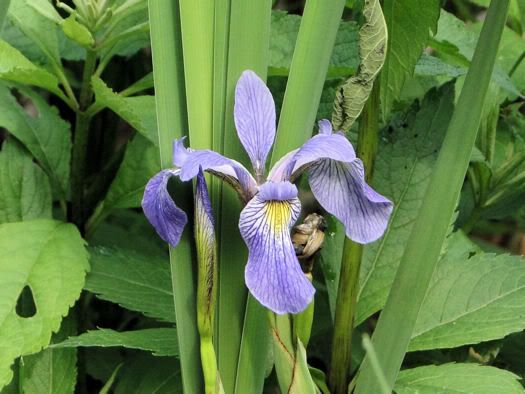 Blue Flag
This shiny little Klamath weed Beetle also caught my attention.
Klamath weed Beetle
We finally caught up with Fenja and the others along the straight part of the trail surrounded by a field of cattails. They were watching the marsh intently, and told me they had heard a rail calling. They thought it was a Virginia Rail, and sure enough, after listening for a few minutes I heard the distinct grunting call of an adult. We also saw a fuzzy black chick scurrying among the reeds, although it didn't stay out in the open long enough to get a really good look. This was the first Virginia Rail I'd seen this year.
Further along that section we came across two Common Yellowthroats, a male and female, which must have had a nest close by. They were quite agitated when we stopped to watch them, chipping at us from the bushes right beside the trail until we finally left.
We entered the open meadow next, where we saw a White-throated Sparrow, Brown Cowbird, and a Great-crested Flycatcher. I was hoping to find some Field Sparrows, and although I heard one singing in the distance, it stopped as soon as I led the group toward it.
Back in the woods, we heard several birds singing but were unable to find any of them. Three of these were warblers: Ovenbird, Pine Warbler, and Black-throated Green Warbler. The fourth bird was a Red-eyed Vireo. I mentioned to the group that at this time of year the birds are more likely to be heard than seen, now that the foliage is fully developed and these birds (with the exception of the Ovenbird) spend most of their time in the canopy.
Although not a bird, we did see this wasp's nest high up in a tree.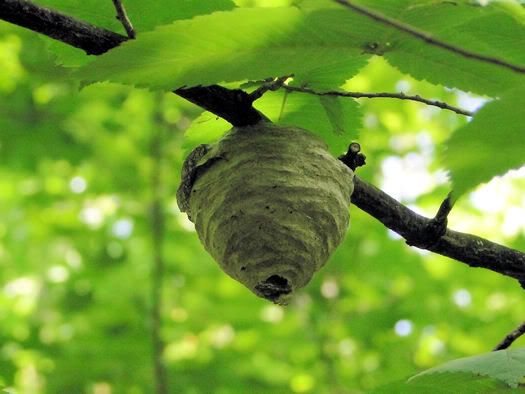 Wasp's Nest
Further along the trail, we came across a robin sitting on a nest in a tree right beside the path.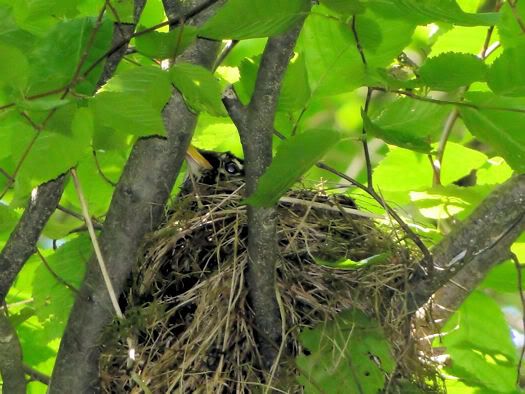 Robin on nest
We crossed the boardwalk and headed back to the parking lot after that; however, we did see one final species of interest, a Purple Finch singing in a tree at the edge of the swamp. Although these finches are less common than their look-alike cousin, the House Finch, Stony Swamp trails is one of the best places to find them....especially in spring and early summer while they are still singing.
I thought it was a great outing in terms of the variety of different species that we saw, and the participants seemed to enjoy it too. While the turtle was definitely the highlight, I counted 32 bird species during the walk, including the Chimney Swifts at Lincoln Fields (somehow I neglected to notice the Ring-billed Gulls, starlings, and pigeons which were undoubtedly present along the way). Interestingly, we didn't see any herons during our walk...while the Great Blue Heron is the most common species, I've also seen Green and Black-crowned Night-herons at Jack Pine Trail as well. The trip list is as follows:
Mallard
. . . . . .
Blue Jay
. . . . . .
Song Sparrow
Virginia Rail
. . . . . .
American Crow
. . . . . .
Swamp Sparrow
Killdeer
. . . . . .
Black-capped Chickadee
. . . . . .
White-throated Sparrow
Spotted Sandpiper
. . . . . .
White-breasted Nuthatch
. . . . . .
Rose-breasted Grosbeak
Chimney Swift
. . . . . .
American Robin
. . . . . .
Red-winged Blackbird
Belted Kingfisher
. . . . . .
Cedar Waxwing
. . . . . .
Common Grackle
Northern Flicker
. . . . . .
Yellow Warbler
. . . . . .
Brown-headed Cowbird
Eastern Wood-pewee
. . . . . .
Black-throated Green Warbler
. . . . . .
Baltimore Oriole
Great-crested Flycatcher
. . . . . .
Pine Warbler
. . . . . .
Purple Finch
Eastern Kingbird
. . . . . .
Ovenbird
. . . . . .
American Goldfinch
Red-eyed Vireo
. . . . . .
Common Yellowthroat
We ended the outing at about 11:30, just as it was really beginning to get hot. I decided to stop in at the Rideau Trail for a brief look on my way home, hoping to see a few different butterflies or dragonflies. I was lucky and found a few different species of interest, including several skimmers and a Belted Whiteface on the alvar and this Chalk-fronted Corporal on the boardwalk.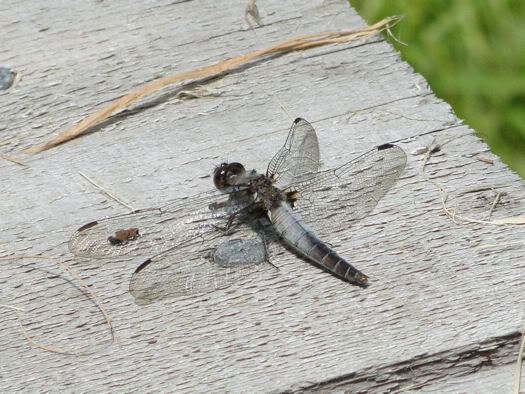 Chalk-fronted Corporal
I also saw (and identified) my first Canada Darner of the year, a female.
Canada Darner
There were many European Skippers nectaring on the flowers along the trail, as well as this Long Dash skipper (the only one I noticed).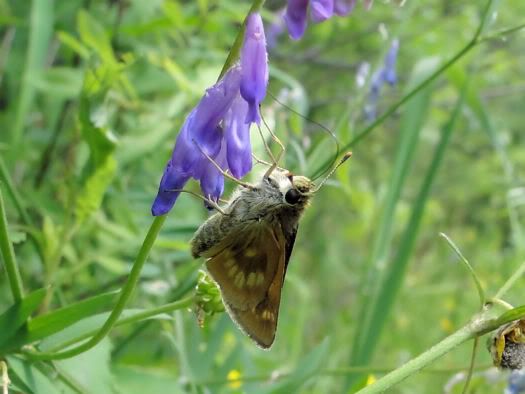 Long Dash Skipper
A Racket-tailed Emerald also perched obligingly on a twig next to the boardwalk.
Racket-tailed Emerald
I didn't stay long at the Rideau Trail, and I wasn't able to identify everything that I saw. A fritillary and a Polygonia species (likely either an
Eastern Comma
or
Question Mark
) flew by me without stopping; these were butterflies I was especially hoping to see. However, I needed a break from the heat and it was past lunch time; time to call it a day.
It was definitely another good day altogether, and I really enjoyed leading my first birding walk. I will definitely sign up to lead another one sometime in the future!