The third Larose Forest BioBlitz was held for 24 hours this past weekend, running from 12:00 p.m. Friday to 12:00 p.m. Saturday. The purpose of the BioBlitz was to find and identify as many different species of plants, insects, birds, butterflies, mammals, etc. as possible in one defined area. Professional naturalists and other nature enthusiasts (like myself) may either focus on a particular taxonomic group of interest (for example, just moths or just lichens) or may simply list everything they can identify (which is what I do when I go out birding/butterflying anyway).

A large, 284 hectare site, largely unexplored from a natural history perspective, was chosen. Bordered on the west by the South Nation River, the site contained old growth forest, wetlands, open areas, mixed forests, some plantations, scrubby areas, and roadsides. I was excited to take part in this event, and invited Deb to join me. We took the Friday afternoon off and headed east to the Forest to see what we could find.






Virginia Ctenucha
We arrived at the site at about 1:30 pm - just at the clouds began to thicken - and parked along the shoulder of the road. There was a wide ditch full of wildflowers beside the road, and as soon as I got out of the car I could see a few small orange butterflies and a large dragonfly perching from a daisy close by. Deb and I headed down into the ditch to identify these insects and to see what else we could find; I immediately headed for the dragonfly. Along the way, I became distracted by a few other bugs along the way, such as this plant bug...
Plant bug (Lopidea sp.)
...and this Leafhopper. He has two red mites attached to him; these parasites are often found on insects, including dragonflies.
Leafhopper (Draeculacephala sp.)
Once I was within camera range of the dragonfly I took a few quick shots in order to document it. When I first saw the dragonfly from the side, I thought it was a mosaic darner. It had two yellow stripes running down the thorax, resembling the Springtime Darner I had seen at Hurdman a few weeks ago. That darner had flown off before I could take more than two photos, and I was afraid this dragonfly would fly off as soon as I made a move toward it. However, he proved extraordinarily cooperative and stayed put even when I walked around to photograph him from the top.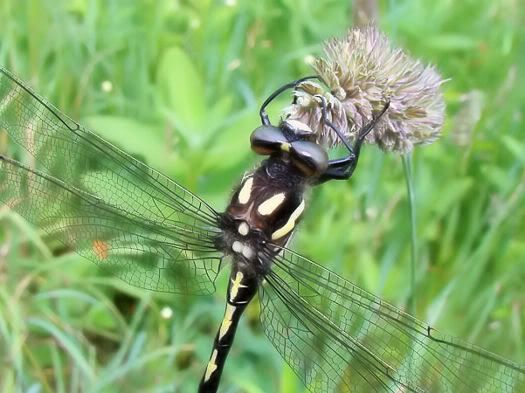 Arrowhead Spiketail
As soon as I saw the pattern on its abdomen I knew it was not a darner but rather something entirely different, and something which I had never seen before. After checking my field guide (something I normally don't take with me into the field, although I did this time for the BioBlitz), I identified it as an Arrowhead Spiketail....a rare dragonfly in the Ottawa area!
Arrowhead Spiketail
This species is extremely local and seldom encountered anywhere in Ontario according to
The Field Guide to the Dragonflies and Damselflies of Algonquin Park
. It is typically found along small, rapid, forest streams which are often shaded; why it was perching in the vegetation of a road-side ditch is a mystery. This was the first one that I'd ever seen, although not the first sighting in the Ottawa area this summer. Chris Bruce found two of these spiketails in the Stony Swamp area and managed to get
photos
of both.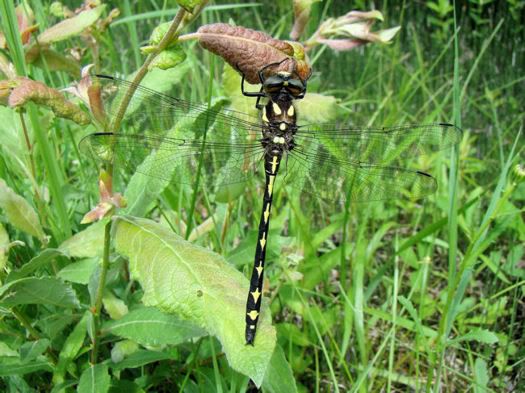 Arrowhead Spiketail
Deb and I were both enthralled with this gorgeous dragonfly, especially as he let us walk right up to him to take some photos. However, there were other things around, including a small rodent at the edge of the ditch where it met the forest's edge; I saw him quickly dart into the vegetation for cover but didn't get a look at him. It was likely a vole, however, we couldn't add it to our list. Too bad, because this was the only mammal we ended up seeing! (We did hear a few squirrels chattering at us in the woods, though.)
We encountered a few more plant bugs and a few beetles. It was relatively easy to find insects for our list; most were collecting pollen in the daisies that were so numerous in the ditch.
Plant Bug (Miris dolobratus)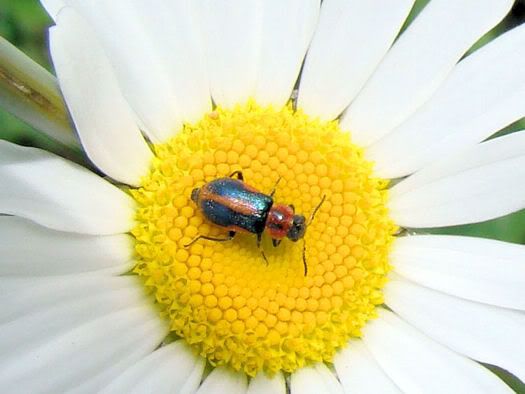 Soft-winged flower beetle (Collops sp.)
Butterflies were common, but not numerous; while we saw quite a few crescents and European Skippers, the Long Dash Skippers were my favourites. These small orange butterflies are relatively common, and, unlike the European Skippers, native to the area.
Long Dash Skipper - female
Males and females have different appeareances, and I was lucky to get a photo of one of each on the same leaf.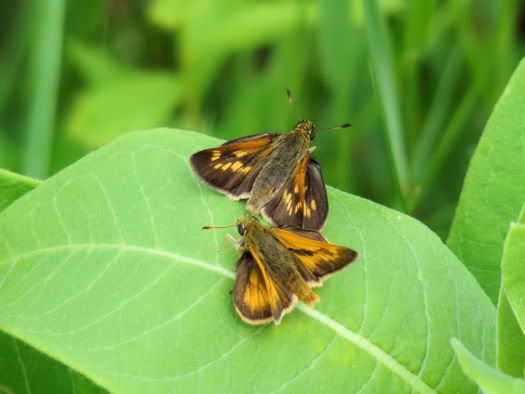 Long Dash Skippers - male (bottom) and female (top)
Crescent sp.
The only other dragonfly we saw in the ditch was an immature Dot-tailed Whiteface. The
adults
look much different; males are entirely black, with a single yellow dot near the end of their abdomen and a snow-white face.
Dot-tailed Whiteface
There weren't many birds on the roadside, although we could hear Ovenbirds and Red-eyed Vireos singing from the woods on either side. Deb and I decided to end our search for the insects for the time being and see what we could find in the woods.