| | | | |
| --- | --- | --- | --- |
| | One of the most interesting birds that we saw in Cambridge was the Red-tailed Hawk nesting on the roof of the church close to where my mother lives. My mom told me that she has often seen the hawks on the steeple, but that they hadn't been around lately. Then, on one of our walks along the river we noticed one of the hawks perching on a smaller steeple on the church roof. We decided to take a closer look to see if the nest was in the same spot as last year's nest; indeed it was, and there we discovered the reason for the Red-tailed Hawks' absence: in the nest we could see a tiny, fluffy white chick peering over the sticks! We took a few photos, and decided to return when the light was better. | | Red-tailed Hawk chick |
This photo shows the location of the next and gives an idea of the size. The tiny chick was barely visible above all the nesting material!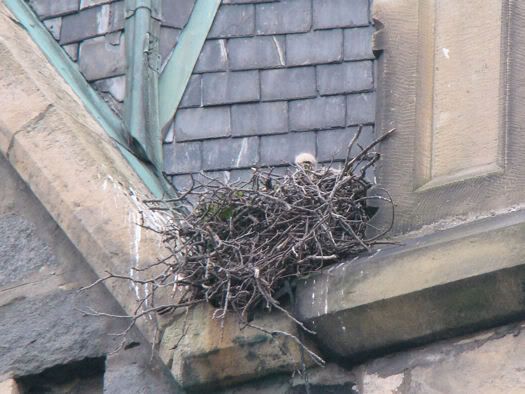 Red-tailed Hawk chick
We returned later in the week when the sun was shining, but found Mama in the nest instead. I assumed that the chick was taking a nap in the bottom of the nest, perhaps worn out from a hard day of people-watching in between bouts of feeding. It was fantastic to see the gentler side of such a fierce predator, and quite a privilege to witness such a private part of these beautiful hawks' lives.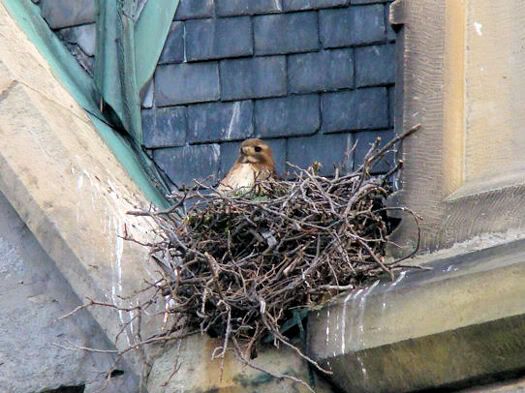 Mama in the nest
Altogether my trip to southern Ontario lasted seven days, and in that time I managed to tally 110 species, despite the bad weather. Among these 110 species I added four new species to my life list: American Avocet, Summer Tanager, Black Tern, and White-faced Ibis.
A few notable misses include Black-crowned Night Heron, Green Heron, Osprey, Northern Rough-winged Swallow, Nashville Warbler, Northern Parula and Indigo Bunting....all birds that we saw in previous years but didn't see this year (and could have reasonably expected). This year, however, we saw several species which we hadn't seen in the previous two years, including Horned Grebe, Trumpeter Swan, Ruddy Turnstone, Horned Lark, Cape May Warbler, Eastern Towhee and Bobolink.
As usual, I am including not just the birds I was able to see and identify, but also four species which we did not actually see but could identify by song - these include Belted Kingfisher, Common Moorhen, Marsh Wren, and Pine Warblers. I am also including three birds that I saw but could not identify to the species level: one unknown accipiter flying low over a field as we were searching for a rest stop off the highway; and the two scaup and two dowitchers at the Blenheim Lagoons.
The complete trip list:
Canada Goose - Point Pelee and Luther Marsh (with young)
Mute Swan - Big Creek at Amherstburg
Trumpeter Swan - Luther Marsh
Wood Duck - St. Clair NWA
Mallard - St. Clair NWA, Luther Marsh
Blue-winged Teal - Hillman Marsh
Scaup sp. - Blenheim Lagoons
Red-breasted Merganser - Rondeau Park (1)
Wild Turkey - Point Pelee (sitting on nest!)
Double-crested Cormorant - flying over Point Pelee
Common Loon - nesting at Luther Marsh
Pied-billed Grebe - Bannister Lake, Cambridge
Horned Grebe - South Point Trail, Rondeau
Great Blue Heron - Big Creek near Amherstburg
Great Egret - Big Creek near Amherstburg
White-faced Ibis - Big Creek near Amherstburg
Turkey Vulture - outside of St. Clair NWA
Bald Eagle - flying over beach at motel
Northern Harrier - flying over a field near Rondeau
Red-tailed Hawk - Cambridge
Accipiter sp. - side road off Hwy. 401
Common Moorhen - St. Clair NWA (heard only)
Black-bellied Plover - Hillman Marsh
Killdeer - Fields around Cambridge
American Avocet - Hillman Marsh
Spotted Sandpiper - Point Pelee
Solitary Sandpiper - Big Creek near Amhertburg
Greater Yellowlegs - Big Creek near Amhertburg
Lesser Yellowlegs - Big Creek near Amhertburg
Ruddy Turnstone - Hillman Marsh
Least Sandpiper - Blenheim Lagoons
Dunlin - Blenheim Lagoons
Dowitcher sp. - Blenheim Lagoons
Bonaparte's Gull - Hillman Marsh, Rondeau Park
Ring-billed Gull - Cambridge, Hillman Marsh and Rondeau Park
Caspian Tern - Rondeau Park
Black Tern - Marsh Boardwalk at Point Pelee
Common Tern - Hillman Marsh, Rondeau Park
Forster's Tern - Rondeau Park
Rock Pigeon - Cambridge
Mourning Dove - Cambridge
Chimney Swift - Cambridge and Leamington
Belted Kingfisher - Riverside Trail, Cambridge (heard only)
Red-headed Woodpecker - Rondeau Park
Red-bellied Woodpecker - Point Pelee
Downy Woodpecker - Point Pelee
Northern Flicker - Rondeau Park
Least Flycatcher - Rondeau Park
Eastern Phoebe - near Luther Marsh
Eastern Kingbird - Point Pelee outside Visitor's Center
Blue-headed Vireo - Point Pelee
Warbling Vireo - Point Pelee
Red-eyed Vireo - Rondeau Park
Blue Jay - Point Pelee
American Crow - common
Horned Lark - field next to motel and in Onion Fields near Point Pelee
Purple Martin - Point Pelee and Rondeau
Tree Swallow - St. Clair NWA
Bank Swallow - Riverside Trail, Cambridge
Cliff Swallow - Riverside Trail, Cambridge
Barn Swallow - fields outside St. Clair NWA
Black-capped chickadee - Rondeau
White-breasted nuthatch - Rondeau
Carolina Wren - Point Pelee
House Wren - Point Pelee
Marsh Wren - St. Clair NWA (heard only)
Ruby-crowned Kinglet - Point Pelee
Blue-gray Gnatcatcher - Point Pelee and Rondeau
Veery - Point Pelee
Swainson's Thrush - Rondeau Park
Wood Thrush - Point Pelee and Rondeau
American Robin - common
Gray Catbird - Point Pelee
Brown Thrasher - Rondeau Park
European Starling - common
Yellow Warbler - common
Chestnut-sided Warbler - Rondeau
Magnolia Warbler - Point Pelee
Cape May Warbler - Point Pelee
Black-throated Blue Warbler - St. Clair NWA
Yellow-rumped Warbler - St. Clair NWA
Black-throated Green Warbler - Point Pelee
Blackburnian Warbler - Rondeau
Pine Warbler - Luther Marsh(heard only)
Palm Warbler - St. Clair NWA
Black-and-White Warbler - Point Pelee
American Redstart - Point Pelee
Ovenbird - Rondeau
Common Yellowthroat - Point Pelee
Summer Tanager - Point Pelee
Scarlet Tanager - Rondeau Park
Chipping Sparrow - Motel, Rondeau
Field Sparrow - Rondeau Park
Savannah Sparrow - near Luther Marsh
Song Sparrow - St. Clair NWA
Swamp Sparrow - St. Clair NWA
White-throated Sparrow - Point Pelee
White-crowned Sparrow - Point Pelee and Rondeau
Northern Cardinal - Point Pelee
Rose-breasted Grosbeak - Point Pelee and Rondeau
Bobolink - near Luther Marsh
Eastern Towhee - Point Pelee
Red-winged Blackbird - common
Common Grackle - common
Brown-headed Cowbird - Motel
Orchard Oriole - Point Pelee
Baltimore Oriole - Point Pelee
House Finch - Cambridge
American Goldfinch - Point Pelee
House Sparrow - Cambridge