| | | | |
| --- | --- | --- | --- |
| | It began on Saturday, May 8: my long-awaited trip to southern Ontario where I planned to spend the week birding with my mom. I flew into the Waterloo airport at 11:30 am, and found that the weather in Cambridge was not much better than the weather I had left behind in Ottawa: cold, rainy, and windy. I was a little disappointed that I couldn't get out and start birding that day, but spent some time with my family instead. The wind storm was so bad in southern Ontario that day that trees and power lines came down, thousands of buildings lost power, and a house under construction in Kitchener was flattened. In Cambridge, where I was staying the first night of my vacation, police responded to 16 incidents of trees falling onto homes or across streets due to the 60-100 km/h gusts. | | Red-winged Blackbird |
It was a little bit calmer the following day, and my mother and I were pleased to see the sun shining. It was still cold - only about 2°C - and so we headed south with high hopes. I was driving this time (my parents separated shortly after last year's trip to Point Pelee, so this year it was just my mother and me) and planned to stop at the St. Clair National Wildlife Area first. Located on the southeast shore of Lake St. Clair, this marsh is a major stop-over site for waterfowl during migration. More than 200 bird species have been recorded at the St. Clair NWA, and uncommon species such as Least Bitterns, Forster's Terns, Black Terns, Common Moorhens, American Coots and even the endangered King Rail may be found here. This particular area is the only location in Ontario where Yellow-Headed Blackbirds may be seen in Ontario during in the nesting season, and it was for this reason I wanted to stop there.
We took several back roads to get to the NWA, encountering our first Tree and Barn Swallows flitting over roads and fields as the temperature slowly rose. On one road we noticed three Turkey Vultures feeding on some roadkill. I slowly drove up to them, and watched as they all flew on top of a telephone pole.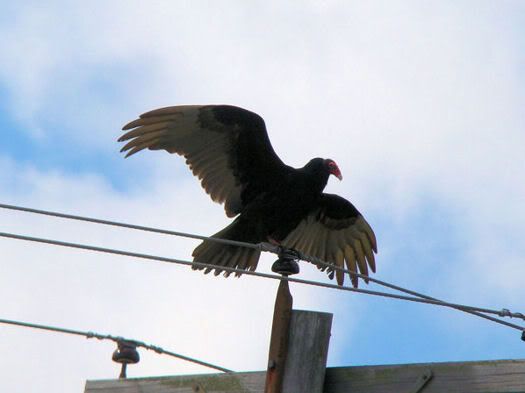 Turkey Vulture
As we approached the NWA, we heard Yellow Warblers, Warbling Vireos, and Baltimore Orioles singing. As we drove along the dirt road to the parking lot, I saw a Palm Warbler foraging in the gravel and a beautiful male Black-throated Blue Warbler in the trees. I also saw a couple of butterflies rise up from the road as my car approached, and when we reached the parking lot I noticed two Red Admirals nectaring on some blossoms.
Red Admiral
It was still quite cold and windy when we arrived at the parking lot and got out of the car. It seemed wrong to be wearing a winter coat, hat and gloves while birding in May, but I was grateful for them during our walk. The wind blew constantly, making it hard to hear the birds and harder to see them.
The marshes of Lake St. Clair are part of an internationally significant wetland, and provide critical resting and feeding habitat for birds during migration. In fact, according to the sign below, it is the most important waterfowl staging area in Ontario south of the James Bay. Hundreds of thousands of waterfowl, including dabbling ducks, geese, and Tundra Swans, migrate through St. Clair every spring and autumn. The St. Clair NWA was established in 1978, a few years after the main property was acquired by Environment Canada in 1974.
The wetlands are mostly cattail marsh, encircled by constructed dykes. A trail along the dyke passes through the marsh, and I was disappointed that there were no boardwalk systems in order to get closer to the water and the vegetation. While in some respects it is nice to be above the marsh, it was difficult to look down into the dense cattails at the base of the dyke. We heard at least one Common Moorhen right beside the path, but wasn't able to locate it.
We had to cross this bridge over the channel to get to the dyke, giving us the best view of the open water. I scanned for rails and coots at the edge of the vegetation but saw none.
There were a few Canada Geese, mallards, and two Wood Ducks in the marsh. Most birds were keeping a low profile due to the wind, and although we heard Swamp Sparrows, Marsh Wrens and Common Yellowthroats singing away, I saw only one Swamp Sparrow and only caught a glimpse of a yellowthroat. Red-winged Blackbirds and Tree Swallows were the most conspicuous birds, and a couple of Song Sparrows were singing in trees along the dyke.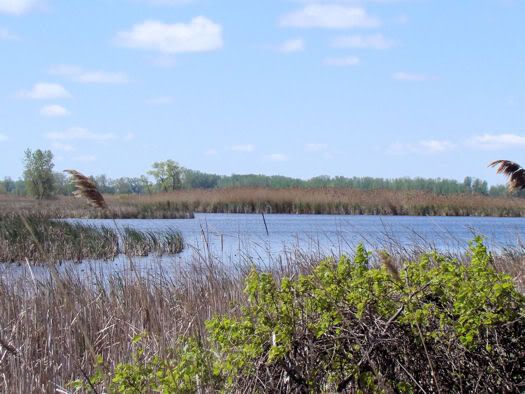 We didn't see any Yellow-headed Blackbirds, to our disappointment. In fact, I spent most of my walk counting Red Admirals rather than birds. These butterflies were resting in the grass or in sunny stony areas along the dyke, only to fly up as we passed. I counted 16 from the parking lot to the end of the path; in order to avoid double-counting any individuals, I didn't count any that we saw on the way back.
One of the "butterflies" that flew out of the grass was not a Red Admiral, and my mother pointed it out to me. In fact, it wasn't even a butterfly, although it is sometimes mistaken for one. The Eight-spotted Forester is a day-flying moth which is more colourful than typical moths. Each adult moth has bright orange 'socks' at the top of its legs, with 2 yellow spots on each forewing and 2 white spots on each hindwing. You can see just a hint of the orange at the top of his left leg near the top of his forewing.
Eight-spotted Forester
Once it landed, the moth rested calmly in the grass, and I was happy to finally get some photos of this species. I've seen them in Ottawa from time to time, but never sitting still. This moth was probably the best find at the St. Clair NWA.
By the time we re-traced our steps back to the bridge, I realized I hadn't taken a single picture of a bird. Fortunately, this Red-winged Blackbird obliged me by perching close to the dyke and allowing me to take a couple of photos.
Red-winged Blackbird
On the way out we added Yellow-rumped Warbler to our trip list and saw the Palm Warbler again on the ground near the entrance. We drove to the motel on Higway 3 (the Lakeside Village Motel and Campground, the same place where we stayed last year) near Wheatley, checked in, and contemplated our next destination. Two American Avocets had been seen at Hillman Marsh that morning, so we decided to drive over and see if they were still there. In the ponds we saw a few Blue-winged Teals, and further back dozens and dozens of Ring-billed Gulls, Bonaparte's Gulls, and Common Terns were loafing in the grass. Although there were no shorebirds close to the path, we saw numerous Black-bellied Plovers, a moulting Ruddy Turnstone...and the two Avocets! They were quite conspicuous through the scope, with their long legs, upturned bill, and beautiful rusty-coloured neck and head. They were both standing at the edge of the water, not doing anything much. This species was a lifer for both my mom and I, and I really wish they had been close enough for a photo.
We also saw a Great Egret in one of the side ponds at Hillman Marsh, and after we returned to the motel, we found a Horned Lark singing in the farmer's field adjacent to the motel property and a Bald Eagle flying along the shore. This was the first time we've seen a Horned Lark on any of our trips, and it was a life bird for my mother. We checked the beach a few times we didn't see any Bonaparte's Gulls or Forster's Terns on the small wall west of the property this time.
It wasn't a bad start to the week; although I was a little disappointed with the St. Clair NWA, the avocets more than made up for the lack of birds there. I went to bed that night exhausted and sore from the long drive, hoping that the weather - and the birds - would be better in the morning.


Lifer #259 American Avocet