After Sunday's outing I learned I wasn't the only one who had seen unusually large numbers of Red Admirals that afternoon. Other members of the OFNC butterfly group reported seeing as many as 30 or 50 Red Admirals in various areas around the Greenbelt, and Ross Layberry, one of the co-authors of "The Butterflies of Canada", stated that this mass migration of Red Admirals we were apparently experiencing is a very unusual event. He also said that he had seen this kind of mass migration once before, in May 1985. While driving from Ottawa to Hawkesbury on old Highway 17, he saw an estimated 20 butterflies per mile flying across the road, always flying in a north to northeasterly direction.

After hearing about some of the others' experiences, I wanted to go out again immediately and look for more of these migrating admirals. As I had to work that week, I decided to spend a couple of lunch hours at Hurdman Park to see if I could find them or any other interesting insects or migrating birds.




Red Admiral
On Monday I heard a few Yellow Warblers and Warbling Vireos singing, and saw a couple of butterflies fly by too fast for me to identify them. I checked the dandelions as I walked around, looking for butterflies nectaring on them, and found this fellow instead.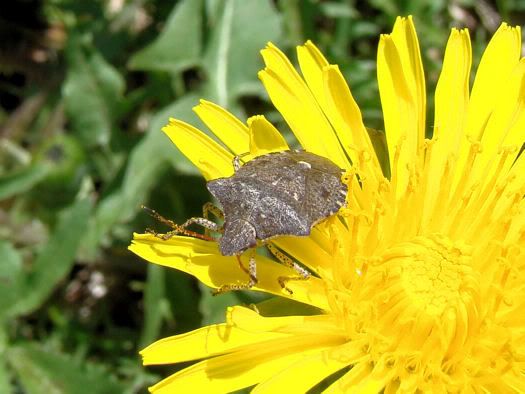 Stinkbug
I also saw my first Eastern Forktail of the year, a female which was only partially red in colour. This indicates she had emerged only a short time ago.
Eastern Forktail
Finally, I came across a couple of Red Admirals resting in the vegetation off-trail. I tried to get closer to them in order to take a photograph, but they were very skittish and flew off before I could get any pictures.
Later, however, I came across an Eastern Comma and watched it land. This one wasn't so skittish, so I was able to get some pictures with its wings folded. You can see the small silvery comma on the lower wing that gives this species its name. From this angle, it looks more like a smile to me!
Eastern Comma
I was disappointed that I wasn't able to photograph any of the Red Admirals, so I returned later in the week. This time I saw a few migrants, including Yellow-rumped Warblers, a Black-and-white Warbler, a Blue-headed Vireo, and a Gray Catbird. I also got lucky and found a very cooperative Red Admiral nectaring on some flowers. If I startled it, the butterfly didn't fly very far, instead keeping to the same patch of flowers. A few times he let me get quite close for some photos.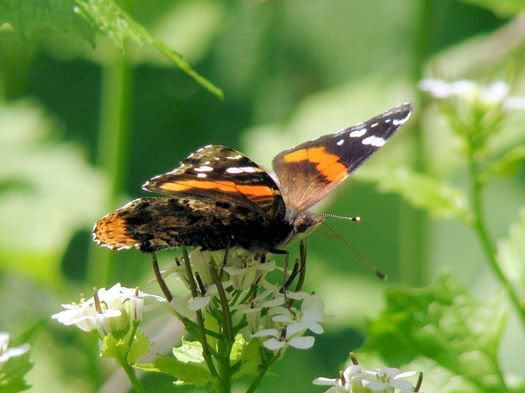 Red Admiral
While I was kneeling in the grass I noticed this stinkbug on a blade of grass. I was taken with its green colouration, as I have only seen brown ones before.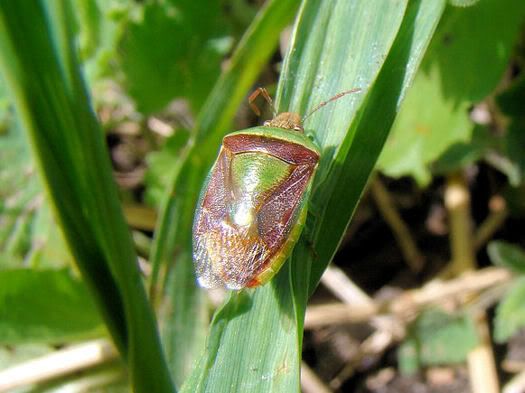 Stinkbug
In this photo you can see that even his legs were lime green!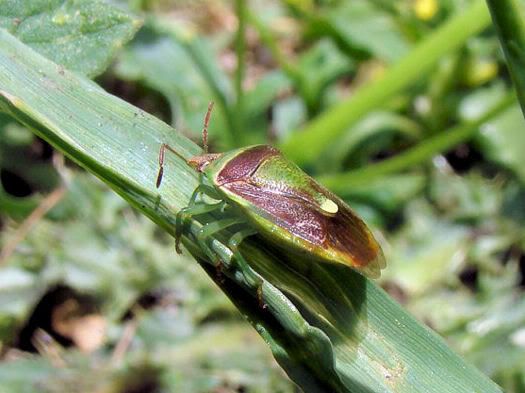 Stinkbug
I took a few pictures of the stinkbug, then went back to trying to photograph the admiral with his wings closed.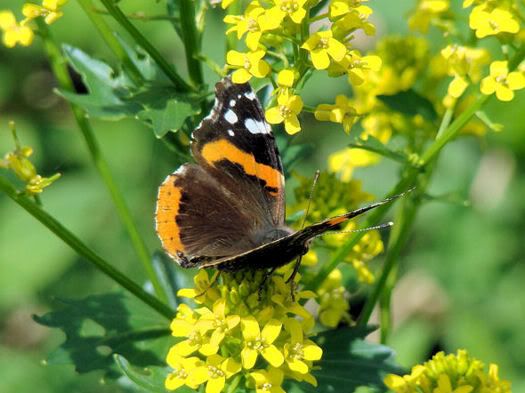 Red Admiral
I left shortly after that, seeing a few more admirals on my way back to the bus. I suspect that most of the dark butterflies I saw in flight were the same species, and counted about 8 Red Admirals altogether...nowhere near the numbers that other people have seen, but enough to make the lunch hour outing worthwhile.