The weekend arrived, and with it the beginning of my favourite month of the year. May brings the peak of migration, the return of warblers, hummingbirds, flycatchers and other insect-eating birds, more wildflowers, and warmer temperatures. Unfortunately, the warmer temperatures failed to materialize, and the beautiful summer-like weather of a week ago was just a fond memory. It was cool and cloudy when I went out on Saturday morning, with only a hint of sunshine peering through the gloomy cloud cover. I drove first to the Richmond Lagoons to look for migrating waterfowl and wasn't disappointed. A few Northern Shovelers, including three beautiful males, were in the middle lagoon with some mallards and Green-winged Teals; and a pair of Wood Ducks flew up out of the reeds when I passed by too close to the edge of the first lagoon. I saw a few Tree Swallows as well as my first Palm Warbler and Warbling Vireo of the year, and heard a Ruby-crowned Kinglet near the parking lot.
I left the lagoons without taking any pictures and drove over to Moodie Drive. While driving past Monaghan Forest at intersection of Fallowfield I noticed several White Trilliums growing along the fence just inside the forest. I pulled into the parking lot to take a look, and was surprised by the number of flowers growing there. Most were White Trilliums, but there was one Purple Trillium, yellow and purple violets, and several other white flowers I couldn't identify as well.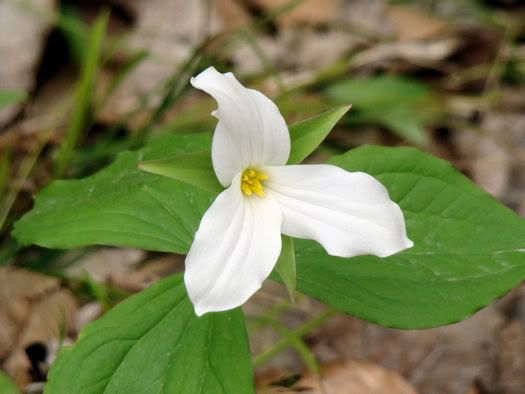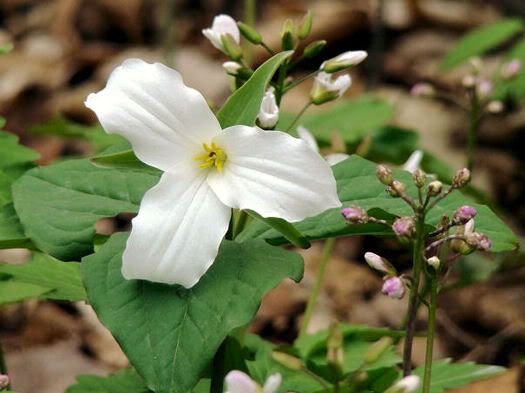 White Trillium (Trillium grandiflorum)
One of the white flowers I identified later turned out to be Bloodroot, a flower I'd been hoping to see this spring.
Bloodroot
Ground Ivy was common along the path as well.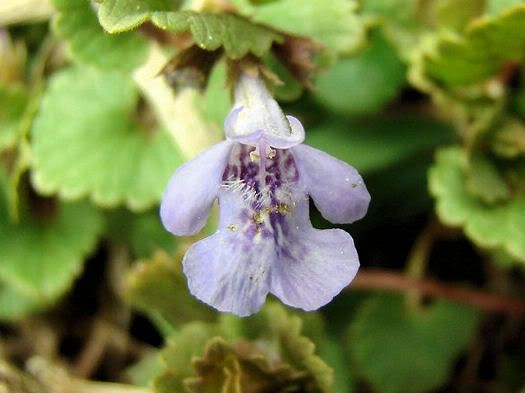 Ground Ivy
The violets I found were darker than the ones I saw at Jack Pine Trail a week ago and are likely a different species.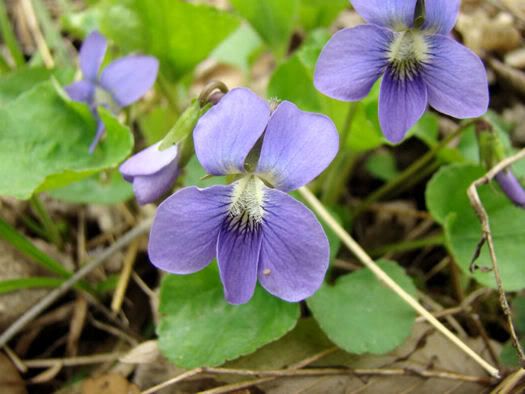 Violets
I followed the trail to the hydro cut that separates the two parts of the forest, and began walking through it looking for insects. A year ago I found some newly emerged White-faced Dragonflies in this area, but there were none today. I did find a few moths, though; a few rose up out of the grass while I was walking through it, though I only managed to track one down to where it landed. This is a very common species, although only the first one that I've photographed so far.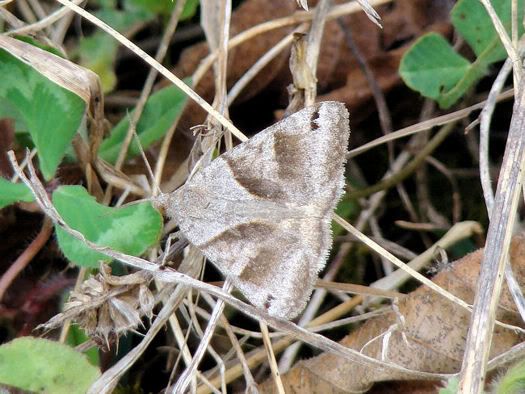 Clover Looper
I walked back to the parking lot, adding only a singing Yellow-rumped Warbler to my month list. Next I drove over to Jack Pine Trail. The sky was becoming ominous, but I thought I would take a quick look around before heading home. This proved to be an excellent decision. Right near the first boardwalk I found a small flock of White-throated Sparrows and a dark bird on the ground close by. I thought at first it was a strange junco with white wing patches, but when it flew up onto a log I saw the beautiful rusty orange breast and realized it was an Eastern Towhee...only the second one I've ever seen, and in a completely unexpected place. I was hoping to get a photo, but he disappeared into the brush where I could hear him scratching on the ground.
Further along the trail I came across three Yellow-bellied Sapsuckers chasing each other. I walked deeper into the woods to try and get closer to them, and that's when I noticed the Hermit Thrush perching at the end of a branch close to the ground. The rusty red tail was a dead giveaway, and I spent several minutes watching him hop from the branch to the ground, along a fallen log, and back up to another branch.
The sapsuckers had disappeared, and the Hermit Thrush was moving further away. When a moth fluttered across my path, I stopped to watch it and waited for it to land. I wasn't the only one tracking it; when it dropped to the ground a small Pine Warbler followed close behind, landing only a few feet away from me! I forgot about the moth and watched the warbler hopping about on a tree stump close by, until he, too, flew up into the trees and disappeared.
I left the woods and followed the trail around the back of the marsh. There were no birds around other than a mallard and Canada Goose, but I did see a small lady beetle nectaring on a dandelion.
Spotted lady-beetle
I also photographed this moth in the same area. Its rusty colour was quite striking, and when I asked a couple of members from the OFNC if they could identify it, they were unable to. Diane Lepage sent my photo to Louis Handfield, the author of "Le Guide des Papillon du Québec" (Guide to the Moths of Quebec) who identified it as another Clover Looper moth. He told Diane that the unusual temperatures this spring can create moths with strange colourations. He also said that he contacted Don Lafontaine, a moth expert and one of the co-authors of "The Butterflies of Canada", who agreed that the moth I photographed is an aberrant form of Clover Looper moth.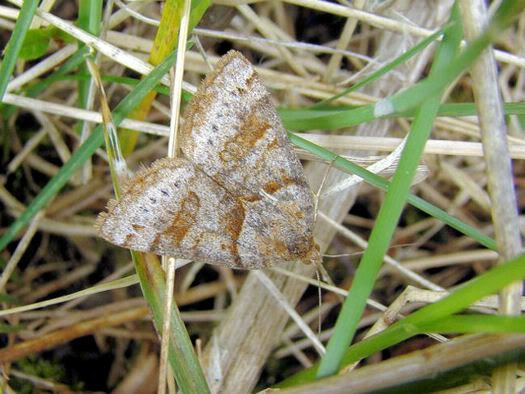 Clover Looper moth (Caenurgina crassiuscula)
Diane said that the best thing would be to go back to look for more of these moths and to capture one. While it is not impossible that it is a different species, she would need to examine some specimens to be sure. If it is in fact an aberrant Clover Looper moth, there likely wouldn't be any others. However, if it is another species, there could be more like the ones I photographed.
I went back to the Hunt Club trail at the back of Jack Pine Trail to look for more Henry's Elfins, but found only a few Mustard Whites instead. Although I have been looking for these beautiful white butterflies since last summer, I didn't realize how common they really are until now. Perhaps it's because I didn't pay enough attention to the whites I saw in the woods before; or perhaps I just wasn't looking in the right habitat.
Mustard White
After exploring the area at the back of the trail without finding any elfins, I returned to Jack Pine and continued on my way to the meadow. The sky was growing dark, and rain appeared imminent; still, I found myself intrigued by several small pale moths flying among the junipers. They rarely landed, and when they did, it was only briefly. Although I attempted to photograph them, this was the best image I ended up with: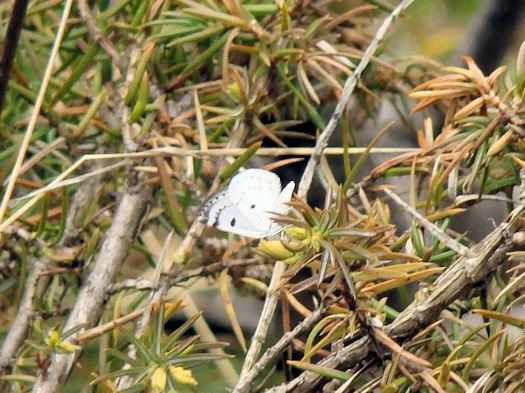 Bluish Spring Moth
This small day-flying moth is often mistaken for a butterfly and in fact resembles a pale Spring Azure in flight. I saw one at the Old Quarry Trail a few weeks ago, and have been hoping to see another ever since. I couldn't believe there were so many in this one area at Jack Pine Trail, and would have spent more time trying to photograph them if it hadn't suddenly started raining. I'm not sure how long their flight season lasts, but if I see them again I would definitely like to get some better pictures of them.