I left Mud Lake to take my fiancé to ball hockey, then drove over to Jack Pine Trail where I intended to spend the rest of the afternoon. I saw a few White-throated Sparrows in the woods as I walked toward the first boardwalk which parallels Moodie Drive, and two mallards in the marsh. There were no signs of any rails or sandpipers at the boardwalk.

In fact, there were few species around other than the usual year-round and summer residents, including Song Sparrows, Red-winged Blackbirds and robins. I haven't seen any herons yet at Jack Pine Trail, and Saturday afternoon was no different. I find that they are usually scarce until after they have finished nesting and raising their young, and then they are common at any marsh or wetland I visit.




Spring Azure
Although there weren't many new migrants on the trails, there were other things to catch my interest, mainly insects and spring wildflowers. Spring is a wonderful season to take a walk through the woods, for there are many species of flowers which appear only briefly during this time. Early in the spring, the leaves on the trees haven't yet opened, allowing more sunlight to reach the forest floor and the ephemeral spring flowers that quickly appear there. Hepatica is a common flower in our woodlands, and comes in three different colour varieties. I only saw flowers with white blossoms; there were none with pink or blue blossoms.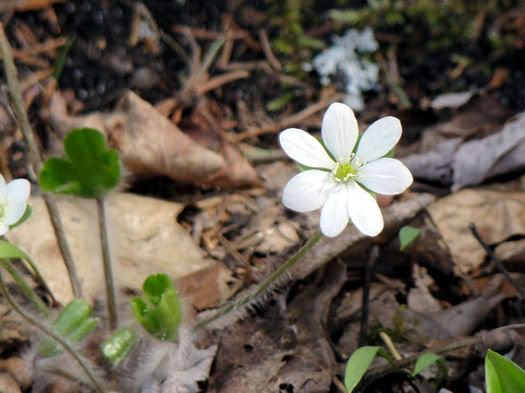 Hepatica
I saw a clump of Marsh Marigold at the end of the first boardwalk, lots of violets, some patches of Coltsfoot (a species which resembles dandelions, although neater), and true dandelions in full flower. I spent a lot of time searching the flowers for signs of insect life, but didn't come across anything interesting at first. I took some pictures of the small yellow violets, but it wasn't until I got home that I noticed this fellow in the photo: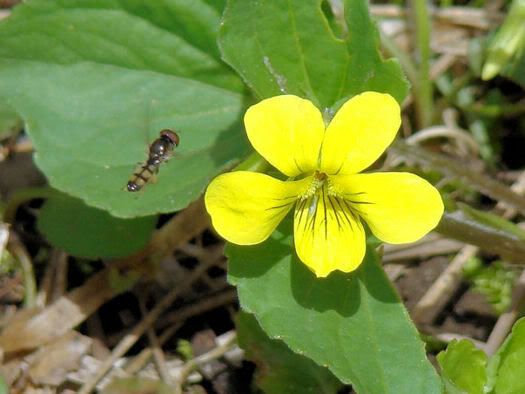 Downy Yellow Violet with Hover Fly
Although there was good shorebird habitat at the middle boardwalk, only a few mallards and a pair of Canada Geese were present. I continued on my way to the back of the trail, where I startled this moth out of the grass. He landed on a tree branch, and stayed put while I photographed him. This is one of the lovelier moths I have seen so far this year.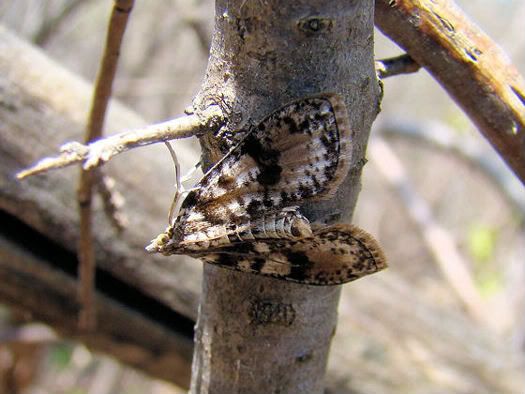 Splendid Palpita
The insects were livelier at the back of the trail. I saw a white butterfly flutter by, and waited for it to land so I could identify it. Although I usually dismiss all white butterflies that I see as the very common, non-native Cabbage White, Mustard Whites have already emerged in Stony Swamp, so I resolved to pay closer attention to any whites that I saw. I've only photographed one Mustard White previously, one day in May three years ago at Sarsaparilla Trail, and was looking forward to seeing more of this pretty native species. To my delight, the butterfly was in fact a Mustard White. They lack the spots of the Cabbage White, and fresh individuals show dark veins on the underside of their wings.
Mustard White
I followed him about for a while, eventually giving up and letting him be. A couple of Spring Azures also flew by in this area. I saw a porcupine in a tree as well, but gave up on photographing him when another white butterfly flew past me. This one was headed down the trail leading to the Hunt Club parking lot (the sign says Knoxdale, but is incorrect). I followed him, watched him interact with another Mustard White, and then reached an intersection with another trail. Here I discovered several Trout Lilies in bloom, and several interesting insects, including Mustard Whites, two Henry's Elfins (another early spring butterfly), more Spring Azures, metallic green Sweat Bees, and several tiny beetles crawling over the Trout Lilies. I spent some time wandering in this area, and ended up with some great photos. I only wish that the Henry's Elfins had been more cooperative, as I don't have a decent photo of this species.
Spring Azure on Trout Lily
These small beetles were quite numerous in the patch of Trout Lilies:
False Blister Beetle
Do you see the Sweat Bee on this flower?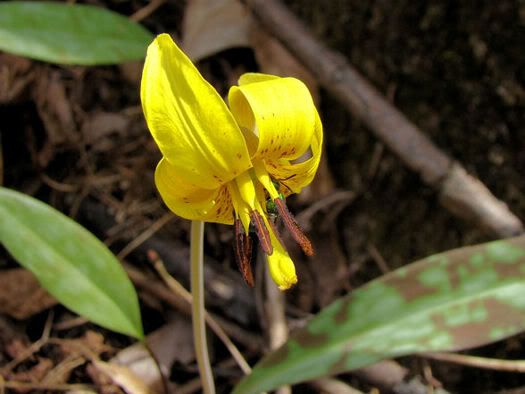 Trout Lily
Mustard White
It was with great reluctance that I left this spot and headed back to Jack Pine Trail. I didn't come across any other spot with such a variety of insects, although I did find some patches of small, beautiful flowers with yellow centers and pink stripes on their petals. These flowers are called (aptly enough) Spring Beauties and are one of my favourite wildflowers of spring.
Spring Beauty
Spring Beauty
There was also some more Hepatica growing close by.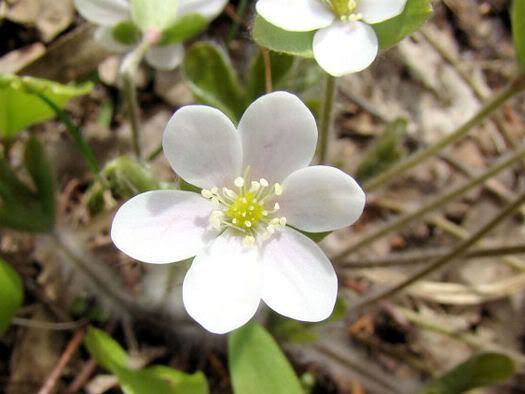 Hepatica
Finally, along the marsh at the back of the trail I discovered several of these mushrooms growing beside the path.
Unknown Mushroom
Spring is my favourite season because there is just so much to see, and, like the birds which only stop over for a short time on their way north, many of these flowers and insects are around for only a brief time.