The birds are returning, and on Saturday I went out briefly to see which species have arrived since the previous weekend. I stopped by Sarsaparilla Trail first, hoping to find some White-throated Sparrows. Instead, I found two Fox Sparrows right by the entrance to the woods and lots of Dark-eyed Juncos along the trail. Two Blue Jays took an interest in the seeds I was giving to the chickadees, and so I tossed some on the ground, making sure that the seed mixture contained lots of peanuts. I wouldn't be surprised if this was the same pair that followed me on the trail last fall looking for handouts. Three Red-breasted Nuthatches were also interested in the food, once again preferring to take the seed from my hand.

I didn't see many birds on the pond, though the water was completely open again. A pair of Canada Geese were swimming serenely near the shore and a couple of groups of mallards flew over.




Osprey on nesting platform
This is one of the two Fox Sparrows seen at the trail. He flew away right after I took its picture, and although I tried to find him and his partner again I had no luck. This is one of my favourite sparrows, with its rusty-red colouring, large size, and heavy streaking. They feed on the ground, where they can be quite conspicuous, and I usually find them scratching in leaves for insects and seeds.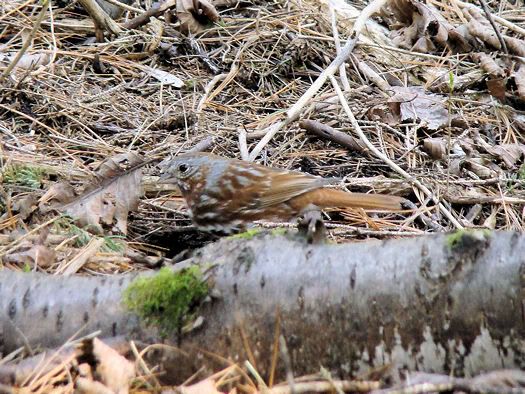 Fox Sparrow
I'd read that the Ospreys were back in their usual nesting places in the west end, so after leaving Sarsaparilla Trail, I decided to go and take a look. I could see from a distance that one Osprey was in the stick nest on top of the man-made nesting platform, and a second Osprey was sitting in a tree behind the platform. When I got out of my car and started walking toward the two large birds of prey, the one in the nest started calling and then took flight.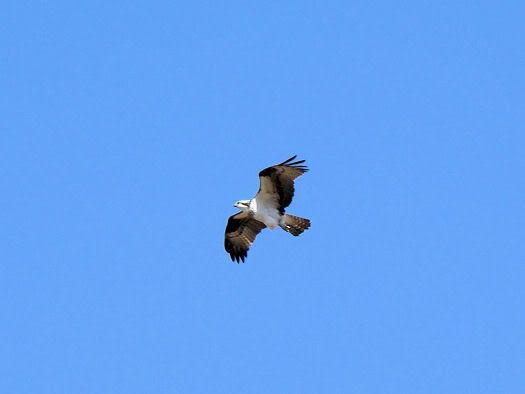 Osprey in flight
She - presumably it was the female in the nest - landed in a tree overlooking the water, and her mate soon followed. I got a few photos of one of the birds perching precariously on a branch above the water. The wind was strong enough to make balancing tough.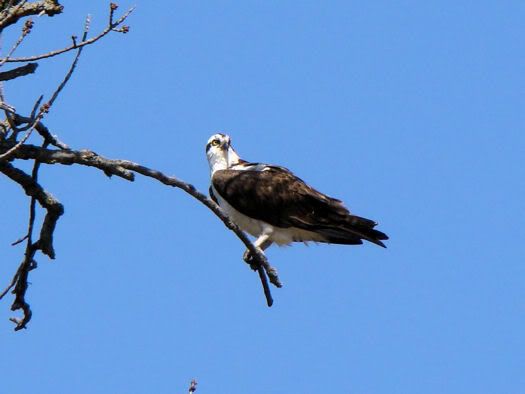 Struggling against the wind
Not wanting to cause them any further stress, I left the area and returned to my car. It is always wonderful to see these beautiful birds, especially for the first time in the spring after a long winter without them. I wish I could have stayed out longer, and checked some of the other Osprey nests, but that will have to wait for another day.