After a cool, cloudy weekend the sun came out and the temperature began to rise. The temperature reached the mid-teens on both Wednesday and Thursday, so I took my camera out with me at lunch to see if the warm weather had brought in any new migrants.

On Wednesday I went to Billings Bridge. My main reason for stopping there was to check the river for ducks and other water birds. Double-crested Cormorants, Great Blue Herons, kingfishers, mergansers and Wood Ducks were all excellent possibilities, and of course I was also hoping to see some groundhogs and maybe a butterfly or two.




Meadow Vole
With the hot sun shining down, it felt more like May than the end of March. They say that March normally comes in like a lion and goes out like a lamb, but this year was very different. I would say that this year, March came in like a kitten and went out like a baby cottontail. It was the warmest and dryest March on record for many areas in Ontario, and Ottawa was no exception. The mean temperature for Ottawa this month was 2.9°C, compared to a usual mean temperature of -2.5°C, making it the warmest March since 1946. Ottawa normally gets 39.8 cm of fresh snow in the month of March, however this year we received 0 cm. This broke the previous record of 1.2 cm received in March 2006 and, together with the warmer temperatures, resulted in the rapid melting of the snow cover that remained.
The snow was all gone from the lawns of Billings Bridge Park, though I didn't see many birds around. A group of Canada Geese was munching on the dried brown grass and a few Ring-billed Gulls were standing around the bike path, but the large flock of mallards that used to spend the winter here was gone. A couple of pairs were swimming in the river close to the shore, and another couple of pairs were dozing in the grass on the island, but the main flock was probably on the other side of the Bank Street bridge where handouts are given more freely. A "do not feed the wildlife" sign had been put up here last fall, though I forgot to check and see if it was still up.
I heard a few Red-winged Blackbirds and Song Sparrows singing from the island, but saw no other migrants. The mallards and geese were the only two species I saw on the river, so I walked along the river bank toward Bronson to see if any birds were hanging out in the large open area. Along the way I came across this handsome fellow standing above his den: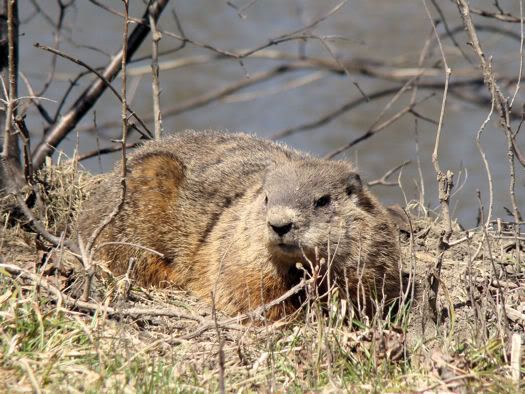 Groundhog
I am fairly sure this was the same individual that I photographed last year at the end of March in the same location. He froze in place when I slowly walked toward him, his paws already in the entrance to his den in case he needed to make a quick getaway. He looked decidedly annoyed, as though he were saying, "What? Didn't you get enough pictures of me last spring?!"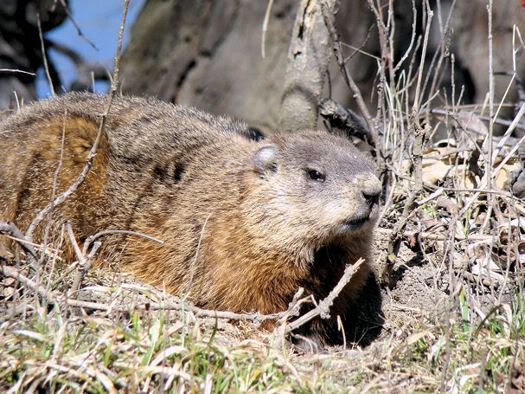 Groundhog
Although mostly brown, he did have beautiful reddish fur on his front legs, as seen here in this photo. I remembered the same colouring on this individual from last year.
Groundhog
Despite a search along the river for Wood Ducks, herons, and mergansers, I came up empty-handed. I didn't have enough time to walk across the Bank Street bridge to check out the ducks there, so I decided to resume my search the following day.
Today (the first day of April) was even warmer. I decided to go to Hurdman at lunch, still hoping to find those Wood Ducks and herons and butterflies. Once again a walk along the river and through the woods revealed no new birds and no butterflies. Goldfinches and Song Sparrows were singing throughout the area, a few chickadees came up to me looking for sunflower seeds, and that was about all I saw.
I thought it was going to be another dull and uneventful outing until I heard a raven's croak followed by the caws of several crows. I found the raven in a small wooded inlet along the river's edge. He was standing on a log next to the water, and three crows were perched in the trees above him, shouting down insults. The raven replied, perhaps telling them to get lost, and hopped up onto a branch about a foot above the water. I watched this interaction for a few minutes, unable to get a clear shot of the raven because of all the branches between him and me. Eventually the raven flew off, pursued by the three bullies still cawing away. It was neat to see, for only when ravens are on the ground or close to eye level do I realize just how big they really area.
I continued walking along the edge of the river, leaving the bike path for a small trail that goes through a small wood right to an opening at the river's edge. It was here that I saw all the Rainbow Bluets last year, as well as several Eastern Forktails and Stream Bluets. The odonates have not emerged yet, however, although we should start seeing them toward the end of the month if this warm weather continues.
While walking through an area of flattened vegetation, I noticed a small, round mammal scampering out of my way. He ran up a small incline then disappeared into a hole at the base of a small log. I followed, noticing many holes in the dirt, and hunkered down to wait. Sure enough, the meadow vole stuck his head out, sniffing the air as though trying to scent out any danger.
Meadow Vole
He stood there like that for several minutes, long enough to get several photos. Then he disappeared and didn't re-emerge, although I kept checking the other holes in case he had taken an alternate exit.
This sighting was the best part of my outing. It surprised me that on both days the birds were mostly absent and it was the mammals which were cooperative. With the long weekend starting tomorrow, I should have ample opportunity to go out and find some new species for my year list.