On Thursday, March 11th I saw my first Canada Goose flying overhead. We had just arrived home at dusk, and upon getting out of the car the first thing I heard was the honking of a single goose as it flew above my front yard. I looked up in time to see it glide by, a smile slowing spreading across my face as I listened to its familiar and long-awaited call.

The following morning, on my way to work I saw my first Red-winged Blackbird of the year in a cattail marsh along Richmond Road. Only one of these birds was perched among the reeds, a conspicuous black spot among all the amber-coloured cattails, but his red epaulets were clearly visible even from the road. Later that evening, on my way home I saw a small flock of Canada Geese flying in a straight line over Bell's Corners. Spring migration has finally arrived!




Mallard
It was supposed to be a rainy weekend (and indeed it rained all day on Sunday, washing away much of the remaining snow), but when I woke up the sun was peeking out from among the swath of clouds covering the sky. Although it was mild - the temperature rose to 7 °C - the winds were fierce out in the open, making it seem cool. I decided to head out and see if I could find a few more spring migrants...I really wanted some pictures of the Canada Geese and Red-winged Blackbirds for my blog. Even before I had left, however, my attention was drawn to a robin calling from the top of an antenna out in the back, the first one I'd seen in the neighbourhood, and a male cardinal singing from an evergreen on a neighbour's front lawn! And, just as I was getting in my car, two Red-winged Blackbirds flew over my house....yes, signs of spring were everywhere!
I stopped by the ponds along Eagleson Road first, knowing that if there were any Red-wings to be found it would be here. Sure enough, I heard at least four of them calling from the trees overlooking the pond. They didn't take too kindly to being approached with a camera, so I wasn't able to get any photos of these striking blackbirds.
Two Canada Geese flew in while I was walking along the path, followed by a few flocks of about 6 to 8 geese, so I wwalked down to the water's edge in order to get my first photos of these spring migrants. However, they weren't very happy to see me with my camera either, and scolded me even as they swam away.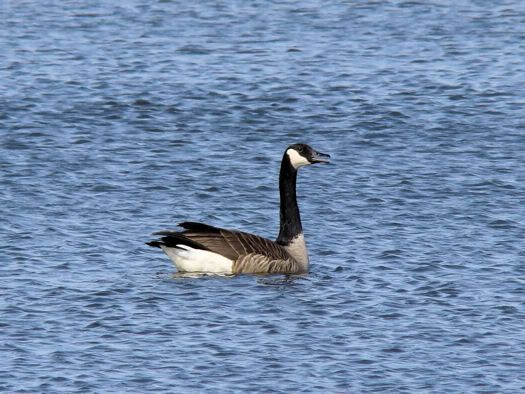 Canada Goose
From there I drove over to Aikins and Brownlee Roads searching for Horned Larks and Lapland Longspurs but found nothing but crows. I drove over to the dump without seeing anything notable, but at the corner of Barnsdale and Moodie I found a large flock of about 30 Red-winged Blackbirds perching in the trees. I gave them a quick scan, hoping for a grackle or a cowbird, but saw only the black and red colours of the Red-wings. Further along Barnsdale several gulls were loafing near the puddles of water that had formed from the snow-melt, and among these were several Herring and Ring-billed Gulls as well as a single juvenile Glaucous Gull.
I was anxious to get out and take a walk in the woods at Jack Pine Trail to see how it had changed since my last visit there in December. (Wow, had it really been that long?) The snow on the trail was packed down and quite slippery, but much of the leaf litter covering the forest floor was now visible. Only about a minute into my walk I came across a Hairy Woodpecker tearing the bark off of a tree at its base and a chipmunk peeking out from beneath a fallen branch. I tossed him some food which he seemed eager to gather up.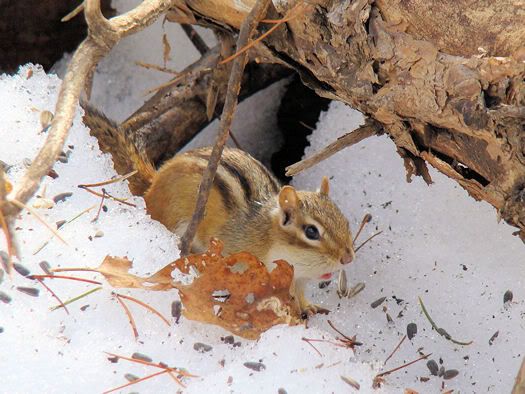 Eastern Chipmunk
There is a home-made feeder close to the junction with the first loop, and here I found two Red-winged Blackbirds surveilling it from the trees. The large OFNC feeder just past the junction was completely empty except for another Hairy Woodpecker feeding on the suet.
The trails were fairly quiet, with only chickadees, a Downy Woodpecker, and a few squirrels to be seen. The snow has melted quite rapidly, however, and one of the ponds is showing a significant band of open water along one of the edges. Here I found a pair of mallards standing on the ice.
Mallard Drake
I also saw the same chipmunk near the trail entrance again on my way out, and took this picture of him after he darted out from under the branch to this rock.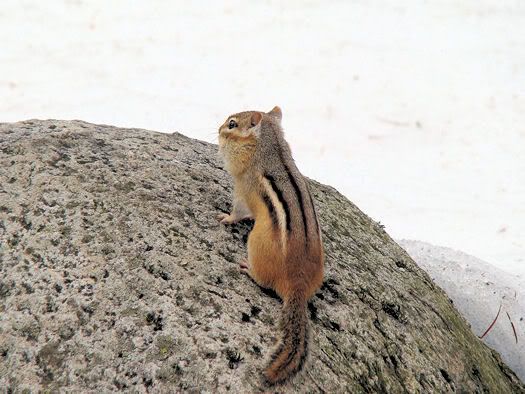 Chipmunk
Even though it was windy, the sun was beautiful while it was shining and felt warm on my skin. It was great to see all the geese flying overhead, the chipmunk scurrying across the trail, the ducks claiming their territory on the pond, and the large expanses of leaf-strewn ground now exposed in the woods. It was also lovely to hear the large flock of Red-winged Blackbirds singing and calling along Barnsdale Road, even though they aren't the most musical of birds. Now that they have returned, I can definitely say that spring has arrived at last!