Today is the last day of winter...at least in the birding world as the serious listers try to find those last few species to add to their winter lists. Although the spring equinox is still three weeks away, March 1st is the traditional beginning of the spring birding season, when eager species begin to return to their breeding grounds. As the past four days have reached above 0°C, resulting in some serious snow melt, it has certainly felt more like spring than winter!

And so it is time to put away the winter list for another year. I finished with 57 species, the lowest number in the three years I have been keeping a winter list (I finished with 60 species in 2008 and 61 species in 2009). Although I managed to add some unusual species at the beginning of the winter listing period due to the extremely mild weather, the lack of winter finches really took a toll on my list. Our region received no unusual winter visitors, either, such as the Tufted Titmouse, the Townsend's Solitaire, the Hermit Thrush, and the Harlequin Duck two years ago, nor did we receive any northern woodpeckers such as the American Three-toed Woodpecker three years ago. Surprisingly, I was not able to add any accipiters or falcons to my winter list, either; not because I didn't see any, but because I wasn't able to identify them.






Red-tailed Hawk
My 2009-2010 Winter List
| | | | | | | | | | | | | | | | |
| --- | --- | --- | --- | --- | --- | --- | --- | --- | --- | --- | --- | --- | --- | --- | --- |
| | 1. | | Canada Goose | | | | 20. | | Common Loon | | | | 39. | | Red-breasted Nuthatch |
| | 2. | | American Crow | | | | 21. | | White-winged Scoter | | | | 40. | | Dark-eyed Junco |
| | 3. | | Ring-billed Gull | | | | 22. | | Common Goldeneye | | | | 41. | | Ring-necked Duck |
| | 4. | | European Starling | | | | 23. | | Common Merganser | | | | 42. | | American Robin |
| | 5. | | Rock Pigeon | | | | 24. | | Rough-legged Hawk | | | | 43. | | Pileated Woodpecker |
| | 6. | | House Sparrow | | | | 25. | | American Black Duck | | | | 44. | | Bald Eagle |
| | 7. | | Mallard | | | | 26. | | Hooded Merganser | | | | 45. | | Barrow's Goldeneye |
| | 8. | | Bufflehead | | | | 27. | | Ruffed Grouse | | | | 46. | | Snowy Owl |
| | 9. | | Common Raven | | | | 28. | | Brown Creeper | | | | 47. | | Mourning Dove |
| | 10. | | Red-tailed Hawk | | | | 29. | | Green-winged Teal | | | | 48. | | Glaucous Gull |
| | 11. | | Black-capped Chickadee | | | | 30. | | Lesser Scaup | | | | 49. | | Iceland Gull |
| | 12. | | Hairy Woodpecker | | | | 31. | | Great Black-backed Gull | | | | 50. | | Thayer's Gull |
| | 13. | | Blue Jay | | | | 32. | | Herring Gull | | | | 51. | | Great Horned Owl |
| | 14. | | American Tree Sparrow | | | | 33. | | Northern Cardinal | | | | 52. | | Barred Owl |
| | 15. | | American Goldfinch | | | | 34. | | Horned Lark | | | | 53. | | Wild Turkey |
| | 16. | | Downy Woodpecker | | | | 35. | | Snow Bunting | | | | 54. | | Wood Duck |
| | 17. | | Red-winged Blackbird | | | | 36. | | House Finch | | | | 55. | | Cedar Waxwing |
| | 18. | | White-throated Sparrow | | | | 37. | | Bohemian Waxwing | | | | 56. | | Lapland Longspur |
| | 19. | | White-breasted Nuthatch | | | | 38. | | Northern Shrike | | | | 57. | | Gray Jay |
What's interesting about this list is that the first 50 species were all found in December; in fact, the first 43 species were found during the first two weeks!
I wasn't really searching for any new species today. I skipped the Maple Grove search for the Gray Partridges and spent the morning at the Old Quarry Trail instead; I saw several well-fed deer and three porcupines, as well as at least two pairs of Red-breasted Nuthatches and one White-breasted Nuthatch. I also saw three cardinals, two males and a female, one of which was singing, and I heard the first Brown Creepers singing today as well! There seemed to be several in the area near the deer feeding station, though darned if I could see a single one of them!
From there I drove around the back roads near Richmond. I saw a flock of about two dozen Snow Buntings on Rushmore Road, though they kept taking off whenever a car passed. I was able to get this photo from my car window:
Snow Buntings
There were a handful of gulls in a field on Barnsdale - though neither of the white-winged species - and three Red-tailed Hawks near the dump. This one was in a tree just inside the barbed wire fence, and stayed put until I drove my car as close to the edge of the road as possible in order to get some better photos. Then he flew off, but not before I got this shot: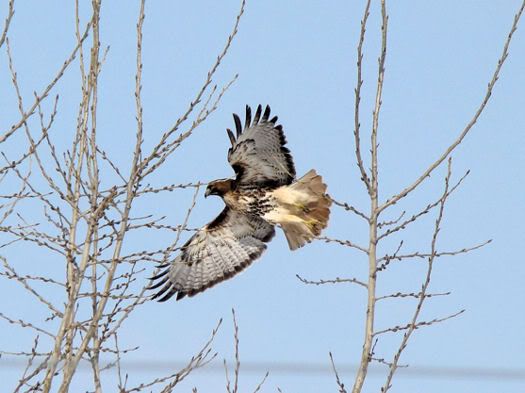 Red-tailed Hawk
There were no gulls at the dump, but a small flock of American Tree Sparrows in the shrubs made up for the gulls' absence.
So what will March bring? By the middle of the month we should start seeing flocks of Canada Geese returning and hear the first Red-winged Blackbirds on territory. Robins, too, will become more conspicuous as those which migrated south return to join those that stayed here for the winter. Common Grackles, Brown-headed Cowbirds also return in the last third of the month, and Ring-billed Gulls will become common in the city again. Song Sparrows should be easily found by the end of the month, and if we're lucky we will see Great Blue Herons and Killdeer prior to the beginning of April. March, too, is the time when fields begin to flood and attract migrating waterfowl. Northern Pintails are among the first ducks back, joining the Canada Geese in the flooded fields, though Hooded Mergansers and Wood Ducks sometimes show up in March as well. March is a time of changing seasons, and the beginning of my favourite time of year...spring migration. Two more weeks, and it will all begin!