So far 2010 has been a quiet year for birding. Granted, we're only about two weeks into the year, but there are hardly any winter finches in southern Ontario, few northern owls, and nearly all of the Christmas Bird Counts across Ontario report fewer species than usual and lower numbers of individual birds overall. In Ottawa, too, there seems to be fewer birds around. The usual species, including at least four Barrow's Goldeneyes, are still around, and small flocks of Bohemian Waxwings have been observed in various areas. However, there have been only a handful of sightings of winter finches and no rarities reported in our region so far.

Still, it's time to start a new year list, and it's always fun to go out to look for mammals as well as birds. The weather was poor at the beginning of the month, with wet snow and freezing drizzle falling on and off for most of the first week. This is the main reason why I haven't been blogging as much as I usually do, as I haven't been able to go out as I would have liked!




Pileated Woodpecker
I did go out for a couple hours on New Year's Day, although I didn't go far. I went to Sarsaparilla Trail and brought my snowshoes with me; this was my first outing on snowshoes, and I only wanted to try a short trail to see if I could get the hang of it. To my amazement, snowshoeing was easy and incredibly fun! Even though the snow wasn't all that deep and some areas were packed down from other people using the trail, it was much easier walking in the snow with them on.
The only real challenge came when I wanted to stop and take pictures, for I wasn't always near a tree which I could conveniently set my poles against. This happened when I saw a Pileated Woodpecker land in a tree off the trail; when I brought my camera out I just dumped the poles on the ground in order to work the camera. Unfortunately I wasn't able to get any decent photos, since the afternoon was quite dark. I watched as it flew to another tree with a second Pileated Woodpecker, where both perched on either side of the trunk only about a foot above the ground!
Still, I thoroughly enjoyed myself and did see some interesting birds. I saw all three woodpecker species (Hairy, Downy and Pileated), goldfinches, both nuthatches, and two ravens flying over the marsh.
White-breasted Nuthatch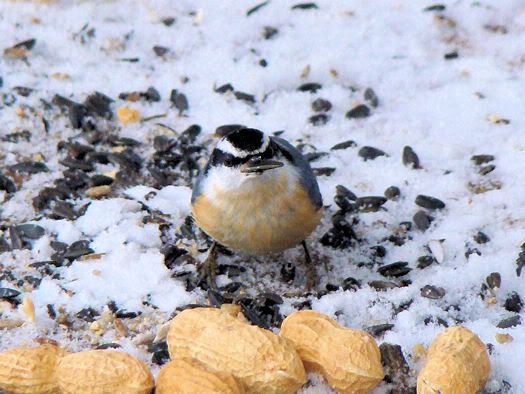 Red-breasted Nuthatch
The weather continued to be gray and gloomy when I went back to work. I added Rock Pigeon and House Sparrow to my year list my first day back, as almost none have been hanging around my backyard feeder this winter. The variety of the pigeons downtown always amazes me, and I was able to capture this one in Confederation Park.
Rock Pigeon
When the sun finally came out again a few days later, I decided to spend some time at Hurdman looking for ducks and songbirds. The feeders are back up, and a new one right at the beginning of the trail hosted House Finches, a goldfinch, a Mourning Dove, and the usual chickadees.
Black-capped Chickadee
The suet feeders were further down the trail, in the same place they were last winter. I found a female Downy Woodpecker enjoying a meal.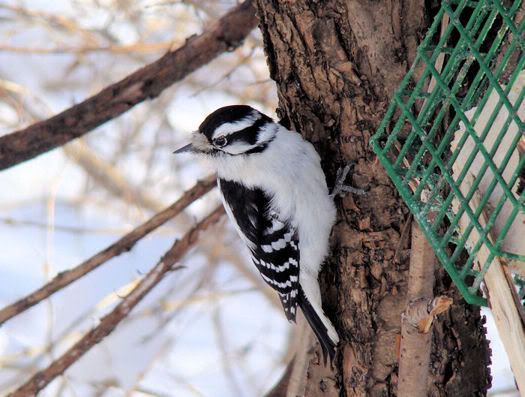 Downy Woodpecker
At the river, I was able to add Common Merganser, Common Goldeneye, Mallard and American Black Duck to my year list. I looked for the male Barrow's Goldeneye, but he must have been further upstream or on the Ottawa River.
Deb and I started birding on weekends together again after our Christmas hiatus. It's always fun to spend a few hours at the feeders at Shirley's Bay, and although we saw no deer or Snowshoe Hares, the birds and squirrels were entertaining. One day when we drove up we saw a male Pileated Woodpecker at the suet feeder.
Pileated Woodpecker
American Tree Sparrows, chickadees, and Blue Jays were all abundant at the feeders. There were no winter finches, and only a few House Finches and American Goldfinches.
American Tree Sparrow
At least three Red Squirrels were also present, taking time out from chasing one another to feed on the rocks where plenty of bird seed had been scattered.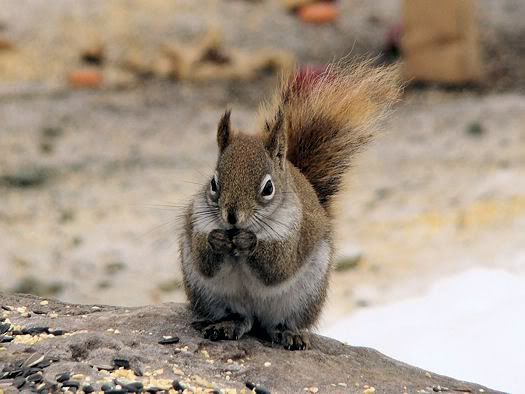 Red Squirrel
Even though there doesn't seem to be much around, Deb and I still plan on going out as often as we can. Otherwise, it's going to be a long wait until spring. And after all, it's hard to find birds if you don't go out!