On Sunday Deb and I decided to stop at a few places we hadn't visited lately. Although we planned to spend the morning in the east end, hoping to find a Snowy Owl, we started the day off with a trip to Billings Bridge Park. Recent reports indicated that a large flock of gulls was roosting on the ice there, and we hoped to find a few white-winged gulls among them. A few Glaucous Gulls had been seen in the roost, as well an occasional Iceland Gull. I needed both of these for my winter list, and Deb had never seen an Iceland Gull before. We were hoping that one might be around.

However, when we arrived we were disappointed to find no large roost and only a few gulls along the river, mainly Great Black-backed and Herring Gulls. The nights have been very cold lately, and a few mallards had succumbed in the frigid weather; the gulls that we found were feeding on duck carcasses on the ice.




Snowy Owl
We walked up to the bridge to see if there were any gulls on the other side of the river. We found a Herring Gull standing on the edge of the ice, a couple of Ring-billed Gulls, and a large Great Black-backed Gull having a bath in the icy river. A couple of male Common Goldeneyes and a female Common Merganser were the only other birds of interest, so we returned to the park to explore the area further.
Almost right away Deb and I noticed a large number of tracks criss-crossing the snow, running from tree to tree; I sent a couple of photos to Christine Hanrahan, who confirmed these tracks were made by meadow voles.
Meadow Vole Tracks
A little further along, we found some different impressions in the snow. These were wing prints made by a bird landing in the snow as it attempted to catch a small rodent. The rodent's tracks are also clear in this photo.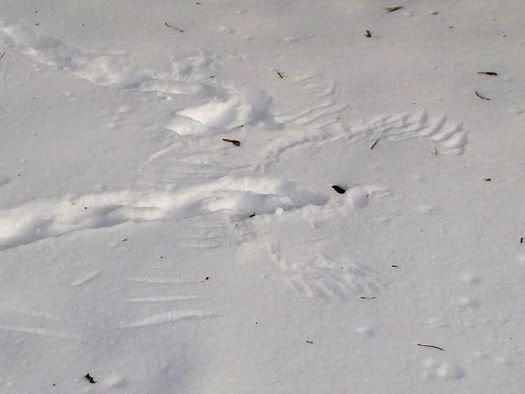 Wing prints in the snow
As we walked along the river's edge, we came across more and more of these intriguing wing impressions. Clearly something had spent a lot of time hunting the voles here, and while we suspected a bird of prey or an owl, it also could have been a crow, or a raven, or even a gull.
More wing prints
We also noticed some tracks in the snow made by a large mammal. Fox seemed the most likely, as the animal's trail went from tree to tree in straight lines; domestic dogs generally do not walk with the same sense of purpose, but tend to wander here and there as they explore.
Fox tracks
While examining the various track marks in the snow, I happened to glance up and see this sun dog on the left side of the sun. These pretty prisms of colour are quite common when the sun is low in the sky (and we were just one day before the winter solstice, when the sun remains low in the sky all day) and the crystals high in the cirrus clouds are aligned horizontally. Sun dogs can be seen twice a week on average in Europe and parts of North America, regardless of the time of year.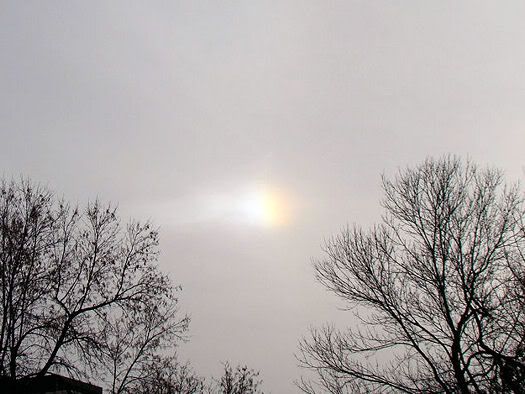 Sun Dog
Finding nothing else of interest and only a few more Great Black-backed Gulls along the river's edge at the western part of the park, Deb and I returned the way we came. The river looked lovely with the frozen water along the shore and the snow covering the small island. A River Otter had been spotted here recently, and although we searched for it, there was no sign of it that day.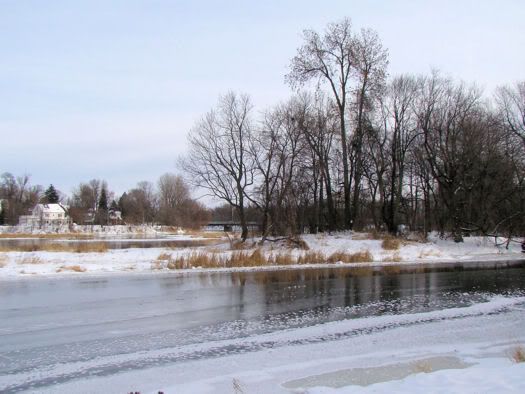 Rideau River
I did notice a large animal swimming along in the open channel, and my heart leapt at the thought of seeing the otter; even when I realized that it was not an otter but a beaver, I was still quite thrilled, for I haven't seen one of these mammals in a long time. It dove under the water only to emerge several metres away near the smallest island, where it began gnawing on a tree branch.
Beaver
We left the beaver to its meal, then decided to head back to the car and continue on our way. While waiting for the light to change at Riverside Drive, I spotted a large dark bird soaring above the mall. The fact that it was soaring was what caught my attention, for crows rarely soar. I assumed it was a raven, but when I took a closer look through the binoculars, I was surprised to see the white head and tail of an adult Bald Eagle! I pointed it out to Deb, and we watched until it eventually disappeared behind the office tower.
During our drive out to the east end we found a Northern Shrike, a couple of Red-tailed Hawks and a couple of Rough-legged Hawks. There was very little activity along Milton Road, and none around Wall or French Hill Roads. We saw no Snowy Owls, Snow Buntings or Horned Larks, and only one raptor in the entire area, a Rough-Legged Hawk on Regimbald Road.
We hoped our luck would improve in the fields east of Casselman, and so we headed there next. On Concession 19 we found our only Snowy Owl, either a female or a young male given its dense barring. It was perched on top of a telephone pole, so we parked the car and slowly walked close enough to try and photograph her. She flew off to another telephone post when we got too close, so we decided to drive past the owl and photograph her from the car. This didn't bother her too much, and she stayed put for a while, allowing us to take some photos.
Snowy Owl
Eventually she had enough and flew off into the fields. I was lucky enough to capture her in flight before she got too far away: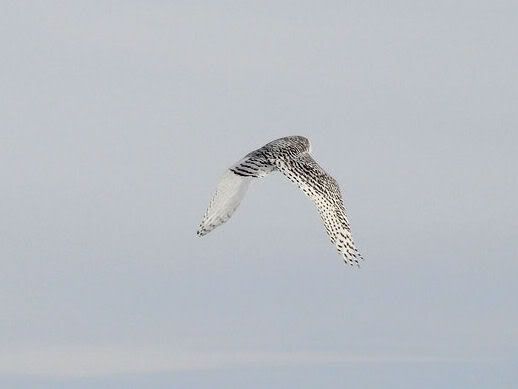 Gliding Away
As we drove back toward the highway, we saw a large flock of Snow Buntings land on one of the side roads. There must have been at least 200 birds, although I didn't see any larks or longspurs with them. This was the second-largest flock of buntings we have ever seen, and a nice way to end a wonderful day. I don't think I'll ever be lucky enough to see a Bald Eagle and a Snowy Owl on the same day again, and the beaver was a wonderful treat as well. There are still lots of birds and wildlife to be found even during the shortest days of the year; you just never know what's around unless you go out and look!