After a long, gray week of fog and drizzle, the sun finally came out today. However, with the temperature barely rising to 3°C and strong wnd gusts tossing the leaves and litter about like snowflakes, I was content to stay home. There were some things I'd been meaning to do all week anyway - including photographing my garden.

Although I'd removed all the annuals and trimmed the perennials back several weeks ago, I'd left the pansies alone. Not only were a few still blooming, but allowing them to go to seed would ensure that I'd have more pansies in the spring. So as the month progressed and the leaves fell from the trees in our front yard, every morning while leaving for work I'd noticed the small purple blooms glowing softly among the brown leaves that littered the garden. Despite the lateness of the season and the frosty nights, a couple of plants still seemed to be thriving. I decided today to go out and photograph them for my garden notes.




Pansy blossom
In my front garden, a few purple pansies and one yellow pansy were all that remained. The yellow one was starting to look rather shabby, but the purple one was fresh and unblemished.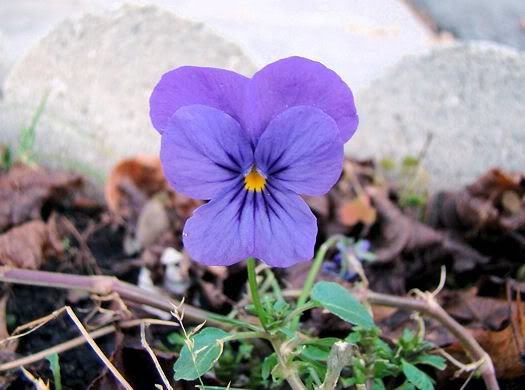 Several pansies were blooming in my backyard. I had bought some last year from the nursery, but didn't bother to buy any this year. I was quite surprised (and quite happy!) when I noticed the lovely violet-blue blossoms again this year. By allowing these plants to go to seed (unintentionally, I might add!) I saved myself the cost and the effort of buying and planting new flowers. I'm hoping they will self-seed again not only in my backyard garden, but also the front.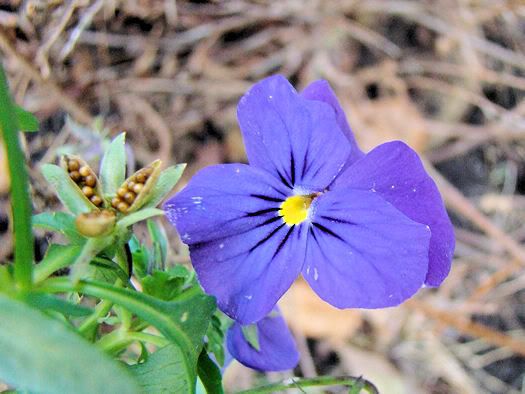 I was intrigued when I saw the tiny seeds on one of the plants: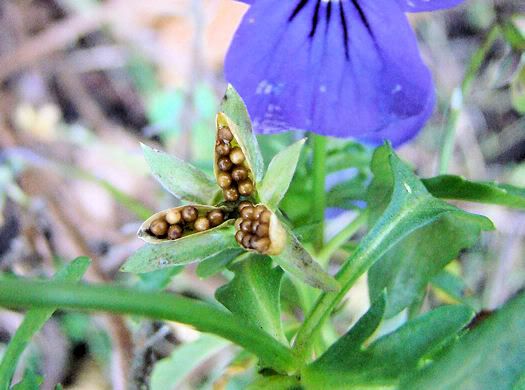 Pansies are hardy, cold-tolerant plants that bloom non-stop from spring to fall. One of the earliest annuals to appear in the nurseries and garden centers (well before the Victoria Day long weekend here in Ottawa), they come in many different colours. Not only are they edible, they are pollution- and shade-tolerant and easy to care for. Because they are low growing they can be used for borders, edging, window boxes and containers for the patio. It is certainly nice to see their vibrant colours at the end of November when all else is brown or gray!