| | | | |
| --- | --- | --- | --- |
| | On Sunday Deb and I drove down to Amherst Island to spend the day there. We left at 7:00 just as it was getting light, although the overcast morning and a thick fog in Ottawa and along Highway 416 made it difficult to judge just when the sun came up. Further south, however, the fog cleared and we spotted a group of White-tailed Deer in a field and several individual Red-tailed Hawks along the way. Along the 401 we drove out from under the thick bank of clouds into the sun, and it was smooth sailing until close to Kingston when we hit an even worse patch of fog. The fog continued all the way to Highway 33 after we got off at the Millhaven exit, and it was disheartening when we reached the ferry dock and saw more fog over the water. Still, the forecast hadn't called for fog; we were hoping that things would improve on the island with the promised mix of sun and cloud. | | Northern Saw-whet Owl |
A single Herring Gull standing on a light standard was the only bird in sight when we drove up to the dock. Visibility was still poor due to the fog, so if there were any ducks on the water they were invisible to us from the shore. To our surprise, we ran into a group of Ottawa birders led by Tony Beck! We chatted while waiting for the ferry, and when the ferry finally arrived and we all boarded our excitement grew.
Once on the water, we saw a few birds flying out of the mist - mostly mergansers - although three Common Loons swimming on the lake were the best birds of the morning thus far. I was able to take two quick pictures of one in front of the ferry, though it dove beneath the water once the boat got too close.
Common Loon (winter plumage)
Happily, as we approached the island, visibility improved and the fog appeared thinner. There was virtually no fog on the island, though some thick clouds still hung over the land. It began to look as if we would get some sunshine after all.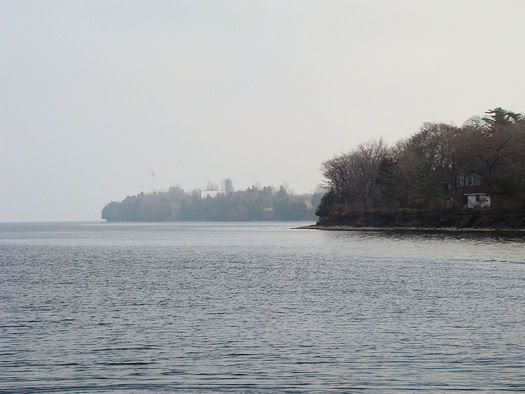 Amherst in the mist
Once we arrived on the island, Deb and I drove straight to Owl Woods. Driving down the single-lane unmaintained road was a bit challenging, especially when a car approached us and there was barely any room to pass! Both cars had to drive on the grass to get around each other. We were relieved when we arrived at the woods, and eagerly packed up our gear and set off into the bush.
We saw few birds on our way toward the Kingston Field-Naturalists' feeders. There were a few chickadees and White-breasted Nuthatches visiting the feeders, but no sign of the Red-bellied Woodpecker. We continued on our way, stopping to check the cedar trees for roosting owls as we headed for the Jack Pine plantation. Although we spent a lot of time peering up into the trees, we weren't able to find a single owl, until another birder called our attention to a tiny Saw-whet Owl sitting on an almost open branch!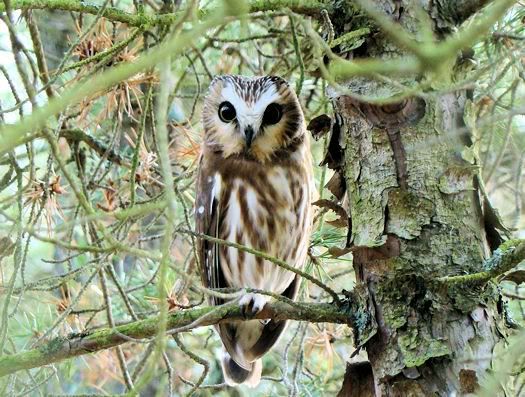 N. Saw-whet Owl
Although he watched us with large, wary eyes as we tried to photograph him through the branches, he didn't move or appear alarmed. He was very small and quite handsome with his brown and white plumage, and quite approachable - as indeed most Saw-whet Owls are when found in their day-time roosts. For such a fierce, deadly predator the Saw-whet Owl is quite cute, and as such it is my favourite owl.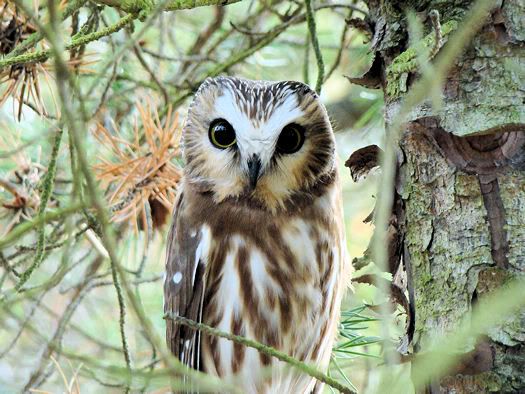 N. Saw-whet close-up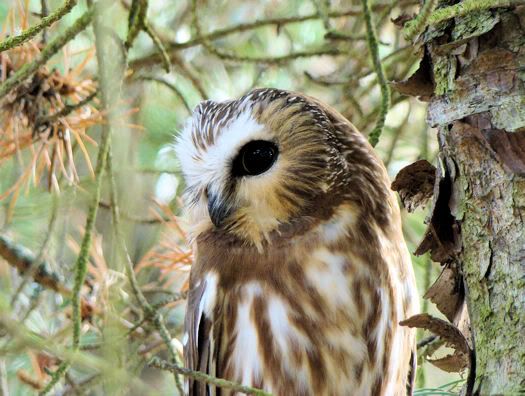 N. Saw-whet Owl
We left the owl to explore the woods further. Deb and I split up, peering up into the dense greenery of the Jack Pine trees, trying to find anything that resembled an owl. Long-eared Owls are not as approachable or as cooperative as the Saw-whet Owls; not only do they roost much higher in the trees, they also tend to fly off when approached. Before I could locate a Long-eared Owl, one must have located for me, for while peering up into the trees I was startled by a large, dark shape flapping quickly through the trees above me. I tried to watch where it landed, then cautiously moved toward it. I had no better luck even when I knew approximately where it was, for it flew off again as soon as I had found a path that would take me closer to it.
I was surprised when, a few moments later, another owl came rushing through the woods above me, followed by two more. I tried to track them down, but whenever I walked toward the area where they had landed they flew off again. One landed in a tree where I had an unobstructed view of it. I was able to see the orange on the Long-eared Owl's face briefly before it saw me and flew off again.
Not long after, Deb came into sight. I asked her if she had seen the owls flying around, and she said yes, in fact there were about five in one tree. She didn't even see them in the tree; she was walking toward it and they all flew off! This was a life bird for her, so I wanted to find one perching where we could have a decent look at it. We had no success, although we did find a few Golden-crowned Kinglets foraging cheerfully in the pines.
After about ten minutes of trying to get close to an owl, we decided they were too skittish to approach so we left them in peace. On our way out I saw a Fox Sparrow, and at the feeders we found some House Finches, a single American Tree Sparrow, and some goldfinches. Two chipmunks were gathering up the seed that someone had left out on the benches.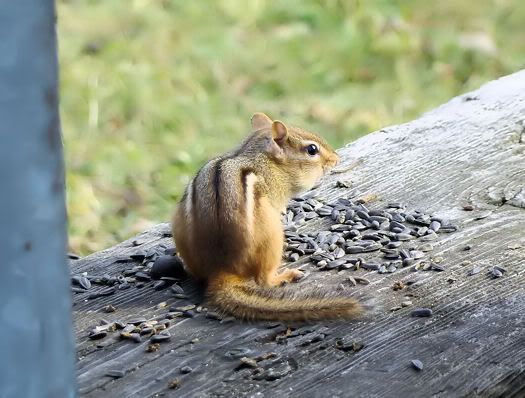 Chipmunk
The chipmunks in Ottawa are almost all in hibernation now, and they weren't the only creature tempted out of hibernation by the warm weather. We saw two garter snakes in the tall grass by the path, and while walking through the woods we heard two different species of frogs calling, including Spring Peepers! When we reached the car, I checked the temperature; it was a warm, springlike 13°C. No wonder the chipmunks, snakes and frogs were out and about!
Next we decided to drive around the island to see if we could find any hawks hunting in the open fields. To our delight we found several Rough-legged and Red-tailed Hawks sitting in trees throughout the island, one Northern Harrier sweeping over a field close to the road, a few more harriers sitting on fence posts, and several American Kestrels. We also saw a Red-tailed Hawk perching on a telephone wire over a field and two Northern Shrikes. One dark-morph Rough-legged Hawk was sitting in a tree right beside the road.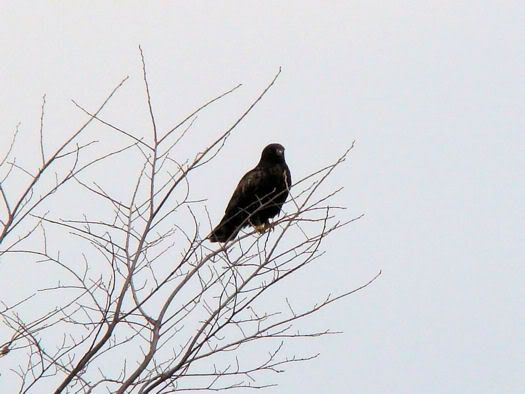 Rough-legged Hawk
We also saw a very large flock of starlings, a few Canada Geese, a white-rumped woodpecker darting in front of the car that might have been either a very late Northern Flicker or a year-round Red-bellied Woodpecker, and several swarms of insects. Although we saw a moth or two, we saw no butterflies or dragonflies.
Next we stopped at the KFN property at the eastern shore. Because of liability issues, only KFN members or guests accompanied by a KFN member may enter this property. This is one of the reasons why I recently became a member of the Kingston Field Naturalists; I also thought it be beneficial to join and find out more about birding spots in the Kingston area, as well as to obtain information about dragonfly and butterfly sightings from the area since they may have a few different species than Ottawa. It was on the KFN property that I saw the moth flutter by; what also interested me was to see a purple thistle still in bloom, as well as a small patch of goldenrod and even some yarrow! I began to wonder if instead of setting the clocks back an hour at the beginning of November, Amherst Island managed to set the clock back a whole
month
instead!
We saw a few species of waterfowl from the southeast corner of the property, including a few Horned Grebes, a female Bufflehead, a distant loon, and something which looked to me like it might have been part Long-tailed Duck and part Black Scoter. I wish I had gotten a better look at it with the scope, but it was quite far from the shore and was diving. We also saw a small flock of Snow Buntings (my first of the fall!) wheeling overhead before landing on the dirt road to peck at the gravel.
Other waterfowl seen were a large raft of Common Goldeneye and a small raft of Red-breasted Mergansers on the northern side of the island; and at the northwestern corner of the island we could see several large white swans roosting near the tip of the KFN property. They were likely Tundra Swans, but too far away to ID through the scope.
We stayed till dusk to wait for the Short-eared Owls to begin hunting. We joined Tony Beck's group on the Stella 40-foot Road to watch for the owls to emerge. Eventually we saw a large number of birds flying over a field to the far east, so Tony led us to an area on Front Road where we had a better look. They were still far off, but through binoculars we could distinguish the Short-eared Owls from the Northern Harriers that were also flying. The harriers are sleek looking birds with long tails; the most noticeable thing about the owls is their very long wings and deep, floppy wing-beats. They don't have much of a tail at all, either which makes their body appear stubby.
One member of Tony's group pointed out an owl perching on a distant tree trunk (visible only through the scope) while the rest flew constantly over the field in search of prey. We realized we could hear the owls vocalizing, their calls sounding more like barks than hoots. At one point we saw an owl and a harrier both harrassing a Red-tailed Hawk sitting in a tree at the edge of the field - they were both taking turns swooping close to the hawk in an attempt to drive it off.
We watched the owls and harriers gracefully dancing above the field for five or ten minutes as the darkness thickened and the light bled away. Then it was time to catch the 5:00 ferry back to the mainland and settle in for the journey home.
Once again Amherst Island proved to be a reliable place to find owls and other raptors; I'm guessing we saw at least 30 different individual birds of prey altogether. It's a truly wonderful place, and I hope to return there before the winter is out to see some more of these fascinating birds.