While Saturday turned out to be warm and sunny despite an initial forecast of rain, Sunday was even nicer. It was already 6°C when I left in the morning, and the temperature had risen to 9°C by the time I reached Dick Bell Park fifteen minutes later! Even better, the winds were finally calm, and the Ottawa River looked like a mirror reflecting the flawless blue sky. The temperature reached an unbelievable 16°C later that afternoon, making it feel more like a day in mid-September than in mid-November.

I was initially planning to go straight to Andrew Haydon Park, but when I saw a large flock of Canada Geese on the lawns by the Sailing Club I had to stop and scan it for other species, such as Brant, Cackling or Greater White-fronted Geese. To my disappointment, I failed to come up with anything other than Branta canadensis despite a careful scrutiny of numerous goose bodies and bills.




Blackpoll Warbler
As it was such a nice day, and as a Blackpoll Warbler (of all things) had been seen in the pine trees by the lighthouse the previous day, I decided to walk all the way to the end of the breakwater. There were about a dozen Buffleheads diving out on the river, and two female Common Goldeneyes were swimming close to the rocky shoreline.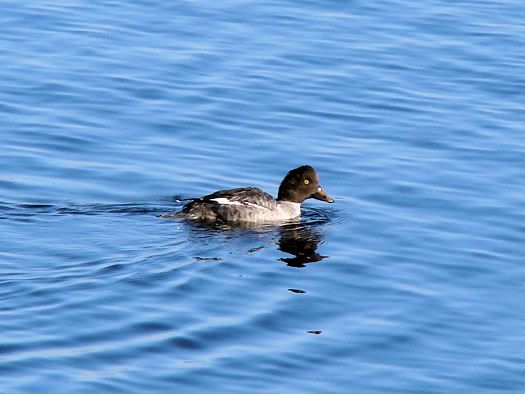 Common Goldeneye
On the marina side, about ten Red-breasted Mergansers were swimming in a group, although some flew off toward Andrew Haydon Park when I walked to the water's edge. As usual, only females appeared to be present; it seems the males only stop by in the spring, and in very small numbers.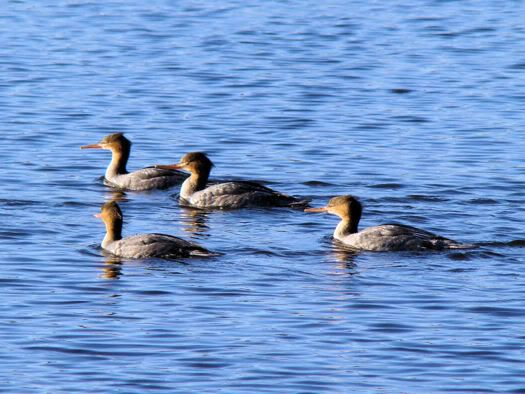 Red-breasted Mergansers
I walked all the way to the lighthouse, stopping to inspect another small flock of Canada Geese without any luck, but didn't see any sign of the Blackpoll Warbler. I took some time to scan the gulls on the dock, but found mostly Great Black-backed Gulls, a few Herring Gulls, and a couple of Ring-billed Gulls. I could see lots of waterfowl on the river, mostly scaup, but I was no closer to them than I would be at on the shore of Andrew Haydon Park so that's where I headed next.
I parked at the east end of the park and started scanning the river with my scope. A few White-winged Scoters were swimming close to the Britannia Pier, and a couple of grebes - likely Red-necked Grebes - were even further out. Then I noticed that a rather dark bird on the river was not only closer than any of the scaup or goldeneyes, but seemed to be drifting closer to the shore. I was surprised when I identified it as a Black Scoter, a "sea duck" that tends to stay out in the middle of the river. I sat down on a rock and patiently watched to see how close it would come. The scoter was not diving or even moving very much, and I feared that it was going to wash up onto the shore and die like the Greater Scaup Deb and I took to the Wild Bird Care Center last year.
After a while, it saw me on the rocks and turned in a different direction before heading back out toward the middle of the river. Perhaps it wasn't ill or injured after all, but merely tired after a long journey from its breeding grounds further north.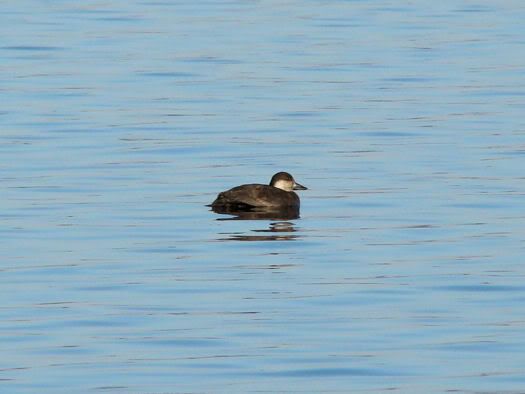 Black Scoter (female)
This species breeds on small lakes in the subarctic and winters along both coasts. Males are solid black and have a yellow knob on their relatively small bill, whereas females are dark brown with a pale cheek patch and a dark crown. They retain the same plumage year-round. Black Scoters feed on aquatic invertebrates, insects, mollusks, and some vegetation. Not much is known about its breeding habits, or its preferences in staging or wintering areas, as this species is one of North America's least-studied sea ducks.
While watching the scoter, I was joined by Marilyn Ward of the OFNC and Chris Bruce. Marilyn told us about the horrific discovery that someone had been attempting to poison the Canada Geese at Andrew Haydon Park by feeding them dry beans which expand when ingested and prevent the bird from being able to feed. Birds which have eaten the beans have swollen crops; Deb and I had actually seen two such geese last weekend at Andrew Haydon, although we had no idea what was wrong with them. Fortunately volunteers from the local Wild Bird Care Center have been catching some of the affected Canada Geese in order to treat them. There are suspicions that the beans may also be laced with poision, though that has not been confirmed. As a result, photographers and nature lovers at Andrew Haydon Park have been asked to watch for anyone feeding the geese. Although people who live in the neighbourhood have been complaining about the large number of geese which visit the park and the large number of droppings that accumulate as a result, I can't believe that people would be so cruel as to poison them. It's heart-breaking to learn how little regard people have for these birds, and I hope the person(s) responsible are caught and charged.
During that conversation we had been eyeing a White-winged Scoter that appeared to be swimming exceptionally close to the breakwater at Dick Bell Park. Hoping for the chance to capture some decent photos of this bird, I drove back over to the Sailing Club while Marilyn and Chris walked. When I walked to the lighthouse at end of the trail, however, I saw no ducks other than the two female Common Goldeneyes which had been present earlier. I searched the water all around the rocky shore, and then when I walked under a small pine tree movement right above me made me stop and look up. I assumed it was just a chickadee...until I saw the yellow plumage and realized it was the Blackpoll Warbler!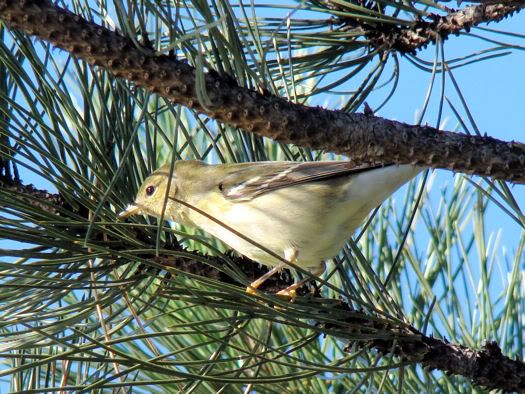 Blackpoll Warbler
I was surprised that this warbler was still here. Although the day was quite warm and several insects were buzzing about the tree (including many lady beetles), I thought that the cold night-time temperature would have prompted him to move on. The Blackpoll Warbler was either very late in migrating, or else it had been swept northward on the same warm front that had brought these unusual late-summer temperatures to southern Ontario. If so, he wasn't the only bird displaced by this weather front, as a Phainopepla (a southwestern bird from Arizona and southern California) was just found in Brampton, and an Ash-throated Flycatcher (another southwestern bird) has recently been seen at Point Pelee.
It didn't take long for Marilyn and Chris to find their way to the end of the breakwater, where I was still photographing the warbler. Or rather, I was circling the tree, trying to keep it in sight as it hopped from branch to branch and occasionally darted out to snatch a tiny insect from mid-air.
Blackpoll Warbler
This is one of the latest dates (if not the latest date) recorded for this species in the Ottawa 50 km circle. The warbler seemed content moving about within the branches and flying from tree to tree in search of lunch. It didn't seem to like foraging right out in the open, but instead preferred to stay close to the trunk on the inside of the tree. It only came right out into the open occasionally, to snatch an insect from the tip of a branch. I was happy, therefore, to get this shot: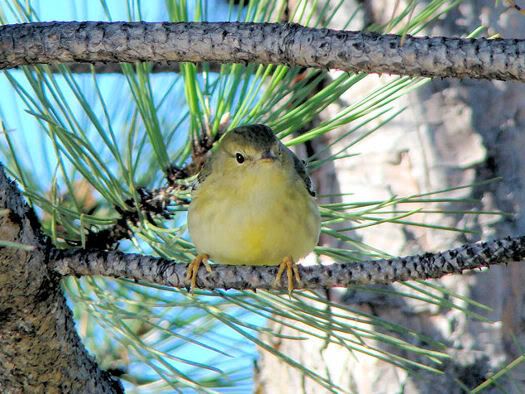 Blackpoll Warbler
Seeing this cute little warbler so late in the year really brightened my day and is definitely one of the best birds of the month for me so far. While it will likely be the last warbler of the year, hopefully it won't be the last unusual species to show up in the final weeks of 2009.