Deb and I got together on Saturday to visit some of the local hotspots. It was quite chilly when we met up (only a brisk 4°C!) but the sun slowly warmed things up once it rose higher in the sky. We went to Ottawa Beach first, where we found nothing much of interest, then walked over to the Andrew Haydon Park side of the creek. In the woods connecting the two areas we saw and heard several robins, and found one unidentified thrush in the trees nearby. It had an eyering and spots on its breast, and could have been either a Swainson's or a Hermit Thrush. It kept moving in and out of the foliage, and without a decent look, however, we couldn't confirm which species it was.

At the western mudflats of Andrew Haydon Park we found a pair of yellowlegs, a Solitary Sandpiper, some Green-winged Teals and several Killdeer. A pair of warblers were gleaning insects from a tree right beside the bridge, and both came out into the open long enough to ID them as a Palm and Black-throated Green Warbler.




Brant
Deb still hadn't seen the Brant that had been hanging around the park since July, so we took a walk around the ponds to see if we could find it. We headed straight for a likely group of Canada Geese near the water, and found the Brant easily. It was sitting on the lawn, looking around, and munching on the grass from time to time.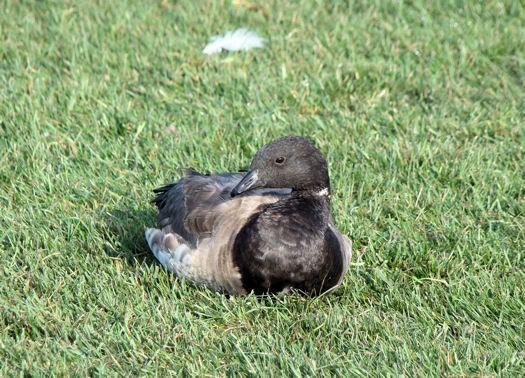 Brant
I had first seen this bird on July 26; it has now been over two full months since it first arrived. As several Brant usually stop by this section of the river during fall migration, I wondered if the Brant would join its fellow geese once they show up in the fall and leave with them.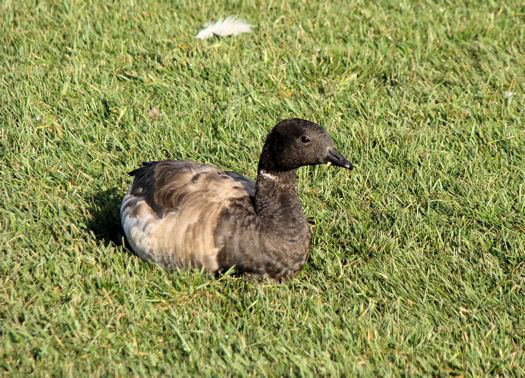 Brant
Deb hadn't seen the Marbled Godwit either, so our next stop was Shirley's Bay. It was a bit warmer, and the walk through the woods was quite pleasant. Once we reached the dyke I was surprised by the crowd that was lined up along the path. Chris and Bob were there, so I introduced them to Deb. One of their companions, Paul, pointed out the various shorebirds: the Marbled Godwit in its usual spot on the opposite side of the mudflats, four Long-billed Dowitchers probing the mud with their typical sewing-machine movements, two Black-bellied Plovers (the first ones I had seen in Ottawa in two years), lots of Pectoral Sandpipers, lots of killdeer, several yellowlegs, several Solitary Sandpipers, a Least Sandpiper, and lots of Green-winged Teals.
A few American Pipits were also in the area, and one was having a bath in a small puddle. Some scaup were further out, and a Great Egret was half-hidden in the reeds by the first island looking like a small white blob from that distance. Then a merlin swept by, scattering all the ducks, shorebirds and gulls into flight. The godwit didn't seem perturbed, and remained where it was. The small falcon didn't catch anything, and flew off into the sunrise (or so I like to think!)
A group of us decided to go to the Moodie Drive quarries, but Deb and I stopped by the feeders before leaving the Shirley's Bay area. There we saw a White-breasted Nuthatch, a few chickadees and blue jays, and an adult White-crowned Sparrow! This made the detour worth the stop, and after that we headed over the quarries and rejoined Chris, Bob, Paul and the others.
A smattering of white among the thousands of Canada Geese drew our attention, and we counted perhaps thirty Snow Geese mixed in with all the Canada Geese. Two American Coots, a few Pied-billed Grebes, at least one juvenile Bonaparte's Gull, and at least one Ruddy Duck were also present. None were very close to the gate where we stood.
Finally, Chris and Bob and Deb and I decided to stop by the Bruce Pit area. I was hoping to find the American Coppers and Praying Mantises again, and Chris and Bob were going to go searching for odonates. We found a Spotted Spreadwing right away, which Bob caught and allowed Deb to hold, as Chris said in a very intense voice: "I just saw a Black Meadowhawk". This dragonfly is more northern species but tends to wander. While it is on the Ottawa checklist, it is very uncommon, and when Deb and I left Bob and Chris they were still searching for it. We didn't have boots and were hoping to take a quick look around the wildflower meadow, so we said our goodbyes and left. (Later we learned that they not only found the Black Meadowhawk, they also caught and photographed it!)
The fall colours along the trail were quite beautiful.
Bruce Pit Trail in autumn
We didn't see any praying mantises or American Coppers, and trudged through the meadow hoping to stir things up. Although we never did find what we were looking for, we did find several Small Milkweed Bugs on the milkweed plants, and lots of bees visiting the asters. A single Pileated Woodpecker also flew overhead and landed in a group of trees nearby.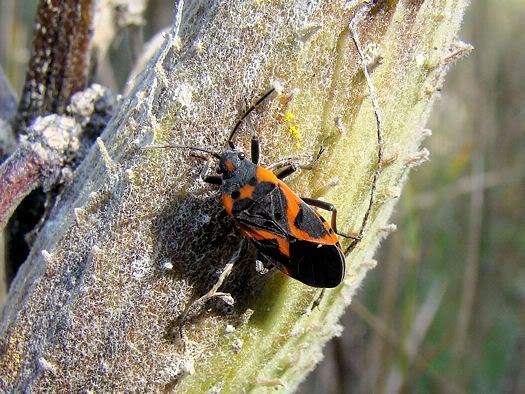 Small Milkweed Bug
There were a couple of different kinds of bees buzzing about the flowers, including these honey bees. You can see the pollen sac on this bee's leg: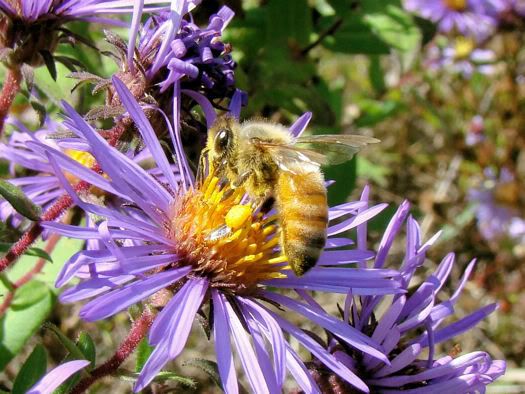 Honey Bee
Bees have crevices in the knees of the back legs, and this is where they store the pollen they gather from flowers. The pollen is compacted into the crevice, forming a pellet. It takes a bee approximately one hour to collect each pellet, which weighs approximately 20 mg and contains up to five million pollen spores.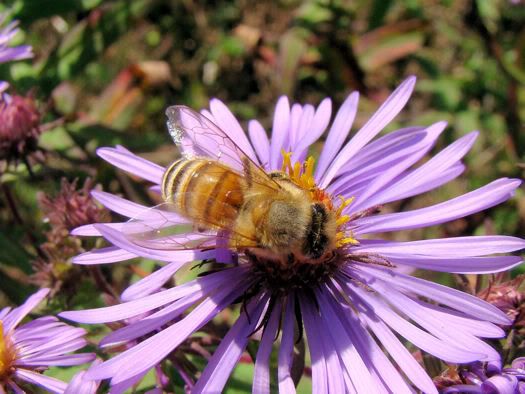 Honey Bee
I also noticed this spider hiding among the milkweeds. It had caught an insect for lunch.
Spider with lunch
This made me realize that it was well after lunch time, and I was famished. Deb and I called it a day, quite satisfied with all we had seen. Deb had two lifers - the Marbled Godwit and Long-billed Dowitchers - and we were happy to see the Snow Geese, pipits, Palm and Black-throated Green Warblers, Black-bellied Plovers, Ruddy Ducks, and all the other fall migrants as well. It was a great day, with great weather, great people and lots of different species to make our outing interesting. If only we could have days like this all the time!