Another week of gorgeous summer weather, another beautiful Saturday morning beckoning me with clear blue skies and bright yellow sunshine. I actually wasn't feeling well on Saturday, as I had been ill the day before and ended up missing work, but the lure of a recently discovered rare bird at Shirley's Bay proved too tempting to spend another day resting.
Despite the early morning promise of another warm, sunny day, I actually didn't leave until almost noon. Still feeling a little weak and low in energy from the previous day, I knew I wasn't up to spending several hours in the field and had no motivation to rush out first thing. So I took my time getting ready, and headed out at about 11:00. The only place I wanted to visit was Shirley's Bay, where a Marbled Godwit had been discovered two days earlier. This large, spectacular shorebird is not common in Ottawa and would be a lifer for me, and I knew I would regret it if I didn't try and see it.
The walk to the woods was peaceful. It was already warm, and I saw a few meadowhawks on the way in. I also saw one Winter Wren on the way to the dyke (and two more on the way out). I ran into a few people just leaving, and asked if the Marbled Godwit was still there. I was assured that it was, and that "I couldn't miss it". Feeling a lift in spirits, I continued on to the dyke.
The water level has gone down significantly, revealing a large mudflat on the left side of the dyke. A couple of yellowlegs, a few Killdeer and some teals were all feeding in the muck. Much nearer was a single Solitary Sandpiper feeding right at the bottom of the dyke.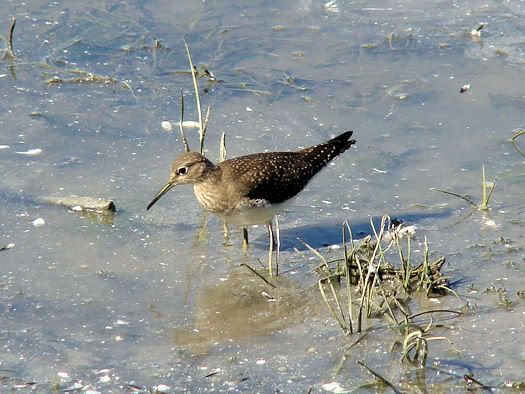 Solitary Sandpiper
A scan with the binoculars revealed a much larger shorebird much further out. I set up my scope and got my first look at the Marbled Godwit, lifer no. 255 and my first lifer of the weekend. At least twice as high as a Greater Yellowlegs, it has a bulky body and a very long, slightly up-curved bill which is pinkish near the base and black near the tip. I took this photo through my scope: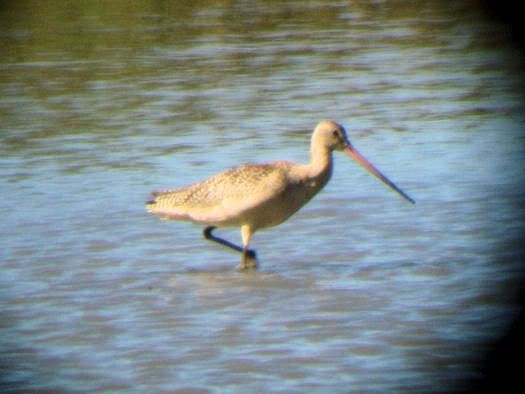 Marbled Godwit
This shorebird breeds in grasslands and scattered wetlands in the prairies but winters along the coasts. It has a varied diet, eating insects, roots, and seeds on its summer breeding grounds and invertebrates, mollusks, crustaceans, and other aquatic creatures in the sand and mudflats on the coast where it winters. While foraging along the shore or on mudflats, it often inserts its entire bill into the mud, and sometimes completely submerges its head in the water. I noticed the godwit submerging its head in the water, reminding me of the dowitchers I had seen.
Once I had had my fill of watching this gorgeous bird, I left the dyke, walking back through the woods. Along the way I found a few White-throated Sparrows, a Gray Catbird, two Winter Wrens, a Ruby-crowned Kinglet, a Red-eyed Vireo, and this Black-and-Green Warbler which caught me by surprise when it flew down to a branch only a few feet above my head.
Black-throated Green Warbler
As is typical with warblers, this one didn't stay in the open long, frequently ducking behind leaves as if it were playing hide-and-seek with me.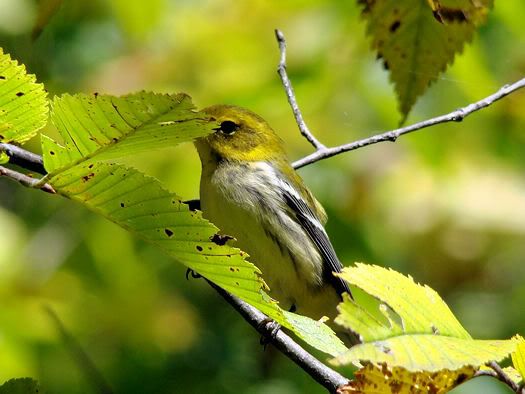 Playing hide-and-seek
After leaving the woods, walking back along the road to the parking lot, I noticed a few butterflies flying and nectaring on the asters. Most appeared to be sulphurs and whites, but I did see a crescent fly by and this beautiful Milbert's Tortoiseshell which was feeding among the asters. This was the first one that I've seen this year, so I followed it for a while, managing to get some nice photos of it. I find them quite striking with their golden tones, glowing red "eyes" and row of blue spots on the hindwing.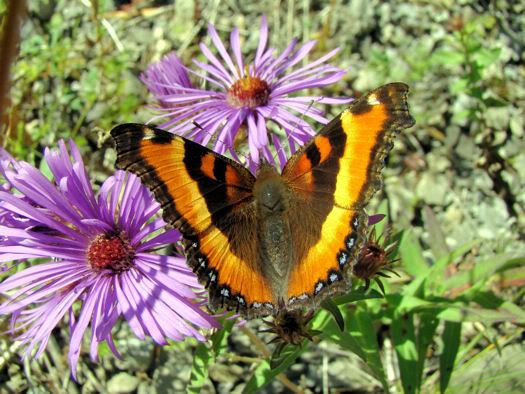 Milbert's Tortoiseshell
After that I went home and took a well-deserved nap.
The next morning I still wasn't feeling 100%, and again I took my time getting up in the morning. I wasn't sure I wanted to go out, even though it was another sunny day. I thought it would be cool out, but when I saw what appeared to be a monarch in my backyard at 10:00 I went out to fill my birdfeeder and check the weather. To my surprise it was already warm, so I decided to head over to Bruce Pit to see if I could find a colony of American Coppers that were found there recently. Bruce Pit is also a good place to see Spotted Spreadwings, a late-flying damselfly, and I was hoping that they would be out and about enjoying the warm weather.
I walked down the big hill and followed the path to the water. I saw two bluets, several meadowhawks, and a Lance-tipped Darner. Four Killdeer and a single yellowlegs were foraging along the shore, and a couple hundred Canada Geese and several gulls were floating on the water. A Great Black-backed Gull was quite close to the shore.
After scanning the shore for a while and seeing no spreadwings I walked up the opposite hill. Along the way these striking blue flowers caught my attention. I recalled seeing them in one of Christine Hanrahan's emails, and identified them as Fringed Gentians.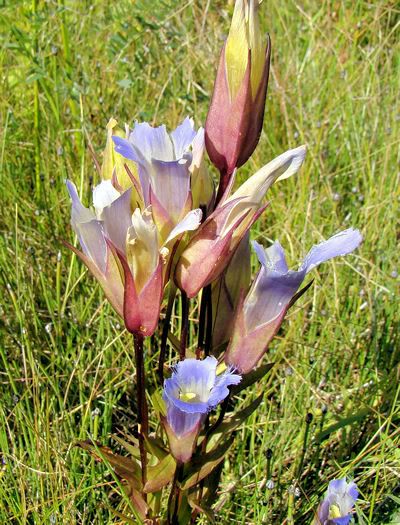 Fringed Gentian
I didn't see any butterflies at the top of the hill where the American Coppers were supposed to be, but I did see two spreadwings which I couldn't identify. I walked along the side of the fence, not yet ready to climb over it and return to the main path, looking for more insects. Then I heard a familiar voice asking me how I had gotten "down there" and saw Chris Bruce on the path. I told him I had walked down the opposite hill and climbed up from the bottom, and that I was looking for some butterflies. He told me he knew where they were, so I climbed over the fence and we walked along, discussing our interest in insects. He showed me one place where he had found the coppers on a previous visit. We didn't find them, but we saw a spreadwing damselfly which I was able to photograph with my macro setting. I couldn't tell if it had any spots on the side because we were looking at it straight on, but I figured the shape of the claspers would help to identify it. Later, Chris Lewis confirmed that it was indeed a Spotted Spreadwing - my second lifer of the weekend, and the 50th species on my odonate life list.
Chris then showed me another place where he had found the American Coppers, a large, dry sandy meadow east of the pit. We saw lots of sulphurs and Cabbage Whites flying above the flowers, and a single Blue-headed Vireo in the trees along the path. Not long after we started walking into the meadow I saw a small orange butterfly fly up from the ground and land a short distance away. It looked similar to the Bronze Copper, but smaller and with a much bolder orange colour. I couldn't see the telltale red line on the underside of its hindwing, and contented myself with photographing the top side. However, the American and Bronze Coppers can be distinguished from the top side, and I was able to confirm my 52nd butterfly species since I started keeping track a couple of years ago.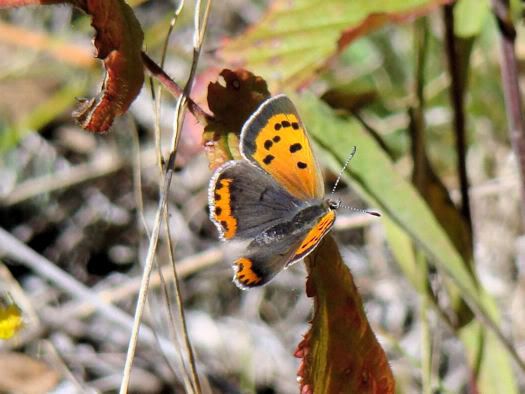 American Copper
Then Chris noticed a large, pale green Praying Mantis lurking among some raspberry bushes. We couldn't get close to it, so when it flew off we tracked it down hoping for some better shots. I found myself distracted by several of these Small Milkweed Bugs resting on - what else? - milkweed plants.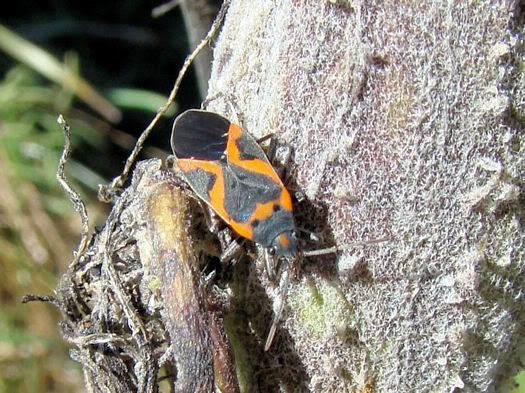 Small Milkweed Bug
We tracked down the Praying Mantis and I got one shot before it flew off again. Then Chris spotted another one. I am not sure how many individual Praying Mantises we actually saw, but we ended up photographing a couple of them. This fella in particular was quite cooperative and let me get close enough to use my macro setting!
Praying Mantis
The praying mantis is named for its prominent front legs, which are equipped with rows of sharp spines and often held in a manner that suggests the position of prayer. They have a triangular-shaped head with a large compound eye on each side and are the only insect that can rotate their heads so they can literally look over their shoulders. Chris and I watched as the praying mantis turned its head to look at us intently, quite an interesting experience!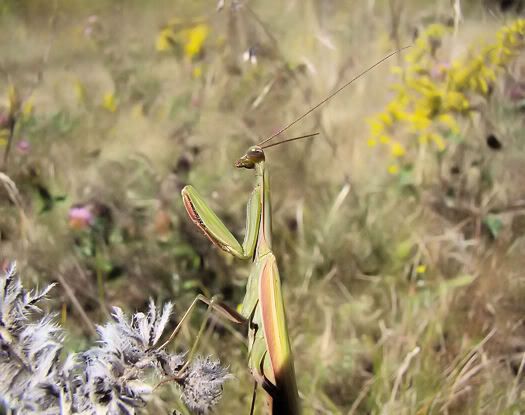 Praying Mantis
Praying mantises eat insects and other invertebrates, such as other mantises, beetles, butterflies, crickets, grasshoppers, and even spiders. Praying mantises also eat vertebrates such as small tree frogs, lizards, mice, hummingbirds, and other nesting birds. However, they themselves may fall prey to predators such as bats, birds and wasps; this is why the colour of the praying mantis helps them to blend into their environment. This camouflage serves a duel purpose in protecting them from their predators well as helping them keep hidden from their prey.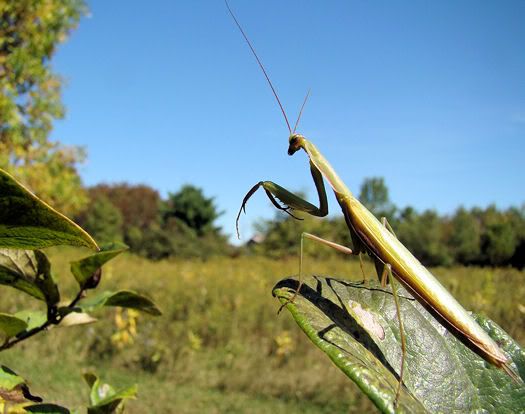 Praying Mantis
Eventually we left the meadow and headed out. We stopped at the look-out (although you can't see down to the water because the trees grow so tall) where we found more Autumn Meadowhawks and this cooperative Spotted Spreadwing. It has quite a dark thorax compared to other spreadwings (though this can be quite variable) and some pruinosity at the tip of its abdomen. I was pleased to get a nice sharp photo of this pretty damselfly.
Spotted Spreadwing
It was a fantastic outing, and the end to a fantastic weekend...the three lifers (Marbled Godwit, American Copper and Spotted Spreadwing), the Praying Mantises, the beautiful Fringed Gentian, and the lovely Milbert's Tortoiseshell made it a weekend to remember!
Lifer #255 Marbled Godwit